The Steak 'n Shake 7x7 Steakburger that Gut Check ordered (left) and the burger featured on the restaurant's Late-Night Menu
On Tuesday, February 19, Steak 'n Shake announced a new late-night menu, the All Nighter, available in restaurants between Midnight and 6 a.m.
Items on the All Nighter menu read like a drunk or stoned person's dream: a selection of specialty Steakburgers including "Jalapeno Crunch" and "Gorilla," nacho fries, Buffalo or BBQ chicken fingers, Steakburger slinger, large chili or bacon cheese fries and "The Ultimate Challenge," a monster Steakburger stacking seven patties and seven slices of American cheese between two greasy buns, weighing in at one full pound of food.
Yeah, that last one got our attention, too.
Liz Miller
There the 7x7 Steakburger sits, mocking Gut Check.
So a little past 1 a.m. on a Saturday morning, Gut Check stumbled into a very busy Steak 'n Shake (1253 Hampton Avenue; 314-646-7200) on a mission to take down the 7x7 Steakburger 'n Fries -- priced at a baiting, yet reasonable, $7.77.
Upon being seated our server asked if we'd heard of Steak 'n Shake's new late-night menu, or its companion offering, the late-night breakfast-favorites menu. Apparently the foam forming at our mouth while staring at the 7x7 Steakburger image on the menu wasn't enough of a tell.
"Oh, yes, the late-night menu is what brought us in tonight," we responded.
Fewer than ten minutes after placing an order for the 7x7 Steakburger 'n Fries and nacho fries ($4.99), both dishes arrived at our table. The burger sloped a bit to the side, and looked much less majestic than the tower of beef and cheese advertised. This fistful of food was also somewhat difficult to eat; we assumed the smashed, meat-doily weight of Steakburgers would, even layered seven patties deep, present a conquerable burger. Our first bite only cleared half the sandwich, and the greasiness of the buns worked against a pleasurable dining experience, almost dissolving into the beef skyscraper they were tasked to contain. That first taste also yielded a molten core bubbling within the 7x7 Steakburger that burned the roof of our mouth and left us slightly discouraged in our pursuit to meet the burger challenge.
Failure, though, wasn't an option. It was immediately clear we must wolf this monster burger down in one fell swoop -- allowing our body no time to reject such an unnatural invasion. We attacked the 7x7 Steakburger like a zombie greedily gnawing at human flesh. We tore into that thing with reckless abandon until only a puddle of grease remained pooling on the plate. We surveyed our work and drafted a mental apology letter to our internal organs.
And we hadn't even approached the nacho fries yet.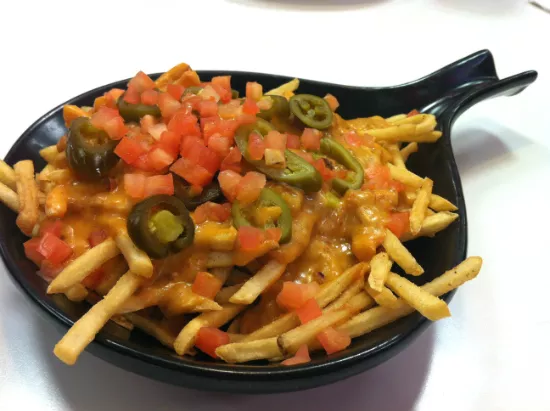 Liz Miller
Steak 'n Shake Late-Night Menu Nacho Fries.
Where the 7x7 Steakburger presented us with a lustful, formidable opponent, the Steak 'n Shake nacho fries were a disappointment, plain and simple. Unlike the burger, the nacho fries were served limp and cold -- any fiery fight they possessed seemed nuked out of them in a microwave.
In promotional photos the nacho fries look mighty, brimming with fat and carbs, served in an imposingly large, hot skillet. Instead, a plastic, medium-sized skillet arrived at our table, filled with cold french fries topped with congealed cheese, canned jalapeno slices and flavorless salsa. If we had to guess, we'd say the nacho fries would taste better if served hot, but really, that's a generous guess indeed. The nacho cheese sauce tasted more like chili-cheese Fritos than nacho cheese sauce, and the additional toppings added no flavor.
In the end, the nacho fries were a bust, and the 7x7 Steakburger almost too tall a mountain to climb. For our money we'd prefer our usual 1 a.m. order of Steak 'n Shake chicken fingers, french fries and onion rings -- but maybe every once in awhile, if we're in a truly competitive mood, we'd consider taking on the 7x7 once again.