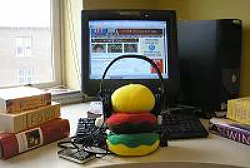 Gut Check dishes on our favorite St. Louis food blogs.
A Veggie Venture: Alanna made slow-cooker vegetarian lentil sloppy joes.
Sounding My Barbaric Gulp: Kelly shared pho ga, Vietnamese chicken noodle soup.
A Periodic Table: Shannon made chocolate bundt cake with a chocolate-honey glaze.
Cupcake Project: Stef shared fish-sauce caramels with kaffir lime and lemongrass.
The Sweets Life: Natalie made egg and hash brown casserole with spinach and mushroom.
Shoot to Cook: Jonathan made coconut oatmeal lace cookies.
Rhubarb and Honey: Kimberly shared sweet and spicy "phyllo poppers."
Eat Write: Judith made caramel-apple bread pudding.
Family Style Food: Karen shared roasted vegetables and spelt spaghetti.
Iron Stef: Stef made ham, butter beans and cornbread bake.
Sweet Art: Amrita shared red wine chocolate cherry balls.
Every Little Thing: Stacy made citrus salad with feta.