St. Louis' neighborhoods are gems in their own right: full of history, great people and, as far as Gut Check is concerned, fantastic food. Each week we'll take you into a specific neighborhood and point you in the direction of the best places to grab some bites.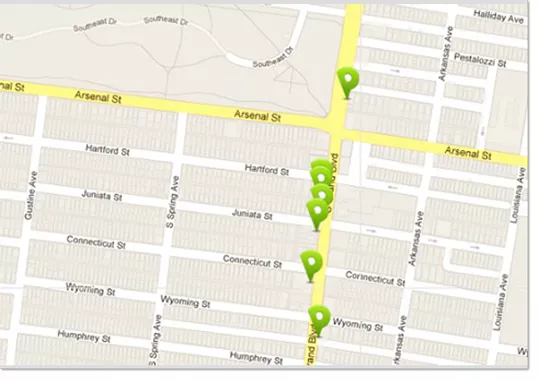 One could easily argue that aside from the Delmar Loop, the heart of South Grand is the most-visited street in St. Louis -- and for good reason. South Grand Boulevard offers a cornucopia of shops, not to mention a tattoo parlor, all within walking distance of beautiful Tower Grove Park and the surrounding neighborhoods.
It's also extremely easy to eat your way across the globe on South Grand, with its ample American, Italian, Thai, Vietnamese, Middle Eastern and Ethiopian options. Let's dive in.
First up, The King & I...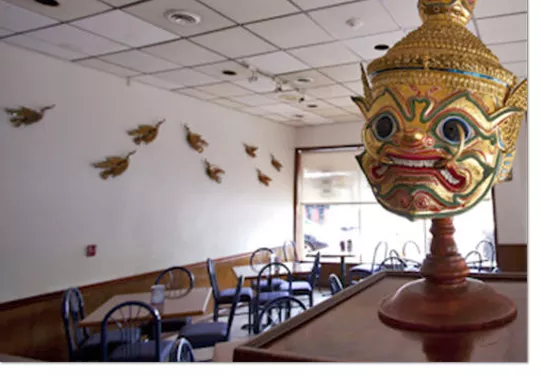 Sarah Rusnak
The King & I
The King & I (3157 South Grand Boulevard; 314-771-1777) A mainstay of South Grand Boulevard's impressive array of ethnic restaurants, the King & I has introduced countless St. Louisans to Thai cuisine. The menu offers several dozen selections, and all your Thai favorites are present: pad thai and other noodle dishes; fried rice; the classic tom yum and tom kha soups. The red and green curries are very good. (As always, hotter is better, but the kitchen will tweak to your preference.) The restaurant is an ideal spot for families looking for a more adventurous destination, with a few crowd-pleasing Chinese dishes and a brief, Western kids' menu.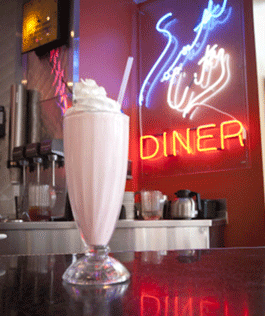 City Diner (3139 South Grand Boulevard; 314-772-6100) The food at this cheery South Grand spot is so homey, you half-expect it to turn back your sheets and draw you a warm bath. You can get your three squares at City Diner, and you can - joy of joys - have mashed potatoes with all of 'em. Get mashed spuds with your meatloaf omelet in the a.m. (take that, hangover!). Find them nestled next to an open-face roast beef sandwich at midday. In the evening the taters buddy up with some of the best country-fried steak in town. The City runs circles around typical diner fare with items like grilled polenta, a house roasted pork loin and pesto chicken salad. Tuck into a plate of mac 'n' cheese. You simply can't go wrong here.
See also: - RFT's Around the Clock Diner Marathon
Jennifer Silverberg
Mojo Tapas Restaurant & Bar
Mojo Tapas (3117 South Grand Boulevard; 314-865-0500) A large, stylish space serving small plates in the contemporary mold: Ahi tuna, sliders and pork belly all make an appearance on the lengthy menu. Owner and chef Eric Erhard brings Caribbean and Latin American influences to his dishes, which include jerk chicken kebabs in a key lime-yogurt sauce and fried calamari given a welcome lime twist. The "Sexy Gritz" might be embarrassing to order, but paired with shrimp and thick slices of garlic in a fiery sauce, they make for a tasty repast. Dessert includes a tribute to the Chipwich, the ice-cream sandwich made with chocolate-chip cookies.
See also: - The Nine Best Tapas/Small Plates Restaurants in St. Louis - RFT restaurant review of Mojo Tapas
Meskerem Ethiopian Restaurant (3210 South Grand Boulevard; 314-772-4442) An Ethiopian restaurant likely to appeal to novice and connoisseur alike, Meskerem is a welcome addition to South Grand's multi-culti mix. Even the injera - the spongy, slightly sour bread with which you scoop up your food - is better than average here. Newcomers might want to try the Meskerem Combo, which offers both straightforward tibs wat (beef in the classic Ethiopian berbere sauce), and the more interesting gomen besaega (beef with collard greens). Vegetarians will find several delicious lentil, chickpea and sautéed vegetable dishes, while adventurous carnivores may want to try kitfo, raw beef chopped very fine and seasoned with clarified butter and fiery mitmita chile powder.
See also: - RFT restaurant review of Meskerem Ethiopian
Lemon Grass (3161 South Grand Boulevard; 314-664-6702) Lemon Grass has an attractive new home -- check out the silhouettes of lemongrass stalks projected on the walls -- but it remains one of the best values along South Grand. Its cafe sua da (iced coffee) is without doubt the strongest and sweetest. The lengthy menu offers the familiar (spring rolls and pho), the hearty (try com thit nuong dac biet, delicious char-grilled pork and an egg fried over-easy atop rice, with a quiche-like eggcake on the side) and even the Chinese (ga Tso's -- yes, General Tso's chicken). Best of all, you can get a generous portion of almost anything on the menu for less than $10.
See also: - Lemon Grass: RFT Pick for "Best Spring Rolls" in 2012
Gelateria del Leone (3197 South Grand Boulevard; 314-776-3500) Located among the bustling restaurant scene on South Grand Boulevard, Gelateria del Leone serves up their frozen Italian treat in flavors to suit any sweet tooth. Classics include strawberry and pistachio, and Gelateria del Leone spices things up with more exotic flavors such as tiramisu and bacio, which combines chocolate and hazelnut -- each made with ingredients straight from Italy. Guests can wash their gelato down with a selection from Gelateria's hot and cold beverage selections including espressos, smoothies and frappes.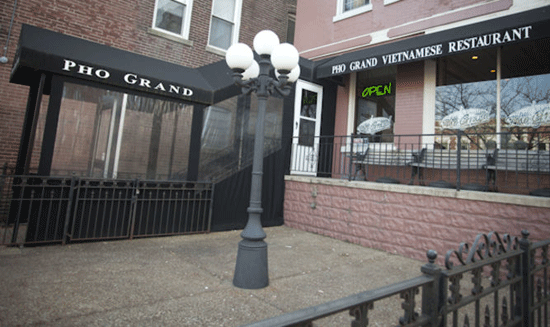 Pho Grand (3195 South Grand Boulevard; 314-664-7435) A fixture of the city's ethnic-restaurant scene and one of the anchors of South Grand's bustling commercial strip, Pho Grand offers the Vietnamese dishes most beloved in America at relatively low prices. A good place to start for newcomers to Vietnamese cuisine is the bo or ga xao xa ot - beef or chicken stir-fried with chile peppers and the signature Vietnamese flavor, lemongrass. Other favorites include bun - big bowls of vermicelli topped with various combos of egg rolls, meat and vegetables - and the classic beef noodle soup and cure-all, called pho.
See also: - RFT's 100 Favorite Dishes: An Ode to Pho Grand's Pan-Fried Noodles
Mekong (3131 South Grand Boulevard; 314-773-3100) A mainstay of penniless bohemians. Certain dishes may require a shot of liquid flavor -- a squirt of hot sauce is a good remedy -- but the big glass bowls of noodles topped with various meats and vegetables (try the bun ga xao) work well and are a nice staple, as are the goi cuon chay (vegetarian spring rolls). And, at two bucks a pop, you can't miss with the banh mi thit, a surprisingly tasty fried-chicken sandwich. At night, Mekong turns into the lounge Blue, and the restaurant's back room is the Jade Room. The Upstairs Lounge is, well, upstairs.
Mangia Italiano (3145 South Grand Boulevard; 314-664-8585) Those who remember Mangia Italiano as a cramped, smoky, funky 3 a.m. bar that just happened to serve tasty pastas, pizzas and sandwiches might be shocked by recent developments. The South Grand mainstay has expanded, adding a spacious and -- gasp! -- nonsmoking dining room. Local musicians turn one corner into a stage on Thursdays, Fridays and Saturdays, rocking out into the wee hours of the morning. The vibe remains casual, and the menu continues to feature such signature dishes as spaghetti Mangia and pizzas named after characters from Roman mythology. The seafood risotto -- shrimp and lobster in a rich seafood stock -- might be your best bet, but keep your ears perked when your server recites the daily specials. The kitchen often offers a fish of the day or seasonal favorites, such as morels.
See also: - The Ten Best 3 a.m. Bars in St. Louis - The Veggielante Puts Mangia to the Test - RFT's 100 Favorite Dishes: Calamari Fritti at Mangia Italiano
Jennifer Silverberg
The Vine Mediterranean Cafe & Market
The Vine Mediterranean Cafe (3171 South Grand Boulevard; 314-776-0991) A bright, attractive café that specializes in Lebanese and other Middle Eastern fare. The meat shawarma - beef and lamb slowly roasted on a vertical spit - might be the best in town, as tender as braised beef, its rich, pot roast-like flavor kept lively on the palate by lamb's gaminess. Other dishes include kebabs (beef, lamb, chicken, shrimp) and gargantuan lamb chops served with delicious, tart fattoush sauce. Many vegetarian and vegan options are available, and the falafel and hummus far exceed the status of reliable classics.
See also: - The Vine: RFT's Pick for "Best Middle Eastern Restaurant" 2012 - RFT's 100 Favorite Dishes: Meat Shawarma at the Vine - The Veggielante Rises at the Vine - Drink of the Week: RFT Hails the Vine's Fresh Squeezed OJ
Sekisui (3024 South Grand Boulevard; 314-772-0002) The local outpost of a Memphis-based chain, Sekisui is the most cosmopolitan of South Grand's ethnic restaurants. Chef Kenji Nemoto's selection of nigiri sushi and sashimi is broad - though dependent on what's available each day - with popular favorites like tuna, salmon and unagi as well as sea urchin, the higher grades of tuna and other exotic fare. Traditional rolls are very good, while Americanzed rolls will appeal to relative newcomers to sushi. Not in the mood for raw fish? The menu offers an extensive selection of dishes featuring cooked seafood, vegetables and tofu, not to mention excellent soups.
See also: - RFT greets Sekisui's arrival with 2003 "Best Sushi" honors
Basil Spice (3183 South Grand Boulevard; 314-776-1530) A welcoming environment for the familiar pleasures of Thai cuisine. The staff is friendly, and the dishes are made with quality ingredients and thoughtful attention to detail. The menu features the expected lineup of curries, stir fries and fried-rice dishes. Gang Mussa-Muhn Nuah curry, with peanuts as well as pineapple chunks and tamarind juice is sweet, tart and delicious. The traditional Tom Kha Gai soup is very good. The menu includes a dozen vegetarian dishes and a weekday lunch special.
See also: - The Five Best Thai Restaurants in St. Louis - RFT restaurant review of Basil Spice
Sarah Rusnak
Wei Hong Bakery & Restaurant
Wei Hong Bakery & Restaurant (3175 South Grand Boulevard; 314-773-8318) Located in the mecca of international food that is South Grand, Wei Hong serves up authentic Cantonese food as well as fresh-baked bread every day. The extensive menu covers all the perennial Chinese-food favorites. Appetizers include egg rolls and crab rangoon, while entree choices consist of a plethora of beef, pork, chicken, duck and veggie options, as well as lo mein, fried rice and egg foo young.
See also: - Super Soups: Wei Hong's Wonton Noodle - RFT's 100 Favorite Dishes: Wei Hong's Salt & Pepper Shrimp