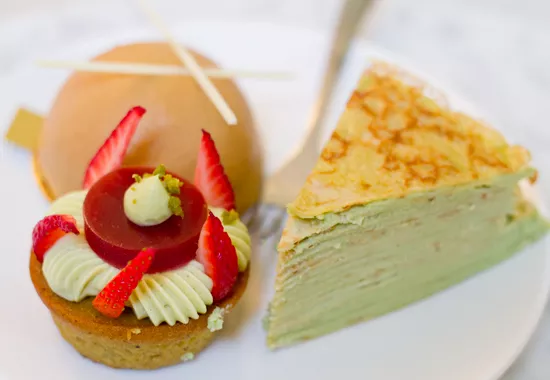 Mabel Suen
Clockwise from bottom left: The "Ooh La La" ($4.50) strawberry-pistachio tart, a "Bananas Foster Bombe" ($5) and a "Mille Crepe" ($4.25) flavored with white chocolate and Matcha.
Oh mon dieu. "Kid in a candy store" doesn't even begin to describe the awe and excitement induced by the plethora of encased treats at the heavily anticipated opening of La Pâtisserie Chouquette (1626 Tower Grove Avenue; 314-932-7935) last week. But unlike just any sweets shop, pastry chef Simone Faure's dessert takes a decidedly mature, refined French approach, focusing on the delicacies of baking and pastry in both its intricate and sublimely simplistic forms.
When asked to sum up her shop in a handful of words, Faure says, "French. Chic. Posh. Stylish. Couture. Me. It's very me. Not the way I dress -- I'm not a stylish person. This is as stylish as it gets. [Laughs] But the me that's in my head? This is it."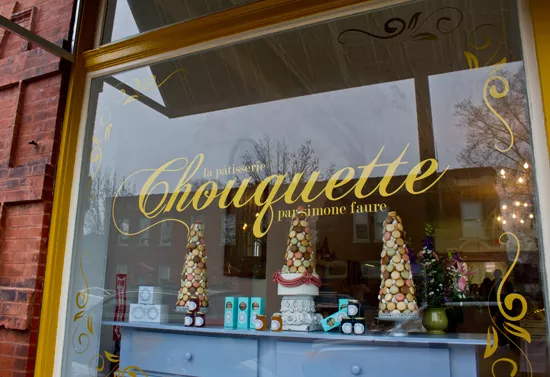 On an overcast Tuesday at 7 a.m., doors at the bake shop in the Botanical Heights neighborhood open to a rapt audience of dessert worshipers. A friendly front-of-house staff, made up of pastry proteges clad in matching sky-blue aprons, carefully restock and straighten displays between greeting incoming customers.
Faure buzzes amid the throng, cheerfully conversing with her clientele, somehow eloquently disguising how tired she must be. We later learn that she has a two-year-old at home. How does she do it? "I'll sleep when I'm dead," she says, with a smile. We admire her passion pour la vie.
Mabel Suen
The namesake chouquette.
Faure served as executive pastry chef at the Ritz-Carlton for three years, developing quite the following from students. Her current back-of-house staff all spent time under her tutelage at some point, including her now right-hand pastry man, chef Patrick Devine.
"I didn't do a big Jerry Maguire 'Who's coming with me?' speech," she says, with a laugh. "They chose to follow me...I'm happy to be able to ignite flames in my guys. That's the most important thing to me." (And the crew certainly knows how to have fun, as evidenced by this behind-the-scenes snippet Devine posted in the days leading up to the opening.)
The 1,800-square-foot boutique tea room comes in pure white bathed in daylight and elegantly embellished with chandeliers, gilded mirrors and subtle accents of gold and turquoise. Wooden benches with decorative pillows, a cushioned armchair and petite tables provide a relaxing respite for weary Francophiles. On any given day, the shop's marble counter tops will contain at least twenty items to pick and choose from.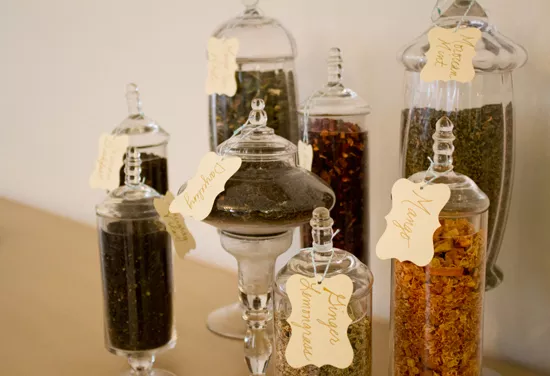 Mabel Suen
A selection of loose teas.
The vast selection on Day One included everything from New Orleans pralines (an homage to Faure's Southern roots) and eight flavors of macaroons to loaves of brioche and artfully constructed desserts like a Tart au Citron topped with toasted meringue. The list continues to include numerous sweet and savory breakfast pastries, ice cream in flavors like wedding cake and coffee, bagged caramel corn and much more.
Among Faure's favorites are the choux du jour (cream puff of the day), featuring a different filling each day (the first being Nutella), and the Bonaparte, the shop's mille-feuille (layered puff pastry), also utilizing nontraditional fillings that will rotate.
Perhaps most notably, Faure's fully edible chocolate showpieces in the form of jewelry, handbags and shoes along with "designer" tiered cake displays peek out from every corner of the room -- and that's just the icing on the cake.
La Pâtisserie Chouquette's hours are Tuesday through Friday from 7 a.m. to 6 p.m. and Saturday from 10 a.m. to 6 p.m. The shop is closed on Sundays on and Mondays. Follow it on Facebook or Faure's website.
Click through to see some additional photos.