Kaitlin Steinberg
The bloody mary menu at The Famous Bar
People keep telling Gut Check that bloody marys are to be consumed during the morning and early afternoon hours only. They are not an evening drink.
Well Gut Check says whatevs. We drink bloody marys any and all times of day or night. And in our quest to provide you, our dear readers, with the best recommendations in town, we have tried bloody marys across the city to find the best of the best. Also, we just wanted to have an excuse to drink them after 5 p.m.
Here is our list of the best bloody marys in town, along with individual superlatives for each. If you think you know of a better one, though, by all means. Holla at us.
See Also: - Sub Zero's Eric Weis: Featured Bartender of the Week - The Five Best Margaritas in St. Louis 2012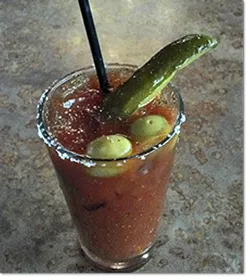 Best Bloody Mary Bar Barrister's (15 North Meramec Avenue, Clayton; 314-726-5007) On Fridays and Saturdays, Barrister's makes a mean brunch. And what goes better with brunch than a bloody mary? Or five? Barrister's offers a fantastic create-your-own bloody mary bar complete with a mix made by owner Jason Tilford. It's thick and tomato-y and not spicy at all, so feel free to add your own with one of the 25 hot sauces available for your enjoyment. There are also five kinds of stuffed olives and pickled green beans and okra made in house. So have fun! Be creative! Only you are the master of your own bloody mary.
Spiciest Bloody Mary Sub Zero Vodka Bar (308 North Euclid Avenue; 314-367-1200) Of course Sub Zero vodka bar knows how to make a bloody mary. With seven different varieties, there's one to suit every taste, but trust us, the "Pepper-Infused Bloody Mary" is the way to go. Sub Zero infuses the vodka with a combination of jalapeños, habaneros and bell peppers for a perfectly spicy jolt of booze. Order it with some food to cut the spice, unless you're a total badass. (Note: We will judge you if you can't handle it.)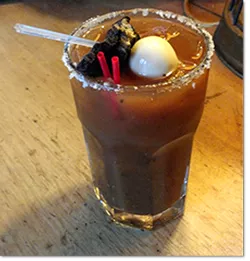 Best Bacon Bloody Mary The Famous Bar (5213 Chippewa Street; 314-832-2211) Bacon is in everything these days. Apparently putting bacon in bloody marys is a new thing, and we couldn't be happier with this development. Several bars offer bacon bloody mary options, but the Famous Bar's is by far the best. They use bacon-infused vodka and top it off with a skewer of beef jerky and a pickled quail egg. Oh, and the beef jerky is made by a local retired cop out of his house, so it's a total win for locavores. Also it's delicious, and it's pretty much a meal on its own. Dinner? Solved!
Most Exotic Bloody Mary Rooster's (1104 Locust Street; 314-241-8118) Rooster has a unique bloody mary menu with eleven options, but the bartenders there will tell you the "Bloody Samurai" is the best. And they're totally right. It's an Asian twist on the traditional bloody mary that features sake instead of vodka. There's still tomato juice involved, but there's also soy sauce and wasabi peas for an extra bite. It's crunchy and spicy and makes you feel a little more cosmopolitan than the average bloody mary. So, embrace it, you worldly drinker, you!
Best Bottomless Mary Café Eau (212 North Kingshighway Boulevard; 314-454-9000) The notion of a bottomless bloody mary may sound dangerous to some, but when paired with the insane brunch buffet at Café Eau, you'll have enough food in your stomach to handle it. Seriously, that buffet is insane. But with the purchase of the buffet you get infinite trips to the bloody mary bar, which features all sorts of vegetables and garnishes. The bar also offers horseradish, which we felt was missing from some other bloody marys in town. Also, did we mention the buffet?
Best Value
Julia's Market Café
(730 Carroll Street; 314-581-5125)
Julia's Market Café is a little shack of a place in Soulard Market. It's not the kind of joint you'd expect to serve a delicious bloody mary. But they do. They really, really do. We honestly don't know what it is about Julia's bloody mary that makes it so incredible. It could be the "secret seasoning" they add. Or the asparagus. Or the green beans. Or the celery. It's all so good! And, at $4 each, you can't beat the price. At Gut Check, we love to root for the underdog, and in this case, the underdog totally comes out on top.