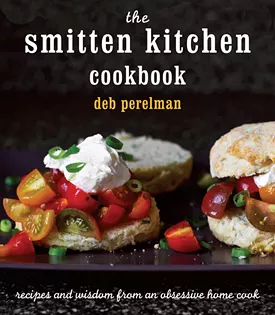 Gut Check sure likes to dine out -- lucky for us, it's in the job description -- but we love to reach into the kitchen drawer to try out a recipe or two, too. More often than not, our cursor clicks over to the Smitten Kitchen cooking and baking blog for some inspiring domestic advice spelled out in detailed steps, complete with charming anecdotes and almost unfair photographs demonstrating the process and illustrating the end goal. True, our food never looks quite as beautiful as Perelman's, but with her helpful instructions, it at least tastes great.
This past fall, author Perelman reached beyond the computer screen and planted her years of self-taught findings into physical print with The Smitten Kitchen Cookbook. On Friday, March 1, she brings her book tour to Left Bank Books (321 North 10th Street; 314-436-3049). At 7 p.m., she'll discuss and sign copies of the cookbook, available for purchase at Left Bank Books. Read on for a short Q&A with Perelman. Click through to enter to win a copy of The Smitten Kitchen Cookbook!
Update: Congrats to commenter kpbakery, who submitted the winning comment. We're pretty smitten with the idea of salted caramel tuxedo brownies, too.
Gut Check: How's the tour been going so far?
Deb Perelman: The whole thing has been totally mind blowing. I find it all to be so surreal. I've been doing my web site for six and a half or seven years and have just been on my side of the laptop, so it's been crazy to be out there and meet everyone.
How long did it take to develop the recipes for your book? Was it a lot of trial and error?
I started the proposal and planning of the recipes in the summer of 2009, and the book came out in fall of 2012, so really a few years. It was definitely a lot of trial and error. My nature is to work really slowly, and then I had a baby in the middle of it all. It's hilarious if you have a child because you can't really get anything else done in that first year. I'm not sorry that I took my time, resisting the idea that most books are finished in six to nine months. It's not in my nature at all to rush. My first priority has always been the site and keeping it updated.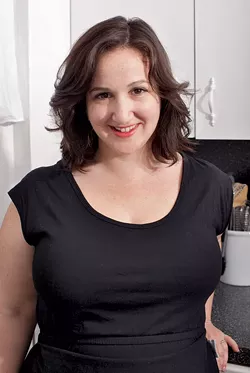 I've read that the inspiration behind starting your blog was to have a set of perfect recipes to go to. How do you determine what's "perfect" in your eyes?
Usually, I start with something specific and try to get that to happen in the kitchen. Maybe I don't like meatloaf and try to find a way to make it that I'd enjoy, or I wonder if I could make a salsa that isn't aggressively sweet or try to make homemade caramel that doesn't get lost in the brownie. If it works, I'm happy with it. If it works and it's too difficult, I go back to the drawing board and it gets tabled for streamlining later on down the line. After doing research, I go into the kitchen, stick the the best theory on the fridge with a magnet and from there refine and tweak to get it right.
Any favorite recent food finds?
This week, I tried to make a french onion quiche. There's not a lot of produce in late winter so I began to play around with things I had on hand like onions, butter and cheese. In the book, there's a recipe for french onion toast that stretches into a meal, so it's a similar idea to that using caramelized onions with broiled cheese on top.
Click through to enter to win a copy of The Smitten Kitchen Cookbook!
What do you like to listen to while you're cooking?
It depends. I do need to think and it's hard when I'm listening to music. I kind of need quiet, which is hilarious because I have a three-year-old. I'm really thinking hard when I'm working, but when I'm chopping vegetables, I'll put music on. I actually listen to music the most when I'm editing photos because that part takes forever. I'm currently listening to a lot of Beyonce (laughs) but I wouldn't say that's fairly representative.
You seem to cover practically everything on your blog! Are there any foods that you dislike?
There are a lot of foods I dislike, but because I cook a lot, nobody notices. I'll think that I don't like meat loaf or roast chicken or that I'm not that big on fish or have lukewarm feelings towards beets. I see them as a challenge. Sometimes, I'll get e-mails from readers through the site and it's like I've been busted. Sometimes, people figure it out.
On the contrary, what's a food you can't live without?
I can't live without the basics. I have to have my eggs, flour, butter and milk - those core ingredients. You can make anything with flour, yeast and water. I like to have some vegetables too because I know something I can make with any of them.
What are some of your go-to dishes and desserts?
I have a lot. I was actually doing a lot of cooking when I was home these past six weeks including Italian stuffed cabbage. I enjoy making bolognese because my son loves pasta and it's a great way to get him protein. I made a big batch of that before I went away. It's a meal where I can count on them to not order pizza. Actually, we make pizza a lot with whatever vegetable I have in the drawer. I always keep arugula around -- it's my favorite. As far as some more wintery dishes, we'll have frittatas for dinner sometimes and mushroom barley soup because it's my husband's favorite.
I would say for a weeknight, the most common dessert I've been making this winter is a chewy oatmeal raisin cookie. My husband's been convincing me to swap in some chocolate chips. I sub in some whole wheat flour, scoop them and freeze them to bake up for dessert. It's a really nice proportion that's totally indulgent but not a butter bomb.
Click through to enter to win a copy of The Smitten Kitchen Cookbook!
What are your favorite resources for cooking and baking?
It really depends. If I'm looking online, I definitely gravitate toward web sites that have reviews on recipes. I do a lot of reading. Wikipedia can be helpful for learning more about dishes. I tend to use Larousse Gastronomique and Julia Child's Mastering the Art of French Cooking to get the basic idea of an agreed upon recipe. I tend to use a mixture of artier reference cookbooks including The Silver Spoon cookbook.
How about some blogs you like to follow?
Some of my favorite food blogs are ones I've been reading from the beginning like The Wednesday Chef, 101 Cookbooks, and Chocolate & Zucchini. I follow a lot of blogs like Homesick Texan and The Amateur Gourmet.
What are your best tips for home cooks, like yourself, with tiny kitchens?
I'd say that you shouldn't be intimidated by your small kitchen. One of the hardest things is getting into it. It helps to start with a recipe that's something you're craving immensely. If you want tomato soup and don't know any place to get it, you're driven and don't mind getting through the limitations because you want this. That's the first recipe you should make. Then, pick something else you want that no one is going to make the way you want, like something from that crazy expensive restaurant that you can't go to all the time. Build your cooking around that and you'll slowly have a repertoire of go-tos.
Do you have any favorite kitchen tricks or shortcuts to impart upon your readers?
I'm not a big time-saver cook. I think I'm more concerned about enjoying time in the kitchen but not making things overly difficult. Some recipes start with a mirepoix of onions, carrots and celery. If you would like to see those vegetables at the end of your meal, chop them. But use a food processor to finely chop if it's just for the base of a sauce or soup to make it easier on yourself.
What's next for you?
Getting back to normal life. I'm having a lot of fun out here, but I'm looking forward to getting back to a regular routine.
Click through to enter to win a copy of The Smitten Kitchen Cookbook!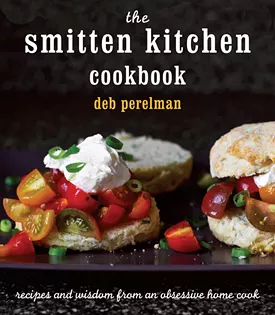 The Smitten Kitchen Cookbook Giveaway We're excited to auction off one copy of The Smitten Kitchen Cookbook by Deb Perelman, right in time to get it signed by the author and chef herself at Left Bank Books this weekend.
Rules: To enter to win, tell us in the comments section: What's your favorite Smitten Kitchen recipe and why? To be eligible, you must leave a valid e-mail address (or Twitter handle or Facebook profile URL) in the comment-entry field. One guess per e-mail address.