Welcome to Girl Walks Into a Bar, a weekly Gut Check feature that spotlights local bars and bartenders. This week, Kaitlin Steinberg profiles Eric Weis of Sub Zero Vodka Bar. Below is a Q&A with Weis and his recipe for a "Double Trouble."
To say that Sub Zero Vodka Bar (308 North Euclid Avenue; 314-367-1200) carries a lot of vodka is like saying that Missouri has a lot of meth. But while the sheer variety of vodkas at the Central West End bar might seem daunting to some bartenders, Eric Weis views it a challenge. He's a master at mixing creative flavor combinations, and with so many vodkas to choose from, his possibilities are nearly endless.
Weis has been working at Sub Zero since August of last year, but in that time, the self-proclaimed whiskey drinker has learned a lot about vodka. From bacon-flavored vodka to espresso-infused vodka, Weis can mix it all. And vodka-haters out there, beware: He just might convert you.
Describe your bartending style in three words. Friendly, no-nonsense and fun.
A girl walks into a bar and orders a _____. She has just earned your undying admiration. Jameson.
Other than your own place, where do you go to get a good drink? And what do you get? I personally like hole-in-the wall bars where you can sit down. I like seeing grizzled old men at the bar. I'm a whiskey guy myself. I really like going to O'Connell's Pub (4652 Shaw Avenue; 314-773-6600). They have one of the best burgers you can get in Missouri and these grumpy old man bartenders that are just awesome. Really good food, really good whiskey.
What is one thing that most people don't realize about crafting cocktails or bartending? You really have to know really good flavor combinations. You have to know what goes with what. You can't just throw things together and expect them to work.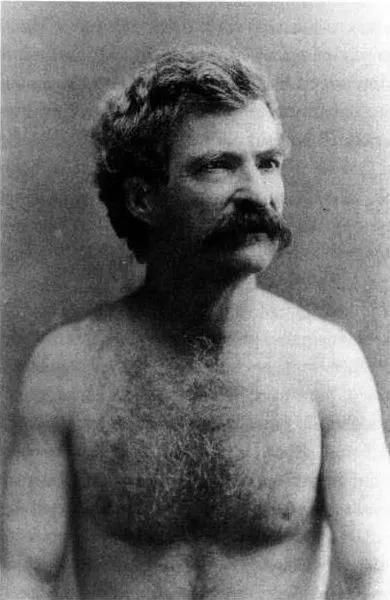 Mark Twain lets loose after imbibing several of Weis' cocktail creations (artist's rendering).
Who would you most like to have a drink with? And why? Probably Mark Twain. The man loved his scotch. And can you just imagine sitting down with Mark Twain and getting drunk and having him just throw quips at you? He just seems like one of the most interesting people of all time.
What is the most bizarre or worst drink someone has ordered from you? I once had someone order Rose's Lime Juice on the rocks with sweet and dry vermouth. I wanted to vomit.
What is the coolest or weirdest thing you've witnessed while working at Sub Zero? I really like seeing people who aren't huge fans of vodka come in and try some, and after that, they only ever order vodka. Getting scotch drinkers who are so against vodka to come in and change their minds, I think that's pretty awesome.
What's the next big bartending trend? The new big thing is just like in the food scene: local products, fresh infusions. The whole mixology scene is blowing up right now. People are getting into really good, crafted cocktails.
What's your favorite ingredient to use in cocktails? Bitters is always a cool thing because there are so many different kind of bitters. You can totally change the aromatics and the flavor of just about any kind of cocktail.
What's your favorite drink? A good glass of whiskey.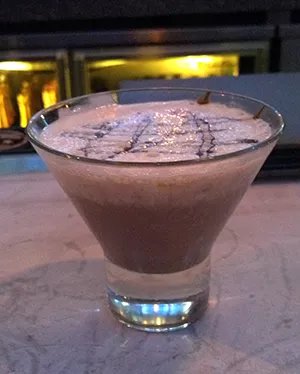 Double Trouble (Weis' own invention)
1.5 oz Van Gogh Double Espresso Vodka .5 oz 360 Double Chocolate Vodka Splash of RumChata dash of chocolate sauce
Mix these ingredients together with ice in a shaker and shake until blended. In a separate shaker, mix a few tablespoons of Bettercreme and RumChata, and shake until frothy.
Pour the vodka mixture into a martini glass and float the Bettercreme and RumChata mixture on top. Drizzle some chocolate sauce on the float, and serve.