Caillin Murray
Regulars relax at the bar at the Venice Café.
Venicé Cafe (1903 Pestalozzi Street; 314-772-5994)
The Hours: Monday through Saturday, 4 to 8 p.m.
The Deal: $2.50 rails, $1.50 can beers, $2.25 Budweiser family beers.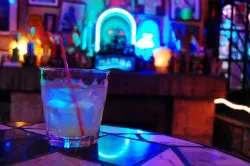 Caillin Murray
A whiskey sour from the Venice Café.
The Scene: Venicé Cafe is a funky, brightly lit jewel nestled in Benton Park. Don't let the name fool you -- there's nothing Italian or Renaissance-like about this establishment. Chinese lanterns and multi-colored string lights sway gently from the ceiling, and every interior surface is covered in something kitschy. A helmeted alien head watches from the windowsill, while a voodoo doll glares menacingly from his altar atop the fireplace mantel. Look up, and you can see a mannequin frozen in mid-stroke as she swims across the ceiling. What do all these things have in common? Nothing, but that's the scene at Venice Café.
Simply put, Venice Café is the place to go for atmosphere. Or to feel like you've left the atmosphere, more accurately.The bar on a Monday night was stocked exclusively with regulars, who chatted casually with bartender Misty Rose Martin as she obliged their music requests (one being Radiohead's Pablo Honey) and a small TV behind the bar played bizarre cult films (Gut Check was lucky enough to catch the first half of Clerks). There's no tap and the selection of bottled beers is quite limited. But the selection of liquors is better and bartender Misty Rose Martin pours 'em strong. It's cash-only though, so make sure to hit up an ATM or be left high and dry at the bar.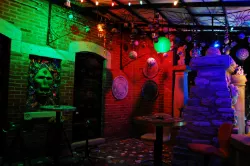 Caillin Murray
Pay homage to the tiki god on the outdoor patio of the Venice Café.
Why You'll Go Back: In warmer months, the large outdoor patio is a great place to relax and drink with friends. Round, sweeping walls and mosaics transported Gut Check to Park Güell, architect Antoni Gaudí's eclectic park in Barcelona. There's also live music nearly every night of the week, giving face time to a motley mix of local bands.
The Verdict: If you're bored with the regular bar scene and in the mood for something different, stop in Venice Café. Patrons of all stripes shuffled up to the bar, so no need to worry about feeling out of place. All in all, it's a great place to be if your childhood dream was to watch the world pass by from the interior of your Lite-Brite.