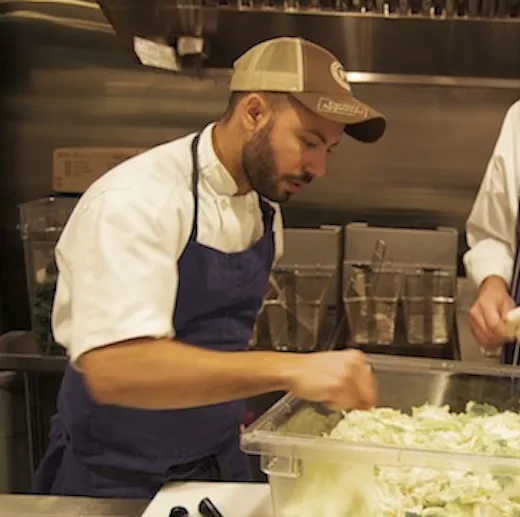 Liz Miller
Chef Wil Fernandez-Cruz at Restaurant at the Cheshire.
Chef Wilfrin "Wil" Fernandez-Cruz moved from New York to St. Louis to work at the newly minted Restaurant at the Cheshire, but he left that position after only two and a half months. Today Fernandez-Cruz is excited to be starting at Ibby's Restaurant (6465 Forsyth Boulevard, Clayton; 314-935-3940) on the campus of Washington University.
Julie Cohen of Sauce reported in January that Fernandez-Cruz was displeased with the Cheshire's lack of emphasis on local, seasonal ingredients.
See Also: - "Report: Chef Fernandez-Cruz Leaves the Restaurant at the Cheshire" - "First Look: The Restaurant at the Cheshire"
Gut Check is always hungry for more restaurant news. Feed us your tips.
At Ibby's Fernandez-Cruz will be able to source local ingredients and focus on sustainable dining practices. (The restaurant is a white-tablecloth joint located in the university's Danforth Center, which opened in 2011. The complex bears the name of chancellor emeritus William H. Danforth and his late wife Elizabeth; the restaurant, which is open to the public, is named for the latter, who went by "Ibby.")
In a press release, Dining Services executive chef John Griffiths states, "We're delighted to have Wil join our team. His culinary acumen, fine dining experience and signature style, showcasing the best ingredients he can find, is a wonderful match for us. Wil and I have a long shared our philosophy of preparing fresh, made-from-scratch foods with a strong commitment to social responsibility."
Gut Check spoke with Fernandez-Cruz, who echoes Griffiths' sentiments about social responsibility.
"John Griffiths was one of the first chefs I met in the city," Fernandez-Cruz says. "When I left the Cheshire, he mentioned the sustainability efforts at Wash. U. Before I took the job, we went over a lot of the details -- that he needed a person with a strong background in local sustainability. I'm working with the whole university and trying to put that in place to help educate the students."
WU's dining program is operated by Bon Appétit Management Company, whose "Farm to Fork" program emphasizes sourcing from local farmers and artisan producers. The university was recently named The Top University in America for Food Lovers by The Daily Meal.