Earlier this month, when Gut Check got wind of the impending arrival of the three new limited-time-only Lay's potato-chip flavors, our first thought was: Where can we get us some Chicken & Waffle?!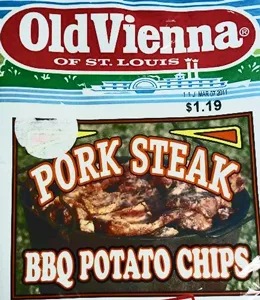 BBQ Pork Steak Flavor chips. We didn't have to make this one up.
See also: - Lay's New Limited-Time Flavors Now Available in St. Louis Grocery Stores - Taste Test: Lay's New Sriracha, Chicken and Waffles and Cheesy Garlic Bread Chips
Our second thought, upon brief reflection, was: St. Louis has its very own potato-chip company, Fenton-based Old Vienna (345 South Old Highway 141; 636-343-3050), whose Red Hot Riplets (and pork rinds!) are a vending-machine staple in the break room at Gut Check International Headquarters....
HOW AWESOME WOULD IT BE IF OLD VIENNA CAME UP WITH A ST. LOUIS-SPECIFIC LINE OF POTATO CHIP (& pork rind!!) FLAVORS?! Heck, they already make one fabulous example of the species: Pork Steak Flavor BBQ Chips.
See also: - The Ultimate St. Louis Snack: Old Vienna Pork Steak Potato Chips
As a public service, a shout-out to a local company and a call to action, here are six more flavors Gut Check would love to see...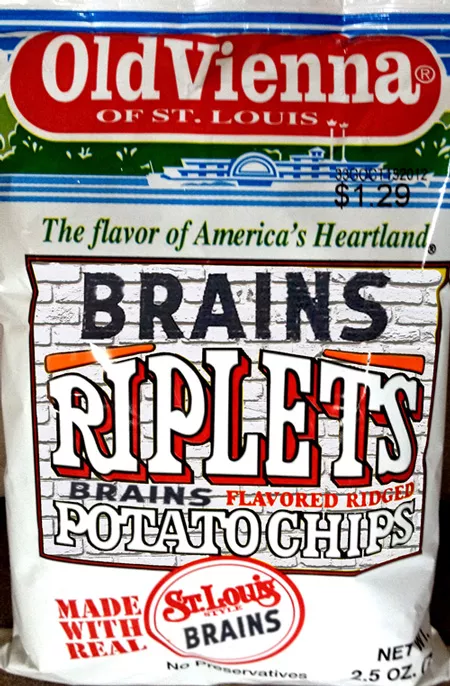 6. Brain Sandwich True, ask a hundred St. Louisans if they've ever eaten a brain sandwich and all hundred of 'em will likely look at you as if you don't have any. (Brains, that is; not sandwiches.) But ask what "brains 25 cents" brings to mind and they'll tell you faster than you can type it into The Google.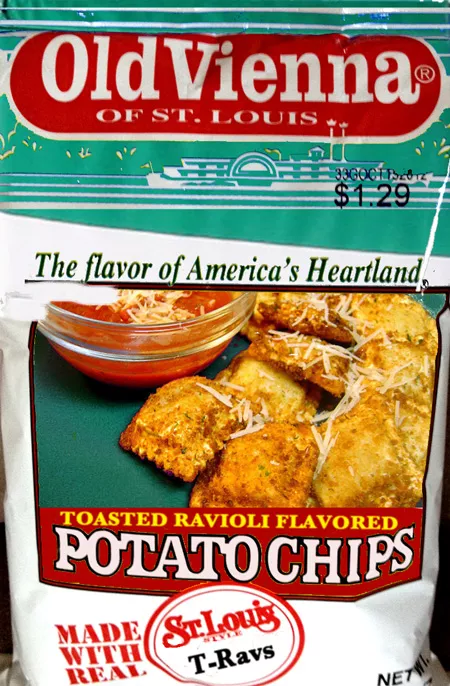 5. Toasted Ravioli If you spent any decent-size chunk of your growing-up time in St. Louis, the terms "toasted ravioli" and "t-ravs" trip off your tongue as smoothly as an "ice-cold frosty one" goes down Mike Shannon's gullet. Those who are unfamiliar with the territory, though, elicit guffaws when they ignorantly refer to "fried ravioli" and such. That said, toasted ravioli are fried.
And so are potato chips.
4. Beer Speaking of the Moonman, nothing would go better with a sackful of T-rav Riplets than...a sackful of Beer Chips! And there's no beer better suited to the task than Anheuser-Busch's own Natural Light, known to St. Louisans the world over as Natty Light. Just sayin'.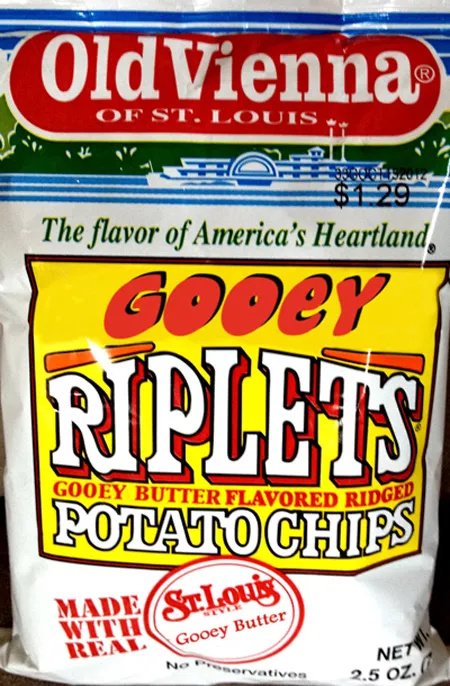 3. Gooey Butter Cake The last three entries on this list are such damned good ideas we're surprised -- nay, shocked -- that a company with the market savvy of an Old Vienna didn't come up with them long, long ago. Surely, any chipmaker that can give us BBQ Pork Steak flavor can gin up a recipe for Gooey Butter Cake. C'mon, folks!
2. Frozen Custard $100 says Old Vienna Frozen Custard Flavored Chips would outsell Red Hot Riplets within a year of their introduction. It wouldn't hurt to license Ted Drewes' tagline while they're at it, though: "It really is good, guys...and gals!"
1. Nacho Provel Old Vienna might need some fresh blood in its product-development division, but the company has package design down pat. When you're delivering goods on a par with Nacho Provel Snaps, you ease off the patter and let the product sell itself.