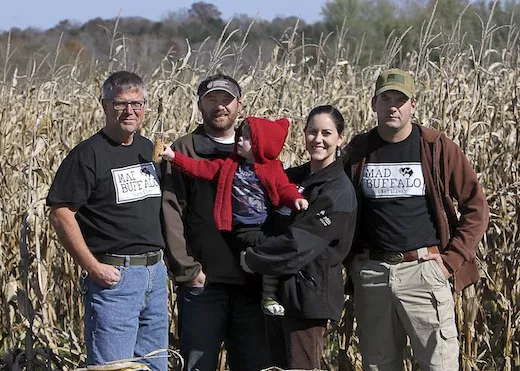 The Mad Buffalo family in front of their corn.
"Sustainable" and "moonshine" aren't often heard in the same sentence, but Mad Buffalo Brewing Company is hoping to make its sustainably produced Thunderbeast Storm Moonshine a household name.
Chris Burnette and his family founded Mad Buffalo in November 2011 on ShawneeBend Farm in Union, Missouri. Burnette tells Gut Check his family has been making moonshine for 200 years, so the notion that he would produce legal moonshine with the corn from his farm seemed only natural.
"My family is a moonshine family," Burnette says. "Growing up, my grandmother would use us kids as shields to deliver moonshine. She said she wouldn't get pulled over with us in the car, and she never did."
Before his grandmother passed away, she gave Burnette her moonshine recipe, and he admits, glancing around surreptitiously, he made it on his back porch for the next fifteen years. Now, Burnette and his family are focused on producing legal moonshine for the first time since before Prohibition.
In addition to the family's devotion to moonshine, they are passionate about the notion of "grain to glass" -- or buying all the grain used in the production of liquor straight from the farmers who grow it. Mad Buffalo Distillery takes this idea a step further. All of the corn used in the moonshine comes from their family farm, and the family has developed a closed-loop water system for cooling the distillate that reduces the amount of water waste. They clean all the water they use in-house, and they plan on being dependent on solar and wind power by the end of 2013.
"Because we grow the corn and produce everything ourselves, I have direct control on the quality of the corn, how it's ground, how it's stored -- every aspect of the process," Burnette says. "By the time it gets in the bottle, it's exactly how we want it. If it's no good, we scrap it. But that hasn't happened yet."
As a testament to the individual nature of each batch of moonshine, the company posts batch notes online that discuss who was on the production crew, how the cooking went, and even what music the distillers were listening to while they made the moonshine. If you taste a little 1970s rock in your bottle, it's probably the Grateful Dead.
Burnette also wanted to make sure that everyone involved in his business understands the distilling process. He had his marketing team work at the distillery so they know how much work goes into creating craft liquor.
In addition to moonshine, Burnette and his family hope to start producing other liquors soon, including an aged corn whiskey. He's in the process of obtaining sustainably grown barrels from McGinnis Wood Products in Cuba, Missouri, and he hopes to have barrels made from some of the fallen American Oak trees on his own property as well.
By Spring 2013, Mad Buffalo Distillery hopes to start producing vodka, then the company will try its hand at bourbon, aged whiskey, gin and, eventually, absinthe. For now, though, Thunderbeast Storm Moonshine is the star of the show.
Burnette admits there's some debate about being able to call a liquor "moonshine" when it's being produced legally, but he also admits that it's somewhat of a marketing maneuver. Besides, he emphasizes, "It's still my grandmother's recipe." Only now it's being produced sustainably, with little impact on the Missouri environment.
Grandma would be proud.