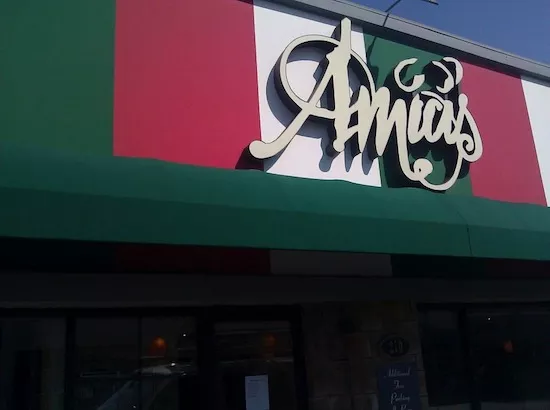 A regular reader told me last week that Amici's Italian Restaurant (210 North Kirkwood Road, Kirkwood; 314-821-2222) had closed as of the previous weekend. Calls to the restaurant have gone unanswered; occasionally, they have ended in a dial-up-internet-esque squall.
Last week's snowstorm and prior commitments prevented me from stopping by the restaurant until this afternoon. When I did, I found it closed during its posted hours. A sign on the front door announced that the restaurant was "Closed for Renovations". Nothing had been cleared out of the space, and many tables appeared to be set for service.
Amici's Facebook page remains online, though there have been no new posts since February 12. The restaurant's website, which as recently as late last week was still live, now shows only a "Page Not Found" error message.
More as we learn it.