The Veggielante has had it up to here with people bitching that St. Louis restaurants are vegetarian unfriendly. Sure, we'd like to see more restaurants offering more meatless dishes, but there are excellent choices out there if you take the trouble to look for them. We're not here to proselytize about greening up your diet. Our only motive is to spread the word about places where you can order good grub that ain't got no meat. To enhance your reading experience, we've settled on a handful of criteria we'll use to suss out a restaurant's vegetarian friendliness.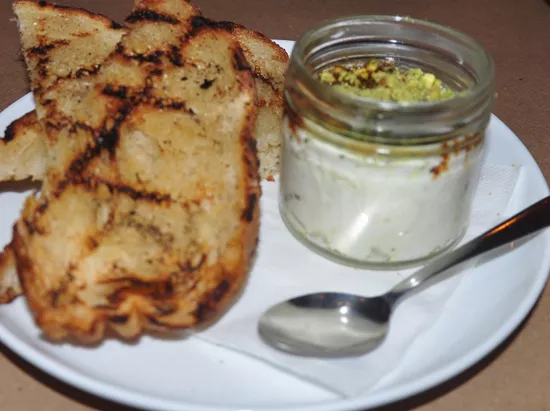 Tara Mahadevan
Baked cheese at Home Wine Kitchen
Destination: Home Wine Kitchen (7322 Manchester Road, Maplewood; 314-802-7676)
Neighborhood: Maplewood
Cuisine: Contemporary American
See Also: - Veggie Burger Highlights the Shack Pubgrub's Vegetarian Options - Ample Vegetarian Options at Robust's New Downtown Wine Bar - I Fratellini Offers Vegetarians Bruschetta, Raviolo and Numerous Tasty Salads
Overview: Home Wine Kitchen serves "responsible food". Chef Cassy Vires and her team source produce from small, family-owned farms in the Midwest and local shops. The menu changes frequently but generally features contemporary takes on classic American dishes.
Home Wine Kitchen's new spring menu, which debuts next week, will include all-new vegetarian selections.
Highlights: Home Wine Kitchen's baked-cheese appetizer (pictured above) is simple, but superb. Inside the jar are ricotta and goat cheeses, topped with a pistachio-fig balsamic; on the side are four pieces of buttered, grilled sourdough bread. Resist the temptation to lick the jar clean: The cheese is baked right in the jar and is hot, hot, hot. This appetizer will run you $6.
Tara Mahadevan
Grilled cheese at Home Wine Kitchen
The grilled-cheese sandwich is a permanent fixture on Home Wine Kitchen's menu. It brings a generous helping of sharp white-cheddar and fontina cheese, mushrooms, truffle oil and arugula grilled between two pieces of sourdough. The sandwich, served with a side of garlic chips, is $10.
Tara Mahadevan
Lunch box at Home Wine Kitchen
Unfortunately, Home Wine Kitchen had run out of its vegetarian risotto -- wild mushrooms, rosemary, parmesan and black truffle -- for the day, so we opted for the "Lunch Box" meal instead, as this week's dish was vegetarian. This is a panisse cake -- similar to polenta, but made of chickpeas -- on a bed of mashed sweet potato, caramelized onions and fried kale. The lunch box costs $14, which includes a dessert.
You will find more vegetarian-friendly dishes on the restaurant's lunch and brunch menus rather than its dinner menu, as both lunch and brunch have an assortment of vegetarian-friendly appetizers and entrées. However, Home Wine Kitchen does No Menu Mondays, where the chef will prepare you a special three course meal tailored to your palate and dietary restrictions.