Welcome to Girl Walks Into a Bar, a weekly Gut Check feature that spotlights local bars and bartenders. This week, Kaitlin Steinberg profiles Jeffrey Moll Jr. of Little Country Gentleman. Below is a Q&A with Moll and his recipe for a blackberry syrup he uses in his cocktails.
Walking into Little Country Gentleman (8135 Maryland Avenue, Clayton; 314-725-0719) is like entering a bar from the past and the future simultaneously. On the one hand, there's the bar itself, which looks like an apothecary out of a Dickens novel, all mismatched glasses and colored bottles. On the other hand, there are the drinks, which are futuristic in their complexity and avant-garde flavors. Bridging the two worlds is Jeffrey Moll Jr., whose bushy beard and ear gauges make him somewhat of a dichotomy himself.
Moll makes a mean cocktail, and he's a big fan of experimentation in bartending, but his career as a mixologist began only a few months ago, when Little Country Gentleman barman Seth Ferguson decided to move on. Ferguson trained Moll in the tricks of the trade, and since then the new barman has been bringing his own flair for innovation and classy cocktails to LCG.
See Also: - RFT's review of Little Country Gentleman
Describe your bartending style in three words. Unique, proprietary and.... Hmm, I'm not good at talking about myself.... So I guess...modest?
A girl walks into a bar and orders a _____, she has just earned your undying admiration. Negroni.
Other than your own place, where do you go to get a good drink? And what do you get? One of my favorite places is the cocktail museum at the Royale (3132 South Kingshighway; 314-772-3600). I like to order a Sazerac.
What is one thing that most people don't realize about crafting cocktails or bartending? They take more time to pump out than a vodka-tonic.
Who would you most like to have a drink with? And why? [Moll ruminated on this for a good five minutes. He said he'd never thought about it before, but he wanted to get it right.] I'm leaning toward a writer. I want to say Hemingway, but that seems cliché. I think I'm going to go for another cliché answer and say Hunter S. Thompson. I don't know what I'd drink with him, though. I guess beer. Or wait -- what illegal substance can you get in liquid form?
What is the most bizarre or worst drink someone has ordered from you? I did have someone order a vodka martini with Sprite once. I hate to make anything with vodka. I just think vodka is one of the most boring spirits in existence, unless you need a neutral base to highlight other flavors.
What is the coolest or weirdest thing you've witnessed while working at Little Country Gentleman? It doesn't really have to do with the restaurant or bar, but the last time it snowed, after we closed the restaurant, there was this guy running up and down the street in the snow yelling and banging on cars. I have no idea why he was doing that, but it was crazy.
What's the next big bartending trend? Vinegar. Making shrubs [vinegar-based syrups] is kind of my big thing right now.
What's your favorite ingredient to use in cocktails? Sweet vermouth.
What's your favorite drink? I'd have to say a negroni. That's why I'd be so impressed if a girl walked in and ordered one. I'd be like, OK, yeah, we're gonna be friends.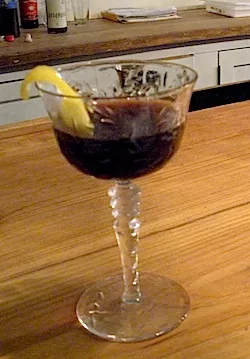 Moll doesn't want to completely give away recipes for his homemade shrubs, which he invents and uses in drinks at Little Country Gentleman, but he did explain how they're made.
One of his favorites is made by macerating blackberries and mixing with brown sugar. He lets that sit for three days, then mixes in an equal quantity of balsamic vinegar. He adds spices -- like cardamom, ginger, cinnamon and Thai dragon pepper. After sitting for three weeks to ensure that the flavors meld, it's ready to use.
Moll used his blackberry shrub with unaged rye whiskey in an invention he's calling No. 25.
Head over to Little Country Gentleman and give it a try. (If your taste for cocktails runs to the classics, the bar offers 'em for $7 a pop Tuesday through Friday nights. Good deal!)