RFT Photo
Joy Christensen, owner of the Fountain On Locust.
Update 11:59 a.m. Because of weather concerns, the Fountain's Burlesque Birthday Party will be postponed until Wednesday, February 27.
Think back to the last birthday party for a five-year-old you attended. Maybe there was a bounce house, a unicorn-shaped cake or a slightly creepy-looking clown. But for the Fountain on Locust, celebrating its fifth birthday means burlesque performances, a drag show and birthday-cake martinis.
Gut Check caught up with Fountain owner Joy Christensen, who reflects on the past five years and looks forward to what's ahead.
"It's been a blink. I'm an accidental restauranteur, I have no experience in restaurants. I just did this because I thought St. Louis needed something like this."
See also: -Interview: Joy Christensen Talks About The Fountain On Locust's New Menu -Best Public Restroom - 2010: The Fountain on Locust -The Fountain on Locust to Host First Annual Scooperbowl
The Fountain on Locust's Burlesque Birthday Party runs from 9 to 11 p.m. on Thursday, February 21. A $5 cover gets guests access to the entertainment, as well as a chance to spin a "Big Birthday Wheel" and win prizes ranging from the world's smallest hot fudge sundae to a percentage off your check.
And for the occasion, the restaurant is taking its regularly scheduled Thursday night burlesque performance and putting it on steroids. Local sketch comedy burlesque group the Randy Dandies will tempt and tease onstage, and some of the Fountain's very own motley crew of talented employees will perform throughout the night, including drag performances and singing.
The kitchen is putting a birthday twist on the Fountain's ice cream martini, also creating a way to make the drink birthday-cake flavored.
"We used our own combination of things," Christensen says. Vanilla vodka, crème de cacao and a dash of pineapple juice make up the new flavor addition. Christensen assures Gut Check that we'll want to lick our glasses clean after trying the new martini.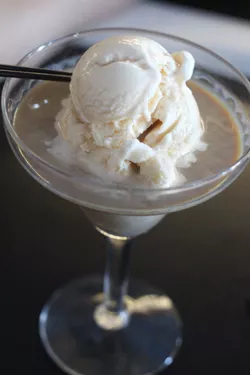 RFT Photo
"Sweet Romance" adult ice cream pairing at the Fountain with Bailey's Irish Cream, Kahlua coffee liqueur with vanilla ice cream.
A lot has happened at the Fountain over the past five years. The dessert shop won the title of "America's Best Restroom" from commercial restroom supply company Cintas, finally finished the epic art deco mural adorning the restaurant's interior walls (it took Christensen two years to complete the whole thing) and the Fountain has established itself as a restaurant to watch in St. Louis.
Christensen said she was initially afraid the Fountain would be a bust, after a feature on "Show Me St. Louis" brought the newly opened restaurant almost no customers. She says its because nobody knew where they were. At the time, the area was home to just two other restaurants, and Locust was still a one-way street -- a difficult scenario for any business.
"We thought we had made a huge mistake," Christensen says. "But we couldn't move."
She says it took nearly three months for customers to begin trickling in, but once they did, she says they always came back.
Christensen expresses her gratitude for the people of St. Louis. "I wanna explode and jump up and down," she says. "We're delighted to be here and to have our wonderful customers and to have St. Louis so strongly supporting us."
So what's in store for the next five years? Christensen bought another building on Locust, and has plans of turning it into an artisan distillery. Additionally, she plans to expand the Fountain into the office space currently above the restaurant and use the space for private parties.
Plan on attending the Fountain's fifth birthday party? Make reservations now; the restaurant is quickly nearing its 110-person capacity.