The Academy Awards are on Sunday evening, and to celebrate, Gut Check has come up with some questionable delicious movie and food pairings. Some were simple and obvious (Life of Pi...pie...), while others were not as straightforward (Amour? Hmm...).
But we're clever here at Gut Check, so we got you covered. Here's what we're gonna be eating on Oscar night.
1. Amour
Amour is the kind of movie that's so damn depressing that it makes even Gut Check not want to eat. But, you know, it's French, so if you must eat something in honor of this film, eat something French. Like toast. French toast.
The elderly couple in the movie eat breakfast in one scene, and though they weren't eating French toast, it's safe to assume that had they been, they would have been much happier and things would have been completely different for them. Make sure to serve with real maple syrup, cause the French don't mess around with that fake sugar crap.
2. Argo
Remember that scene at the end of Argo where the Swiss Air flight triumphantly evades capture by the Ayatollahs and a flight attendant comes over the speaker to announce, "We have cleared Iranian airspace and alcohol can now be served."
Honor that momentous event by drinking with your comrades. What should you drink? Try Arak, a clear, colorless, unsweetened liquor with an anise flavor. It's traditional in the Middle East and can be found at most Middle Eastern markets.
3. Beasts of the Southern Wild
How to prepare cat food à la Hushpuppy.
Step 1. Light your stove with a blowtorch. Step 2. Open can of cat food with can opener, Step 3. Spoon cat food into pot and place pot on stove. Step 4. Warm up cat food to desired temperature. Step 5. Eat.
Alternatively, you can catch at catfish with your bare hands, then cook it over an open flame.
4. Django Unchained
Offer guests a big bowl of Oreos, which are symbols of black and white working together for a common good. Also, they're delicious.
Serve drinks in coconuts, just like Calvin Candie likes. And chain smoke out of a pipe.
5. Les Miserables
Like Amour, this super depressing French movie doesn't exactly increase our appetites. But since the main dude, Jean Valjean, was imprisoned for 20 years for stealing a loaf of bread, why not honor his sacrifice with a loaf of bread of your own? Make sure it's from the grocery store and says something to the effect of "French Bread" on the wrapper. But, you know, don't steal it. Look what happened to Valjean.
6. Life of Pi
While the obvious choice would be Pi pizza, we're gonna go ahead and suggest something possibly even more obvious: pie. But to keep it classy, we recommend Edwards frozen turtle pie (available in your grocer's freezer section). Cause while Pi was floating around in the ocean, he ate a lot of turtles.
7. Lincoln
Lincoln is an all-American dude, and hot dogs are an all-American food. Sure, they may not often be paired, but we think the Illinois native would have gotten down on a Chicago-style hot dog had they been available in the Civil War-era White House.
In case you're not aware of what fixins go on a Chicago-style hot dog, allow us to educate you. Start with an all beef dog on a poppy seed bun. Top with mustard, white onions, tomato slices, sweet pickle relish, a pickle spear and some whole pickled peppers. Serve in a stove pipe hat for a little Lincoln flair.
8. Silver Linings Playbook
Fill candy dishes with various anti depressants and bipolar medications. But none of that herbal crap. We're talking prescription meds all the way.
Suggestions: Prozac, Lexapro, Paxil, Zoloft, Cymbalta, Abilify, Zyprexa and Clonazepam
9. Zero Dark Thirty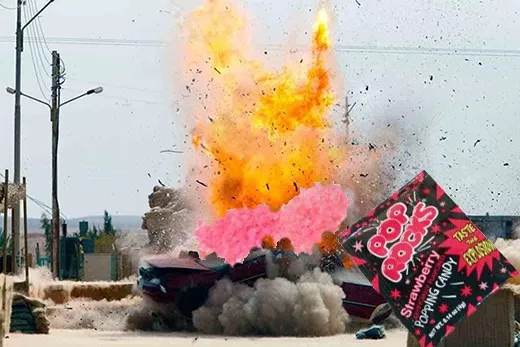 This list is getting tedious. Seriously, Academy, do we really need nine nominees?
Whatever. There are a lot of explosions and bombings in Zero Dark Thirty, so have some Pop Rocks. Use them to rim your drink glasses. Sprinkle them on ice cream. Eat them by the spoonful and revel in the explosions in your mouth.