With fish-fry options galore in St. Louis during Lent, it might be a daunting task trying to figure out where to go. Sure, some popular fish-fry locales distinguish themselves with non-traditional menus, but any way you dunk it in hot oil, there's a lot of deep-fried jack salmon and cod to wade through in this town.
This year, in an attempt to glean insight, Gut Check talked to a handful of high-profile St. Louisans to see which fries they favor.
See also: -Gut Check's Guide to More Than 35 St. Louis Lenten Fish Frys -- Map Included! -Fish Fry Frenzy 2012: Week 4, St. Cecilia Parish Church -Fish Fry Frenzy 2012: Week 2, Webster Groves Lion's Club Gluten-Free Fish Fry
KMOX (1120 AM) radio host Charlie Brennan has visited numerous of fish fries across the area over the years, but he and his family have been frequenting one particular fry for years.
"I really prefer the baked salmon at Our Lady of the Pillar in Creve Coeur," Brennan says. "The portions are large, the fish is not overcooked and the salmon's garlic-and-pepper seasoning makes for a restaurant-quality entrée. If lines are long -- and they usually are -- Pillar staffers pass out samples of fried shrimp."
KMOV-TV (Channel 4) anchor and reporter Jasmine Huda used to frequent the fish-fry scene while out in the field reporting, sometimes visiting up to four in one night. Owing to her current schedule, Huda isn't up on the local parish circuit but manages to get her Lenten fix at another local eatery.
"The fish-and-fries platter at the Schlafly Tap Room gets my vote," she says. "Can't go wrong with Hefeweizen beer-battered cod paired with the coffee stout."
Finally, Gut Check hooked the biggest St. Louis fish we could find in local government: Mayor Francis Slay.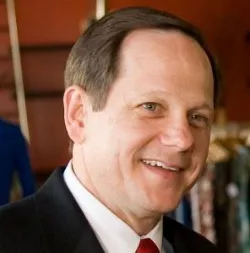 St. Louis Mayor Francis Slay.
"It's just too hard to pick a favorite, because they're all so different," Mayor Slay tells Gut Check in an e-mail. "I love the variety. You can get Mexican at St. Cecilia's or baked fish like I had last [Ash Wednesday] night at St. Stephen's. It's refreshing that everywhere I go I find good food and great people enjoying themselves and supporting our local parishes."
So there you have it. Mayor Slay likes St. Cecilia Parish Church (5414 Alaska Avenue, 63111; 314-351-1318) and St. Stephen Protomartyr Catholic Church (3949 Wilmington Avenue, 63116; 314-481-1133).
Which local fish fry gets your vote as a "must visit" during Lent? Let us know in the comments section.