The Veggielante has had it up to here with people bitching that St. Louis restaurants are vegetarian unfriendly. Sure, we'd like to see more restaurants offering more meatless dishes, but there are excellent choices out there if you take the trouble to look for them. We're not here to proselytize about greening up your diet. Our only motive is to spread the word about places where you can order good grub that ain't got no meat. To enhance your reading experience, we've settled on a handful of criteria we'll use to suss out a restaurant's vegetarian friendliness.
Tara Mahadevan
House-made veggie burger at the Shack Pubgrub.
Destination: The Shack Pubgrub (3818 Laclede Avenue; 314-533-7000)
Neighborhood: Midtown
Cuisine: American
See also: -Hangover Helper: The Shack Pubgrub's "Shack-Which" is a sure cure for what ales you -The Shack PubGrub: Review + Slideshow -The Veggielante Relishes Robust's New Downtown Wine Bar in the MX Building
Tara Mahadevan
Fried pickles and peppers at the Shack Pubgrub.
Overview: Open from 11 a.m. to 1:30 a.m., Monday through Sunday, the Shack Pubgrub is located on the outskirts of Saint Louis University's campus and mainly caters to students. The Shack is your typical pub with a bar full of beer and a menu full of late night eats, with some good vegetarian options to boot. If you're a student and you've got the munchies, the Shack is tailor-made for you with good food and cheap prices.
Highlights: The fried pickles and peppers ($5) definitely add a kick to any meal. The breaded dill pickles and jalapeño peppers come with a creamy dipping sauce, which compliments the spiciness of the peppers and the pickled dills nicely. If you aren't a spice fanatic, you can opt out of the jalapeño peppers and just order the pickles.
The Shack also makes a mean house-made veggie burger ($6); a black bean burger, topped with melted pepper jack cheese, lettuce, tomato and red onion served on a wheat bun. Though simple, this meat-free burger is a good option for any vegetarian looking to satisfy a meaty craving.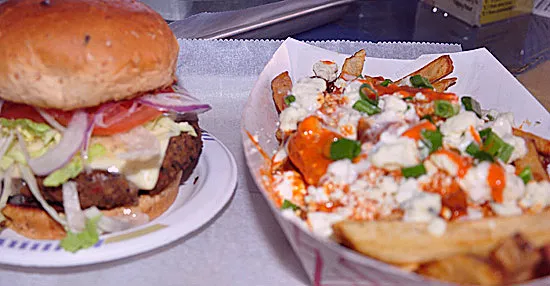 Tara Mahadevan
House-made veggie burger and hot and spicy fries at the Shack Pubgrub.
A nice side to accompany the veggie burger is the Shack's loaded hand-cut fries ($6), which are quite loaded indeed. Though none of the options are listed as vegetarian-friendly, Gut Check opted for the hot and spicy fries sans bacon. All fries are cut-to-order, seasoned russet potatoes -- the hot and spicy fries are saturated in the Shack's special seven-spice buffalo sauce, blue cheese and green onions.
Tara Mahadevan
Hot and spicy loaded hand-cut fries at the Shack Pubgrub.
In addition to hearty American fare, the Shack offers several vegetarian-friendly salads, pizzas and assorted sides.