Washington has been focusing more and more on food and eating healthy lately, thanks to Mama Obama's presence in the white house. Michelle planted a garden on the White House grounds, which regularly provides produce to the prez and his family. She's working to make school lunches healthier, but she still enjoys a good slice of pizza or some crisp french fries. Our commander-in-chief seems to have taken a page out of Michelle's book, and has become somewhat of a foodie himself.
He's far from the most epicurean president, though. In honor of Presidents' Day, we've rounded up the top foodie American leaders--men who were just as obsessed with dinner as they were with foreign policy. We've also provided suggestions for where you should eat to honor these former head honchos on this special day.
5. Lyndon Johnson (36th president, 1963-67)
Lyndon Johnson was born and raised in Texas, and as such, he was a barbecue man and Tex-Mex man. At his inaugural luncheon, chefs served Texan filet mignon, and when the Johnsons entertained dignitaries at his ranch in Stonewall, Texas, they would serve giant Tex-Mex buffets prepared extra spicy. The president would then watch with glee as his unsuspecting guests turned red and feigned appreciation for the tongue-scalding regional cuisine.
Pork ribs were Johnson's barbecue meat of choice, but there was a saying in the White House kitchen that he would eat anything that didn't bite him first. The LBJ Library on the University of Texas campus has records of Johnson's favorite foods, which include chicken fried steak, spicy deer sausage with scrambled eggs and grits, and anything made with peaches, which are a major crop in west Texas.
He also had a particular fondness for chili, and said a week without chili was a week wasted. Not sure the soldiers in Vietnam during that time would agree, but whatever, LBJ.
To dine like LBJ this evening, try Bogart's Smokehouse (1627 S. 9th St.; 314-621-3107), a Gut Check favorite and winner of RFT's Best Barbecue 2012.
4. William Howard Taft (27th president, 1909-13)
Of course the president famous for being so fat he got stuck in his bathtub was a major foodie. His favorite food was steak, but he would pretty much eat anything (and everything).
It is documented that, on one trip to Savannah, Georgia, Taft had an epic breakfast, including (but not limited to) grapefruit, potted partridge, broiled venison, grilled partridge, waffles with maple syrup and butter, hominy, hot rolls, bacon, and more venison. A typical lunch in the Taft White House might include bouillon broth, fish with tartar sauce, lamb chops, potatoes, green peas and any number of bon bons for dessert. Even after a lunch like that, dinner could consist of lobster stew, salmon cutlets with peas, roast cold tenderloin with vegetable salad, cold tongue and ham, frozen pudding, cake, fruit and lots of coffee. The only thing Taft did not like was eggs.
Fortunately for the rotund leader, leaving office did him good. He lost 80 pounds and went on to become a law professor at Yale, and then eventually the chief justice of the U.S. And he ate a lot of salads.
But we applaud a man who can throw caution to the wind, so we suggest hitting up J. Gilbert's (17 W. County Center, Des Peres; 314-965-4600) for an evening of steaks cooked over a wood fire grill.
3. John F. Kennedy (35th president, 1961-63)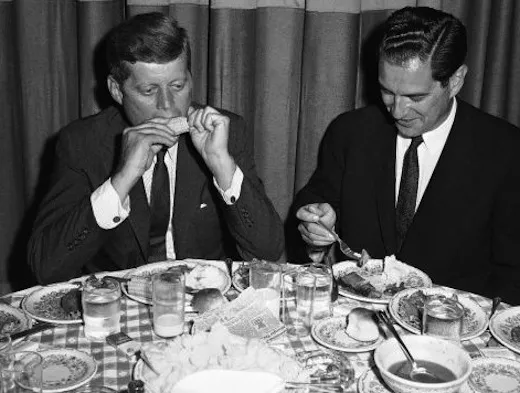 Jacqueline Kennedy was the true culinary star of the Kennedy White House. She didn't cook much herself, but she hired French chefs and threw incredible dinner parties. JFK has been compared to Thomas Jefferson for his love of French cuisine, but his New England upbringing also meant that he had a soft spot for any meal that included fresh seafood.
According to Kennedy's chef René Verdon, "Soup was a dish close to the heart of President Kennedy, since it gave him an opportunity to be served the fish for which his New England background had given him a special appreciation. He dearly loved Boston clam chowder, and asked me to prepare it for him on many occasions...I did everything I could to satisfy Mr. Kennedy's New England liking for good fish cookery. Quite naturally, as a Catholic, he had it every Friday."
St. Louis is not often thought of as a great place for clam chowder, but DeMun Oyster Bar (740 De Mun Ave.; 314-725-0322) is sure to please with their wide variety of seafood offerings and Manhattan clam chowder, which is different from New England, but still delish.
2. Andrew Jackson (seventh president, 1829-37)
Andrew Jackson was a svelte fellow, but he knew good eats. He was often called King Andrew because of his insane banquets, and he had a French chef installed in the White House to cater to his every whim.
Perhaps most notable about Jackson, however, is his love of cheese.
In 1835, dairy farmer Colonel Thomas S. Meacham of Sandy Creek, New York decided to celebrate Jacksonian democracy by crafting a humongous wheel of cheese for the prez. The cheese weighed in at nearly 1400 pounds, and it was four feet in diameter and two feet thick.
The cheese wheel debuted at a patriotic celebration in New York before being loaded onto a boat to make a new home at Pennsylvania Avenue. According to Jackson's biographer, even after Jackson gifted large chunks of cheese to his friends, he was still in possession of a shit ton of cheese. By the end of his term in 1837, unwilling to transport the two-year-old cheese out of the White House with him, Jackson held a public reception and invited the 10,000 guests to chow down. The cheese was gone within two hours.
Not gone, though, was the old, stinky cheese smell that had evidently permeated the White House walls and carpets. Jackson's successor, Martin Van Buren, was able to air out the presidential abode, but Jackson left a present behind for him: another 700-pound block of cheese for the new president's dining pleasure. Sneaky bastard.
You probably won't be able to find a 1400-pound wheel of cheese here in St. Louis (consider that a challenge, Missouri dairy farmers), but you can find some pretty awesome cheese at Manzo Sausage Kitchen and Market (5346 Devonshire Ave.; 314-481-5200).
1. Thomas Jefferson (third president, 1801-09)
Jefferson is America's original foodie, and he had an enormous impact on the shape of American cuisine. He was way into health food, choosing red wine over whiskey (yes, red wine is a health food in Gut Check's book) and veggies over red meat. He also used his vast land holdings at Monticello to grow edible produce, rather than cash crops, making him a locavore during an era where imported cuisine was considered the height of luxury.
That said, Jefferson's time spent as U.S. Minister to France greatly broadened his culinary horizons, and led him to instruct his personal chefs in French cuisine when he returned to America. According to The Presidents' Cookbook, "President Jefferson was particularly addicted to intricate dishes and brought back from Paris...bouilli, daubes, ragouts, gateaux, souffles, ices, sauces, and wine cookery. Jefferson confessed a preference for French cooking because the meats were more tender."
Jefferson was also a wine connoisseur, having developed a taste for it while in college. When he returned to the states from France after living there for five years, he brought with him no fewer than 680 bottles of French and Italian wine. In attempting to describe the wines he brought here to Philistines in the U.S., Jefferson also became one of the first wine writers, describing each bottle with detail and finesse.
As president, he authorized the Louisiana Purchase, which added Missouri barbecue and Louisiana creole cuisine to our tables. Later in life, he began to brew his own beer, and he popularized macaroni and cheese.
For a taste of Jefferson's idea of life, liberty and the pursuit of happiness, head to Franco (1535 S. Eighth St.; 314-436-2500) for some French bistro fare in the heart of Soulard.