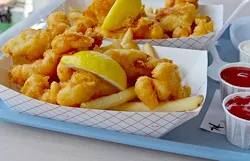 Celebrate a belated Valentine's Day this weekend or get a taste of fried fish at a local fry or Schlafly's Cod and Cask fest. Read on for more suggested events.
Friday (Feb. 15):
Fish Fry @ St. Stephen Church Fish fry seasons kicks off this weekend with baked cod, fried jumbo shrimp, green beans and more. 4 to 7 p.m.
Third Friday Open House @ Third Degree Glass Factory Sip on "pomegranate mmmartinis" and select from small plates such as lobster mac and cheese while viewing art, glassblowing demos, live music and more. Free 6 to 10 p.m.
Around the World Wine Dinner @ Missouri Botanical Garden Chefs from Catering St. Louis create a regional menu along with a wine pairing for each course. This month's theme of South Africa includes components such as braised chicken with papaya chutney, mini curred greens pot pie and grilled lamb mince skewers. Seats cost $58. Call 314-577-0200 for reservations. 6:30 p.m.
See Also: - Gut Check's Guide to More Than 35 St. Louis Lenten Fish Frys -- Map Included!
Saturday (Feb. 16):
Cod and Cask Festival @ Schlafly Tap Room Sip on cask-conditioned ales and feast on beer battered Icelandic cod and chips to your heart's content. On Saturday at 3 p.m., expect guest casks from the likes of 4 Hands Brewery, Civil Life and more. Admission is free. 11 a.m. to midnight.
Missouri Winefest @ Westport Plaza Sample and buy wine by the bottle from Stone Hill Winery, Wenwood Farm Winery and more. General admission is $20 in advance and $25 at the door, with proceeds to benefit the Leukemia and Lymphoma Society. Noon to 5 p.m.
Valentine's Dinner @ Montelle Winery Chef Dan Welsh prepares a five-course meal for lovers that includes fresh tomato basil bisque, herb encrusted roast tenderloin with a red wine reduction, housemade white chocolate raspberry bread pudding and more. $75 per person. Call 1-888-595-9463 for reservations. 6:30 p.m.
Valentines a la Flamenca @ The Sheldon Eat tapas and paella prepared by Guido's Pizzeria & Tapas and then enjoy the red-hot rhythms of Latin music, singing and dancing. Tickets cost $50 in advance and $60 at the door. 7:30 p.m.
Eat Your Heart Out Valentine's Dinner @ Mad Art Gallery Dine in the cozy ambiance of Mad Art's transformed jail cells at communal tables, or a limited number of two-person tables. Paired wine flight option, cash bar available. $75 per person. Tickets available through Eventbrite. 8 p.m.
Sunday (Feb. 17):
Chocolate Wine Trail @ The Hermann Wine Trail Chocolate treats paired with specials wines await at seven stops along the Hermann Wine Trail. Tickets cost $30 per person. Saturday, Feb. 16 from 10 a.m. to 5 p.m. and Sunday, Feb. 17 from 11 a.m. to 5 p.m.
Weekend Dinner Party: Braised Short Ribs @ Kitchen Conservatory During this demonstration, enjoy herbed flatbread with caramelized onions and blue cheese, fruity arugula salad, braised short ribs with homemade cavatelli noodles and pineapple crostada. $50 per person. Register online via the Kitchen Conservatory web site. 5:30 to 8 p.m.
See Also: - Gut Check's Guide to More Than 35 St. Louis Lenten Fish Frys -- Map Included!