Liz Miller
Gut Check evaluates Lay's three new limited-time potato chip flavors, to surprising results.
We got to the Schnucks (6600 Clayton Road, Richmond Heights; 314-644-0510) in Richmond Heights just in time yesterday evening. Our mission was simple: beeline to the snacks aisle in search of Lay's three new, limited-release potato chip flavors in Sriracha, Chicken and Waffles and Cheesy Garlic Bread. Stalking down the aisle, eyeballing bags of chips with increasing panic, we finally located two bags of the Cheesy Garlic Bread chips, sitting lonesome on an otherwise deserted shelf. But what of the Sriracha and Chicken and Waffles flavors? Approaching the aisle's endcap we spotted one solitary bag of Lay's Chicken and Waffle chips set beside scads of bags of Sriracha chips. Success! The day was ours!
And really, perhaps we only have ourselves to blame for that narrow victory -- earlier in the day we reported that these three finalist flavors in Frito-Lay's "Do Us A Flavor" contest were available at this Schnucks location for a limited time.
Now down to brass tacks: Do these questionable, fan-submitted flavors resemble their namesakes in taste? And even if they do, is that a good or a bad thing?
See also: -Lay's New, Limited-Time Sriracha, Chicken & Waffles and Cheesy Garlic Bread Chips Now Available In Some St. Louis Grocery Stores
Liz Miller
Lay's Sriracha potato chips look a lot like Lay's Barbecue potato chips, no?
Sriracha Gut Check likes Sriracha a lot. We might even deign to say it's the most versatile hot sauce, adding heat with signature garlicky, chile spice tang to any food. And while Sriracha-flavored snacks are nothing new, we were damn near gleeful to taste Lay's potato chip take on the Vietnamese and Thai rooster sauce.
Well, we wouldn't say we were disappointed with the chips, but we did find them lacking. The first crunch was a bit of a letdown: We were expecting spice and heat with at least a bit of a roof-of-the-mouth-burn, and judging based on that criteria, the Sriracha flavor was pretty dull.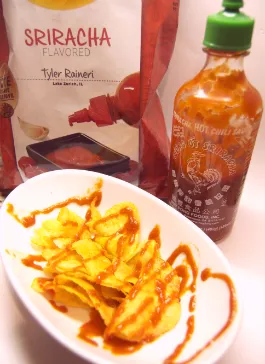 Liz Miller
We recommend adding Sriracha sauce to Lay's Sriracha potato chips.
At first the chip flavor reminded us of Lay's Barbecue potato chips, but a few more, um, test subjects, distinguished themselves with zings of cheese and sour cream. Every now and again we tasted a bite of chile, but not consistently.
But without a hint of garlic or distinguishing heat, the Sriracha chips just didn't do it for us.
Sure, we could eat of bag of 'em. We're not that picky. But we'll be dousing them with real Sriracha sauce beforehand.
Liz Miller
Lay's new, limited release Cheesy Garlic Bread potato chips.
Cheesy Garlic Bread Like the Sriracha chips, we had pretty specific expectations for the Cheesy Garlic Bread and Chicken and Waffle chips -- though the latter two might be slightly more ambitious. Not only do they aim to capture the essences of solid foods with familiar tastes and textures, they're mere cold, crunchy copycats of foods usually served hot.
At face value, our first reaction to Cheesy Garlic Bread potato chips was: Combining cheese and garlic to make a potato chip flavor seems so obvious it's kind of amazing it doesn't already exist. But then we ate a few, and they tasted too familiar. Hauntingly familiar. What is that blend of cheesy, garlicky powder?
Then it dawned on us: Cheesy Garlic Bread potato chips taste like regular Lay's potato chips sprinkled with Kernel Season's Parmesan and Garlic popcorn seasoning, which is not to say they taste bad. Obviously we're on a first-name basis with the Kernel. The taste was cheesy and zesty enough, but the chips were a bit too powdery, leaving our fingers caked in an almost translucent Parmesan and garlic salt dust.
We would eat these again, but we wouldn't, say, hunt them down at the grocery store in a mad fervor again.
Liz Miller
Lay's Chicken and Waffle potato chips smell strong of maple syrup.
Chicken and Waffles Lay's Chicken and Waffles chips are weird. They're easily the weirdest of the three finalist chip flavors, but more than that, it's just weird that they exist. As a meal, chicken and waffles are the perfect pairing; sweet and savory flavors complement one another, while the crunch of fried chicken gives way to fluffy, doughy waffles. Matching that experience in a single potato chip is a tall order, and not one we're certain we'd ever place.
But much to our surprise, Lay's pulled it off. Of the three finalist flavors, the Chicken and Waffles chips were our favorite. These chips really do taste like their namesake, thanks to an addicting balance of sweet maple syrup and salty, savory flavors. We found ourselves staring down the bottom of this bag, almost mesmerized anew with each chip. How did Lay's achieve such a thing?
How did Lay's distill the flavors of an entire meal into one potato chip flavor yet couldn't get the recipe for Sriracha right?
Maybe it's not worth asking too many questions, though. That takes away from valuable potato-chip eating time.