Jennifer Silverberg
Bogart's Smokehouse pitmaster Skip Steele
The barbecue renaissance continues in St. Louis. When we last ranked our best barbecue joints, only five made the cut. This time around, we found seven worthy of consideration -- four holdovers from last time and three newcomers.
See Also: - The Five Best Cajun/Creole Restaurants in St. Louis - The Ten Best New Restaurants in St. Louis 2012 - The Five Best Barbecue Spots in St. Louis (2011)
The Finalists (in alphabetical order)
Jennifer Silverberg
The brisket sandwich at Hendricks BBQ
Hendricks BBQ (1200 South Main Street, St. Charles; 636-724-8600)
The sheer size of Hendricks (17,000 square feet and slated to be a live-music venue and moonshine distillery, to boot) might be overwhelming, but pitmaster Matt Vanderbeck makes sure the focus is squarely on the food. Barbecue, smoked over apple and hickory wood, includes baby-back and St. Louis-cut spare ribs, beef brisket, pulled pork, turkey and sausage. If you like sauce, Hendricks' "STL" is your best bet: complex, with just a little heat. Collard greens with bacon and grits with cheddar cheese are the can't-miss sides.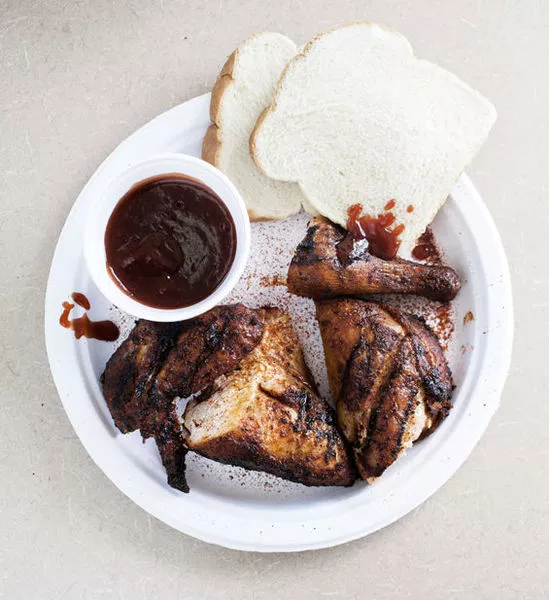 Jennifer Silverberg
Barbecue chicken at Lil' Mickey's Memphis Barbeque
Lil' Mickey's Memphis Barbeque (1020 Cave Springs Boulevard, St. Peters; 636-922-4227)
Lil' Mickey's offers few frills in its small St. Peters space (a repurposed Taco Bell). But no frills are necessary: The proof is in the 'cue, dry-rubbed and smoked over hickory wood. The lineup's what you'd expect -- pork shoulder and ribs, beef brisket, chicken, turkey breast. The ribs and pulled pork are excellent, tender, with a pure flavor of pig and smoke. But be sure to try the chopped beef brisket and the chicken, both tenderer, not to mention tastier, than smoking often renders them. The restaurant's signature sauce is topnotch: molasses-sweet with a piquant vinegar note and a slowly building heat.
Ian Froeb
Half a slab of ribs, with beans and sweet-potato fries, at Pappy's
Pappy's Smokehouse (3106 Olive Street; 314-535-4340)
Pappy's Smokehouse won "Best Barbecue" for three straight years after it opened, and only the new venture from its own pitmaster, Skip Steele, could knock it off its top perch. Instantly beloved upon its debut in 2008, the ever longer lines and increased celebrity haven't dimmed its star in the ensuing years. Every time you return for a bite of the ribs (our favorite) or any of the other meats smoked over apple or cherry woods, you have that rarest of sensations: It's even better than you remembered -- and dreamed.
Want access to our Best Of picks from your smartphone? Download our free Best Of app for the iPhone or Android phone from the App Store or Google Play. Don't forget to check out the full Best of St. Louis® online at bestof.voiceplaces.com/st-louis.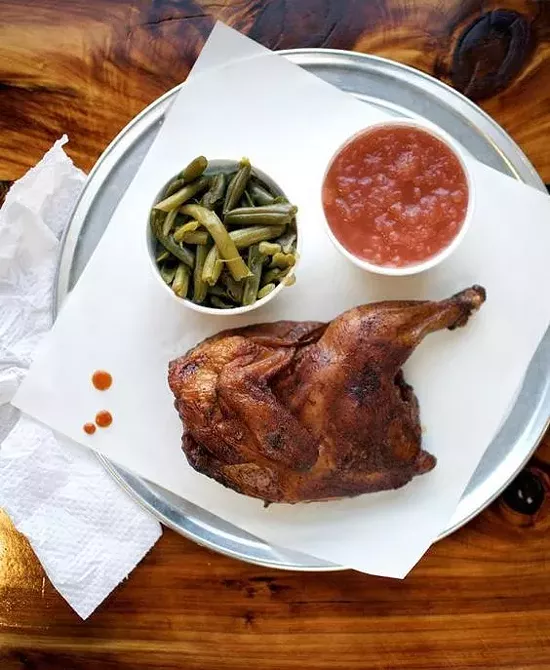 Jennifer Silverberg
The smoked half-chicken at PM BBQ
PM BBQ (161 Long Road, Chesterfield; 636-536-1966)
After several years of winning trophies in local barbecue contests, Paul Lamers and Mark Ruck opened their first restaurant in 2010. They continue to rack up awards, including a nod from Riverfront Times as "Best Beef Brisket" in 2011. The brisket, smoked for twelve hours, is so tender that the restaurant isn't afraid to slice it a bit on the thick side. Just as delicious is the moist, peppery smoked half-chicken. PM BBQ recently relocated to a larger space a very short distance away from its original spot.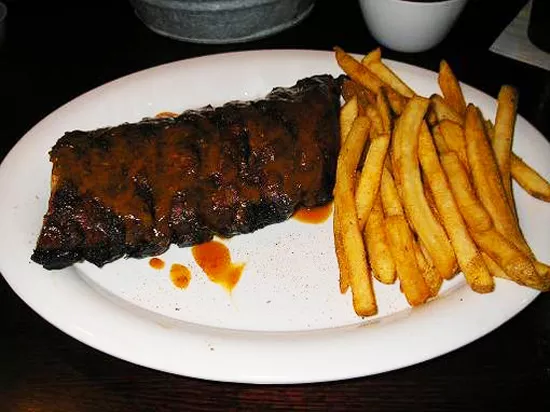 Ian Froeb
The baby-back ribs at 17th Street Bar & Grill
17th Street Bar & Grill (1711 West Highway 50, O'Fallon, Illinois; 618-622-1717)
The closest outpost of the small restaurant chain owned by barbecue legend Mike Mills, a multiple winner of the Memphis in May "Super Bowl of Swine" barbecue championship. The ribs are the standout here, pork so tender and flavorful with smoke, tangy sauce and Mills' secret spice rub that chef and Food Network star Michael Symon saw fit to call it the best pork he'd ever eaten.
Jennifer Silverberg
The ribs at Sugarfire Smoke House
Sugarfire Smoke House (9200 Olive Boulevard, Olivette; 314-997-2301)
The latest venture from prolific restaurateur Mike Johnson (Boogaloo and Roxane, among many others) in partnership with Charlie and Carolyn Downs of dessert palace Cyrano's, Sugarfire offers smoked baby-back ribs, pulled pork, brisket, turkey breast and sausage. The meaty ribs and the brisket, as thickly sliced and deeply flavored as a Sunday roast, are standouts. Sides include baked beans, fries, cole slaw and daily specials like grits and mac & cheese.
And for the second consecutive year our Best Barbecue Joint is...
Jennifer Silverberg
The smoked prime rib sandwich at Bogart's Smokehouse
Bogart's Smokehouse (1627 South Ninth Street; 314-621-3107)
For too long now, barbecue pedants have had to explain that the term "St. Louis-style ribs" refers to how the slab is cut, not how it's cooked, that St. Louis doesn't have its own "style" in the way that, say, Kansas City or Memphis does. (Like KC, but sweeter, is the most they'll grant.) But rather than grouse about a lack of respect or wallow in self-doubt, it's high time St. Louis embraces its lack of a distinct barbecue identity. Without an arbitrary, geographically imposed idea of what meats should be smoked and how, not only can our city enjoy the best of all worlds, dry-rubbed or basted, sauces sweet or hot or vinegar-piquant, we can also allow the mad genius of Skip Steele to flower in full. At Bogart's Smokehouse, Steele follows his whims, not others' rules, and the results are superb. Witness ribs finished with an apricot glaze, which the kitchen caramelizes with a propane torch; prime rib, long vanquished to the special Sunday or holiday dinner, are here smoked with onions; smoked pastrami (yes, pastrami!). You can, if you like, enjoy a more traditional meal of pulled pork or beef brisket. That's the beauty of Bogart's and the new era of St. Louis barbecue: Anything is possible, and everything is delicious.
Want access to our Best Of picks from your smartphone? Download our free Best Of app for the iPhone or Android phone from the App Store or Google Play. Don't forget to check out the full Best of St. Louis® online at bestof.voiceplaces.com/st-louis.