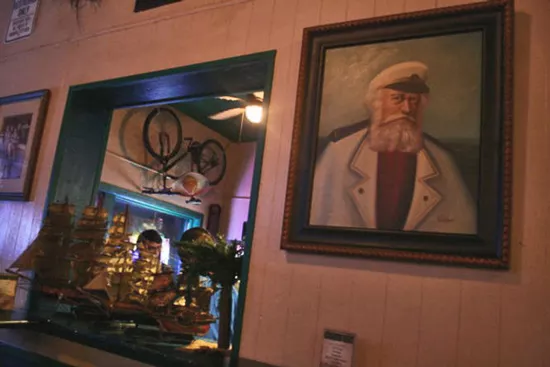 Colorado Bob's Ship of Fools (3457 Morganford Road; 314-772-7564)
The Hours: Daily, 4 to 6 p.m.
The Deal: $2 longnecks, $2.50 Wells, $2.50 bottled beers and $10 buckets.
The Scene: Colorado Bob's Ship of Fools is like a Key West party boat run aground on Morganford Road. This nondescript dive bar is hard to spot, unless you know what to look for. (Hint: There's a sailboat permanently beached on the front lawn.) The party continues once you step inside. Colored lights, wood paneling and thrifted paintings of sea captains adorn the walls. Taking up positions on either side of the giant ship's wheel that bisects the bar, Gut Check and our sailing companion snacked on complimentary potato chips. There's no drink menu -- Colorado Bob's is the type of joint where you order your "cocktail" by, at most, espying your brand amid the rows of bottles behind the bar and requesting it, along with what, if anything, you want the bartender to mix it with.
Be forewarned: There are (fully operational) arcade games against the barroom's back wall. And this is a genuine bar bar -- meaning they serve sufficiently little food that they're exempt from the city's smoking ban.
Why You'll Go Back: There's nothing homier than a good old-fashioned dive bar. The bartenders pour with a heavy hand, the jukebox is heavy on classic rock and the regulars are loquacious. If you're lucky, you'll catch a glimpse of Colorado Bob himself. If you're even luckier, the benevolent owner will buy you a drink. And if you're a woman who's leaving late, the night manager will step outside and see that you reach your car without incident.
The Verdict: Colorado Bob's has no beer on tap. Judge that however you may. Gut Check was distracted by the ample array of whiskeys and vodkas. In keeping with the smoking ordinance, TJ's pizza is the best you'll do here, heated right before your eyes in a microwave. Best pizza we've ever had. (Though maybe that's the whiskey talking.) Colorado Bob's offers real-deal south-city flavor, and is definitely worth more than a taste.