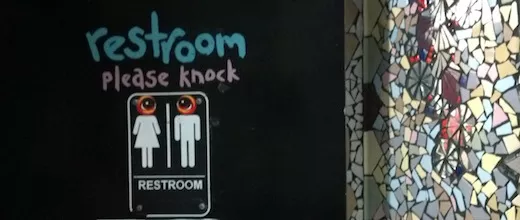 You're sitting across the table from an attractive paramour, sipping drinks and making small talk. There's a lull in the conversation, your eyes meet. You stare deep into each other's souls, and like knowledge being dropped from the heavens, suddenly you both know.
You must have sex as soon as possible.
Before we take this narrative any further, permit Gut Check to state, for the record, that we do not in any way suggest (or for that matter condone) the notion of coupling up in a public restroom. In fact, when we asked local bartenders about the phenomenon, most were so concerned that we might encourage it that they declined to comment. Friends, there are much more comfortable, much more sanitary places to get it on.
That said, we all know where the State of Denial is, even if we don't live in it. So as a public service to our fellow St. Louisans, we examined water closets far and wide, from the Loop to Laclede's Landing, in search of the best spots for a (hypothetical) quickie. We judged washrooms based on size, cleanliness, privacy, overall ambiance and...ahem...not reputation, per se, but let's just say public perception.
All right, then. Let's do it.
Kaitlin Steinberg
Just up the stairs and around the corner.
8. Llywelyn's (4747 McPherson Avenue; 314-361-3003) Don't tell anyone we told you (or that a bartender told us), but the original Llywelyn's in the Central West End has a second floor reserved for events or holidays when they anticipate a large crowd. Though it's not in everyday use, it's never actually closed. At the top of the stairs are separate men's and women's facilities, both of which are clean and spacious. On the average night, no one will be going up there, and if you're careful, no one would even know you're there. Don't forget to tip that bartender.
Kaitlin Steinberg
Mirrors to see every angle...
7. Broadway Oyster Bar (736 S. Broadway; 314-621-8811) True, these bathrooms have seen a lot of use. But they do have two huge things going for 'em: They're unisex, and they're seriously mirrorred. What self-respecting aficionado of public poking wouldn't want to admire him- and herself from every conceivable angle while getting down? The mirrored-mosaic walls are fantastic enough to keep you mesmerized for hours, but better make it quick. The sounds of the bar are loud enough to cover the sounds of rapture, but it's not exactly a hidden love nest. Even if the potty's a-rockin', someone will probably come a-knockin'.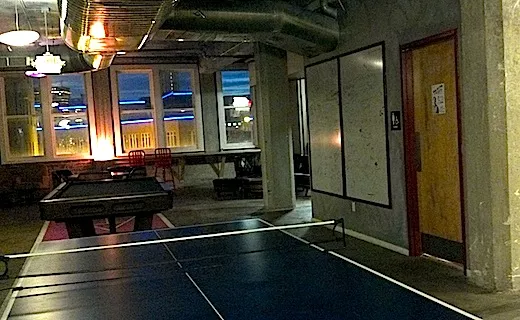 Kaitlin Steinberg
No one will hear you scream.
6. Plush (3224 Locust Street; 314-535-2686) Everything about Plush screams fetish, so you can hardly blame someone for getting hot 'n' bothered. While the downstairs restrooms are nice, a friendly server assured us the upstairs ones get far less traffic. Just tell 'em you're taking the elevator up to check out the view for, oh, the next twenty minutes or so. (Or the next five minutes; Gut Check doesn't judge.) The second-floor men's is slightly more secluded than the women's, and if you happen to grab a feather boa off the wall on your way to fantasyland (as it seems others may have done in the past, judging from the feathery remnants glued to the wall), we won't tell.
Kaitlin Steinberg
Someone's watching you.
5. Three Sixty (1 S. Broadway; 314-241-8439) Ever boinked 400 feet above downtown St. Louis? Neither has Gut Check, but if we did, we'd seriously consider doing it here. Three Sixty is at the tippity-top of the Hilton St. Louis at the Ballpark, and the bathrooms, like the bar and patio, offer stellar views of downtown. If you join the 1/13th-of-a-mile-high club right in front of the window, someone might see you, but hey, that might be your thing. If it's not, there's always the stalls, which make up for their lack of spaciousness with plenty of privacy. Bonus: If you and your partner find that you're really in need of a horizontal surface, you're already in a hotel!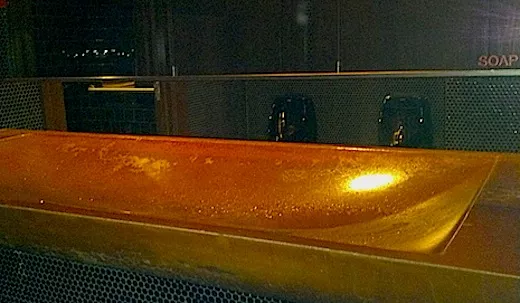 Kaitlin Steinberg
We see you over there, urinals.
4. Mandarin Lounge (44 Maryland Plaza; 314-367-4447) In a twist on the unisex loo, Mandarin's men's and women's bathrooms are divided by a sink and a suspended mirror that you can totally see around. It's less glory hole and more flirtation device. The DJ we consulted couldn't attest to anyone actually making the leap from one side of the bathroom to the other, but he did allow that it wouldn't surprise him if there's been a little funny business. The last stall on the women's side is the biggest, and we're betting that with the noise from the tunes and the crowd, no one would hear a thing.
Kaitlin Steinberg
It's cool, they're just cheering you on.
3. Sanctuaria (4198 Manchester Avenue; 314-535-9700) For weirdos people who get turned on by Catholic iconography, Sanctuaria's unisex commodes have plenty of kink to offer. The restroom on the right boasts an impressive chandelier that looks like it could double as a medieval torture device, and a ceiling mural brimming with skeletons and feathers. The loo on the left is larger, and it has an even cooler ceiling mural. Getting down on the floor of a public bathroom may be beyond your level of hygienic tolerance, but it might be worth it to stare up at the chandelier and the skeletal re-creation of the Sistine Chapel's Creation of Adam while you're risking creating your own Adam (or Eve).
Kaitlin Steinberg
The vodka's cold, but this restroom is HOT.
2. Sub Zero Vodka Bar (308 N. Euclid Avenue; 314-367-1200) Like several other Central West End bars, Sub Zero offers three restrooms: one for men, one for women and one that's unisex. We're looking at you, unisex privy! It would be easy enough to lock yourself and a paramour in the unisex john while your fellow Subs went on about their bathroom business none the wiser. Of course, we aren't the first to have thought of this. We have it on good authority that a couple recently emerged from the lav following a 45-minute visit. "It actually happens a lot," a waitress tells us, and the hostess agrees. "People go in there together and stay for a long time before someone realizes what's going on." On the other hand, they may just have been powdering their noses....
Kaitlin Steinberg
Gaze into its depths...
1. Venice Café (1903 Pestalozzi Street; 314-772-5994) Once we got an eyeful of the upstairs bathroom known as the Blue Hole, this exercise ceased to be a competition. Chaste as Gut Check is, even we would be tempted to engage in a quickie here. The room is filled with curios that owner Jeff Lockheed picked up at flea markets or from friends, including ceramic lions, taxidermied beasts, antique trunks, foliage and, of course, Venice Café's signature mosaic tiles. Lockheed's goal was to create an ambiance reminiscent of a vintage cigar lounge that might be frequented by a 19th-century explorer, but if you happened to feel like doing some exploring of a more personal nature, this is definitely the place. Just be careful around the sink. Lockheed had to replace it once after it was mysteriously torn off the wall.
"I guess they thought it was a good height or something." he says.
Kaitlin Steinberg
Could we get a diffusion filter on that?
Honorable Mention: The photo booth at Atomic Cowboy (4140 Manchester Avenue; 314-775-0775) When we inquired about the possibility of customers fornicating in the bathrooms at Atomic Cowboy, the bartenders laughed at us. "Have you seen those bathrooms?" they asked. Indeed. But still, we wondered. After a little friendly prodding, the bartenders admitted that while they haven't caught anyone knocking boots in the commodes, they have found a couple or two hooking up in the photo booth outside said restrooms. To their knowledge, no couple has gone so far as to emerge with photographic evidence of parking the Plymouth in the garage of love, but we think that'd be an awesomely hipster way to document the moment. Instagram slam!