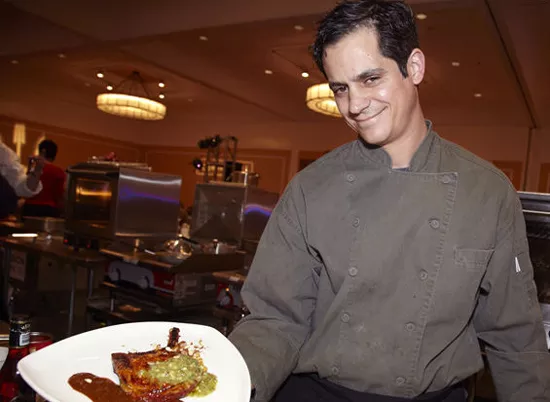 Steve Truesdell
Milagro Modern Mexican chef/-co-owner Jason Tilford shows off the winning dish in the chef competition at the 2012 edition of RFT's Iron Fork event.
Mark Thursday, March 28, on your calendar. That's the date of RFT's seventh annual Iron Fork event, highlighting the best cuisine the St. Louis restaurant scene has to offer.
UPDATE 2/11/2013: The offer has been extended till midnight tonight, but the remaining available tickets are bound to sell out before then. So if you want this deal, you'd better hustle.
And for the rest of this week, cCourtesy of Voice Daily Deals, you can purchase a $35 ticket for only $17. A general-admission ticket entitles the bearer to admission to the event, held at the St. Louis Union Station Doubletree Hotel. Admission includes unlimited restaurant samples and three complimentary drinks (one beer, wine, and cocktail) provided by event sponsors. The offer expires when no tickets remain or on Sunday, February 10 at 12:01 a.m., whichever comes first.
Click here for more information and to get in on this week's Iron Fork Voice Daily Deal.
This year's edition of Iron Fork will feature more than 40 local restaurants -- personally invited by Gut Check scribe and RFT food critic extraordinaire Ian Froeb -- handing out samples of their food, not to mention beer, wine and cocktail stations, a mixologist competition and an Iron Chef-style battle between four of St. Louis' most talented restaurant chefs.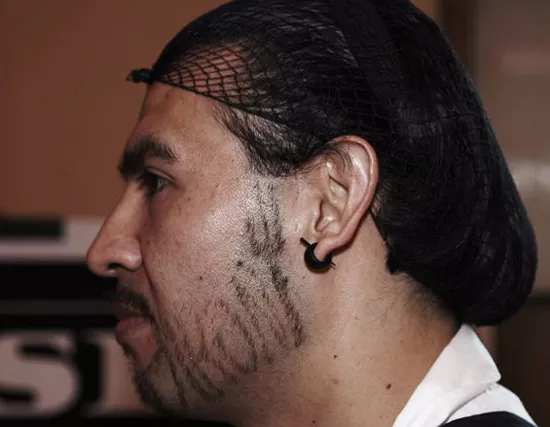 Steve Truesdell
Dressel's was one of nearly three dozen restaurants to participate in last year's event, and this staffer from the popular Central West End food-and-drink spot went all out in flying the Iron Fork flag.
In last year's chef competition, Milagro Modern Mexican chef/co-owner Jason Tilford took home top honors, and he'll be challenged this year by three newcomers hoping to snag the crown. On the mixologists' side, Taste bar will be back to defend its title against challengers from eleven of the area's best bars.
Click here for more information and to get in on this week's Iron Fork Voice Daily Deal.