Why yes, that is RFT Music Editor Daniel Hill front and center in Friedlander's photo.
On Friday, February 8, comedian Judah Friedlander visited the Firebird (2706 Olive Street; 314-535-0353) to make St. Louis laugh. The self-described "World Champion" did just that for nearly 90 minutes, including an interlude about St. Louis and his love-hate relationship with Imo's Pizza (multiple locations). He described Provel cheese as melted plastic and Imo's crust as a cracker, summarizing it as: "The best and worst pizza at the same time."
Update: Imo's responds to Jimmy Kimmel's reply after the jump.
See also: -Judah Friedlander Talks About Life After 30 Rock and Being the World Champion: Interview Outtakes -Life After 30 Rock: Judah Friedlander on being World Champion -Jenna Fischer Talks Favorite St. Louis Foods With Jimmy Kimmel, He Calls Imo's The Worst Pizza Ever
Still, he says he orders it each time he's in St. Louis. Then he surprised the audience, announcing he'd ordered five Imo's pizzas for the crowd to enjoy after the show.
When his set ended he joined the crowd, and surrounded by fans saying hello, snapping photos and munching pizza, Friedlander sent talk show host and outspoken Imo's hater Jimmy Kimmel a Tweet (@JudahWorldChamp) about eating Imo's with the crowd.
And Kimmel's response wasn't kind.

OK, it wasn't really unkind, but just in case there was any doubt, Kimmel really doesn't like Imo's.
Imo's, it seems, really does like Kimmel though. The St. Louis pizza chain hasn't given up hope that someday Kimmel will come around, the gist of a sweet message it Tweeted (@imospizza) this morning:
Friedlander also uploaded a few photos of his time in St. Louis to his Instagram account, including a separate visit to Imo's, a trip to the Arch and what he believes is St. Louis' understanding of asparagus.
Page through for more of Friedlander's St. Louis Instagram photos.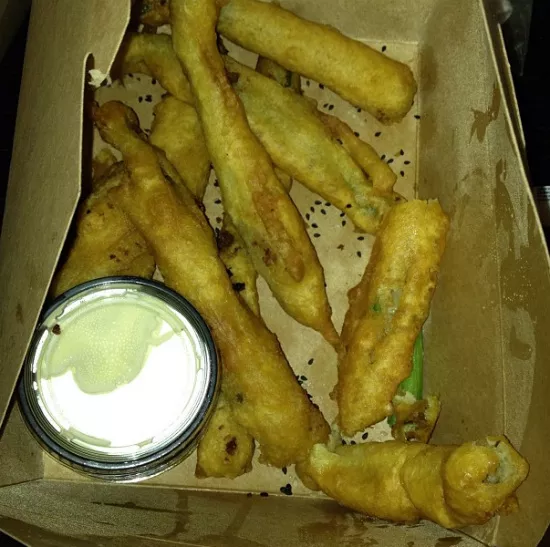 Friedlander captioned this photo: "If u order asparagus at a restaurant in St Louis, this is what you get."
Friedlander captioned this photo: "This woman requested I sign her birth control pills package after my show tonight."