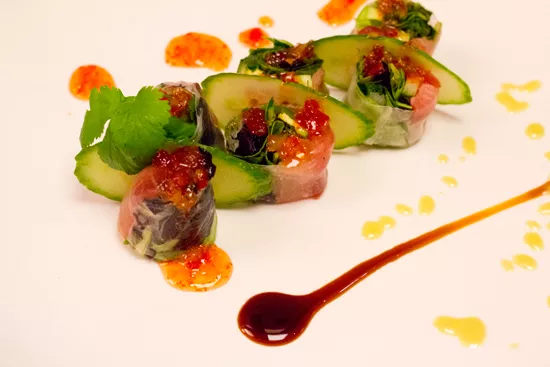 Mabel Suen
The Chrystal Roll with tuna, yellowtail, cilantro, jalapeno and cucumber rolled in rice paper with eel sauce, sweet chili sauce and avocado sauce.
On a moderately busy Friday evening about a month after its opening, general manager Simon Rhim of Takaya New Asian (634 Washington Avenue; 314-241-5721) explains that owner Eric Heckman just rolled some sushi himself before heading out to tend to his other businesses. Heckman lends a hand filling in for his wife, executive chef Jenny Eun Kyung Heckman, while she spends some time in her home city of Seoul visiting, researching and drawing inspiration for her fusion-style cooking.
See also: -The Five Best Sushi Restaurants in St. Louis -First Look: MX Movies
Gyu-Negima: Asparagus rolled in thin slices of premium beef, grilled and infused with a sweet garlic soy
"We visit different cities all the time between Seoul and Tokyo to see what's cutting edge," says Eric Heckman. "Our menu definitely has some Korean influence as well as Chinese influence. We're working on a few Thai dishes now and intend to branch out some more to different regions."
Eric and Eun Kyung Heckman are what you might refer to as one of those "power couples" in the hospitality industry. Together, they've developed the concepts and menus for two sushi-centric restaurants in Clayton that draw heavy influence from the latest trends in Asian dining - Tani Sushi Bistro and Area 14 Lounge and Sushi. In early January, they debuted their latest endeavor, Takaya New Asian in the up-and-coming downtown Mercantile Exchange, joining an impressive roster of neighboring establishments including MX Movies, Pi Pizzeria and Robust.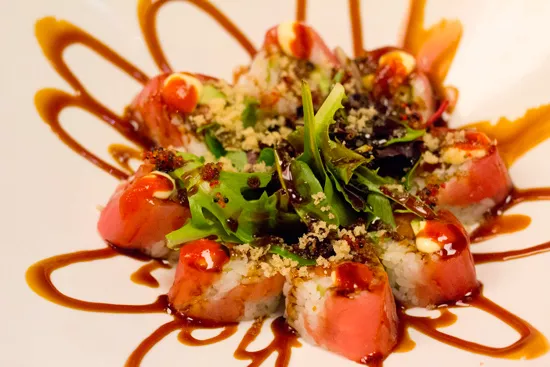 Mabel Suen
The David Backes roll.
Takaya's interior design puts a modern spin on a traditional Japanese home, emphasized by low lighting and fire pits. The resulting vibe feels warm, intimate and hip, befitting of its downtown locale. The 3,300 square foot space currently includes a dining room with tables and booths, bar and lounge area, with a second floor in the works.
The menu at Takaya features much of the same modernly plated sushi that Tani and Area 14 offer in addition to tapas style specialty small plates that revel in pan-Asian style. Heckman recommends blackened sesame chicken ($12) in a housemade Korean style sweet and spicy sauce, grilled Korean-style short ribs ($15) in a fusion Korean sweet marinade and creamy rock shrimp ($9) battered and fried in tempura and served with fresh peas and a creamy spicy sauce.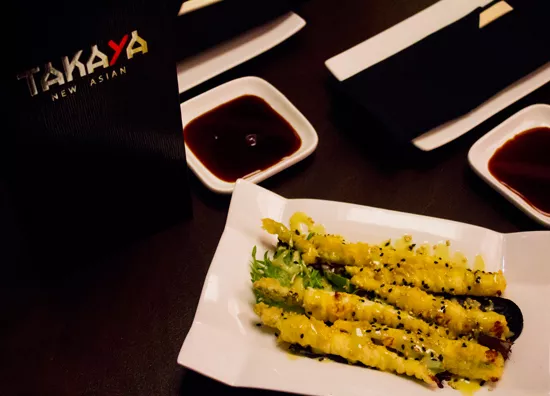 Mabel Suen
A signature small plate on Takaya's menu -- mozzarella tempura.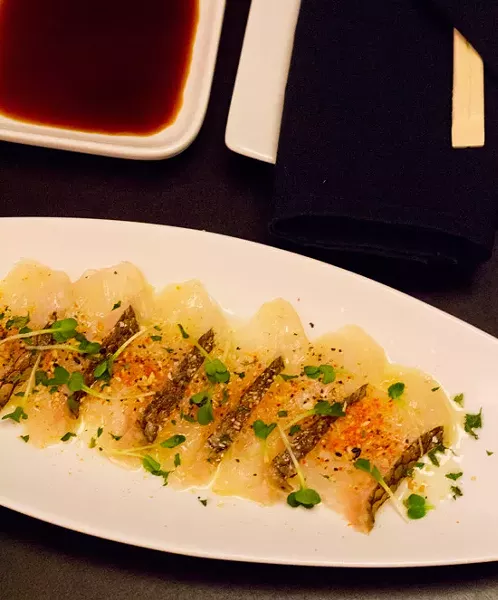 Mabel Suen
White Fish Carpaccio - white fish with a touch of olive oil, yuzu dressing, five spice seasoning and garlic chips.
Eun Kyung's nearly twelve years of sushi experience definitely shine here - the proof is in the plating. The house signature sushi is a yellowtail jalapeno carpaccio ($23) topped with thin slices of tomato, jalapeno and a special ponzu sauce. A list of "celebrity rolls," with a portion of proceeds donated to a selected charity, includes the David Backes Roll ($15) which contains a kaleidoscopic display of salmon, avocado, tuna, light tempura crunch, eel sauce, sriracha sauce, Japanese mayo and colored tobiko.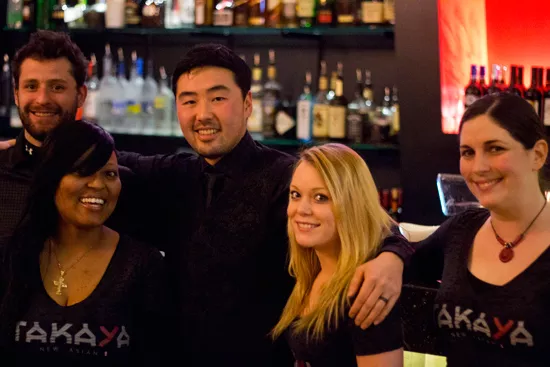 Mabel Suen
Bartender Jake Wiseman and general manager Simon Rehm with Takaya front of house staff.
Takaya New Asian's hours are 11 a.m. to 10 p.m. Monday through Thursday and 11 a.m. to 11 p.m. Friday and Saturday. Look out for new happy hour specials starting this week including infused sakes from 4:30 to 6 p.m. Monday through Friday.
"We have a huge selection of sake now," says Heckman. "But our intent is to have the biggest selection of sake in the state."