The Veggielante has had it up to here with people bitching that St. Louis restaurants are vegetarian unfriendly. Sure, we'd like to see more restaurants offering more meatless dishes, but there are excellent choices out there if you take the trouble to look for them. We're not here to proselytize about greening up your diet. Our only motive is to spread the word about places where you can order good grub that ain't got no meat. To enhance your reading experience, we've settled on a handful of criteria we'll use to suss out a restaurant's vegetarian friendliness.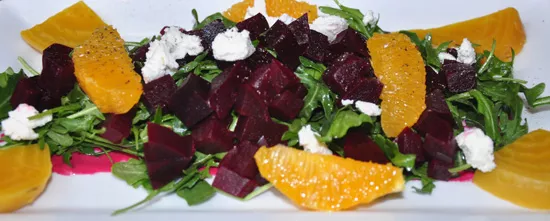 Tara Mahadevan
Beet salad at Robust.
Destination: Robust-Downtown (645 Washington Avenue; 314-287-6300)
Neighborhood: Downtown
Cuisine: Contemporary American
See also: -The Veggielante Feasts at I Fratellini -Tidbits: Robust Opens Downtown Location
Overview: Webster Groves' wine bar Robust (227 West Lockwood Avenue, Webster Groves; 314-963-0033) opened a second location in downtown St. Louis in the new Mercantile Exchange building on December 21, but no customer would be the wiser that it's a newly opened restaurant. The new location's impeccable service, refreshingly vegetarian- and vegan-friendly menu and locally sourced produce welcomes diners of all diets. The menu boasts a wide array of vegetarian dishes, from cheese plates to salads and shareable small plates on its lunch, dinner and brunch menus. Robust's head chef Joseph Hemp's motto is "See what you have time to do and make it better," and he really lives up to it. Robust will prepare guests whatever they like, and will happily create vegan, vegetarian, gluten-free and lactose-free entrées.
Highlights: Robust's beet salad ($8.50) is made with two varieties of local beets, arugula, fresh oranges, goat cheese and a tarragon-champagne vinaigrette. Immediately the sweetness of the beetroot is offset by creaminess of the goat cheese and the bitter arugula. As you make your way through the salad, you soon discover the subtle flavors of the dressing and orange beets -- the oranges offer a zesty zing throughout.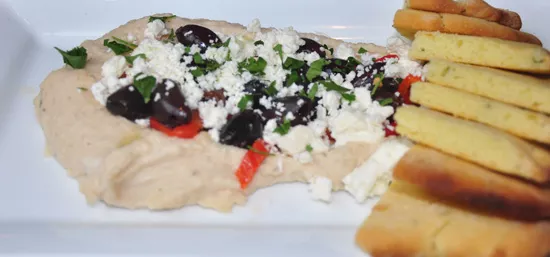 Tara Mahadevan
Truffled white-bean hummus at Robust.
Tara Mahadevan
Parsnip purée at Robust.
The very garlicky truffled white-bean hummus ($7) -- a cannellini purée with white truffle oil -- is laden roasted red peppers, feta and kalamata olives, and served with pita bread. The pita is served warm, providing a satisfying juxtaposition of cold, creamy hummus and fresh-from-the-oven bread.
The intermingling flavors of sweet and savory seem to be Robust's signature taste, and are certainly present in the restaurant's popular mushroom flatbread entrée ($14). Roasted mushrooms, caramelized onions, house-made ricotta cheese, pea shoots and a sherry vinaigrette sit atop warm flatbread. You can get traditional flatbread or, for a gluten-free option, cornbread instead.
Tara Mahadevan
Mushroom flatbread at Robust.
Though not listed on the menu, the parsnip purée is one of Chef Hemp's special creations for vegetarian customers. Parsnips, yellow bell peppers and shiitake mushrooms are roasted in a light brown butter glaze, served on the parsnip purée. Robust's signature taste comes back into play here with a rich, sweet and creamy purée balanced nicely with an assortment of savory vegetables. To order this item or any other specialty item, specify your dietary restrictions to your server and the chef will whip up something just for you.
While Robust's two locations, Webster Groves and downtown, currently have identical menus, Chef Hemp told Gut Check that the menus will evolve separately over time, as the Robust Webster Groves location has all electric appliances and Robust downtown cooks exclusively with gas. Both locations will continue to serve its signature house dishes, such as the meat-free spinach and artichoke dip, but other items will vary.