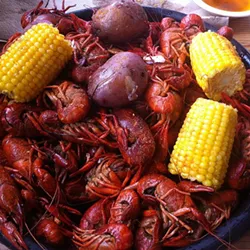 I see bead people. The Mardi Gras party commences in Soulard this Saturday. A few related events get included in the following recommendations. Check out these lists of ten Mardi Gras food and drink specials and seven St. Louis bakeries offering Mardi Gras desserts for more. Click ahead to see what else is in store including annual events LOVEmeier and Run for The Chocolate.
Friday (Feb. 8):
Wine and Beer Tasting @ Sally S. Levy Opera Center Chow down on food from Saint Louis Originals restaurants such as Companion, LoRusso's Cucina and SqWires, enjoy treats from Kakao Chocolate and wash it all down with a selection of 40 wines and beers. Tickets start at $75. Call 314-963-4223 for more information. 6 to 8 p.m.
Vitamix Roadshow @ Whole Foods-Galleria If you've ever wondered what this wonder blender does, now's your chance to check it out. Purchase the Vitamix 5200 blender during this event and get some free goodies including cookbooks, cutting boards and spatulas. Friday, Feb. 8 through Monday, Feb. 11 from 11 a.m. to 7 p.m.
Saturday (Feb. 9):
Kegs'n'Eggs Mardi Gras Party @ Broadway Oyster Bar The day begins with an unlimited breakfast buffet and continues with all-you-can-drink SOCO hurricanes and draft beer with accompanying live music. $20 includes all of the above. Breakfast lasts from 8 to 11 a.m. Music starts at 3 p.m.
Pardi Gras 2013 @ Hwy 61 Roadhouse and Kitchen Fill up at the breakfast buffet and pregame with unlimited Hurricanes and beers before catching a shuttle to the Soulard Grand Parade. $40 per person, or just $8.99 for breakfast only. 10 a.m.
LOVEmeier @ Laumeier Sculpture Park Warm up by fire pits with hot drinks and s'mores at this annual event featuring hands-on art activities, illuminated exhibits and more. The ChaChaChow food truck will be selling savory treats and Don Elvig, The Wine Guy, will host a wine tasting featuring dessert wines and earthy reds. Tickets cost $35 and are available through the Laumeier website. 5 to 8 p.m. Wall Ball @ Third Degree Glass Factory This Saint Louis Open Studio and Gallery event features a silent art auction and custom created artwork. Cash bar and hors d'oeuvres available, plus a sweet treat raffle. General admission costs $30 and can be purchased via SCOSaG's website. 7 to 11 p.m.
Crawfish Boils @ Boogaloo Celebrate Mardi Gras and Fat Tuesday with crawfish boils and hurricane specials.
Sunday (Feb. 10):
Valentine for Couples: Hugs and Fishes From New Orleans This hands-on couples cooking class covers dishes like Cajun barbecue shrimp and apple beignets. $110 for couple. Register online via the Kitchen Conservatory website. Reserve your spot soon -- it's the only Valentine's Day course there that hasn't sold out yet! 1 to 3:30 p.m.
Run for the Chocolate @ Downtown St. Louis This Valentine's Day run starts at Laclede's Landing and turns itself around at Crown Candy Kitchen. Participants can choose from a 5K run or 1K walk. $30 per person includes a t-shirt, edible medal and post race hot chocolate. 9 a.m.