Caillin Murray
The mantel over the bar at the Side Bar.
The Side Bar (1317 Washington Avenue; 314-621-7376)
The Hours: Weekdays, 4 to 7 p.m.
The Deal: Monday: $1 domestic beers; Tuesday: Two-for-one domestic beer and well drinks; Wednesday through Friday: $2 domestic beers, $3 well drinks, $4 house wines and $4 Skyy vodka drinks.
Caillin Murray
The Side Bar.
The Scene: The no-frills bar experience of the Side Bar is a respite from the flash and glitter elsewhere on Washington Avenue. With low-key '90s hits playing in the background, Gut Check found the place pretty quiet on a recent Monday night. The large wooden mantel above the bar made us feel like we were in a courtroom, perhaps serving as a harsh reminder of the consequences to anyone who might be considering drinking and driving. But the chatty and attentive bartenders made us feel more like we were on recess. The long wooden bar accommodates many, and the sweet (and might we say attractive?) bartenders made even solo drinkers right at home. The beer list is not extensive, but the $1 domestics deal will make you forget all about your love of craft beers in exchange for an ice-cold Budweiser.
Why You'll Go Back: The kitchen's open late, serving a variety of bar foods such as pizzas and burgers. The Side Bar's housemade pineapple-infused vodka, which is left in the dark for a week while infusing, makes for the perfect after-dinner drink to undercut a carb coma.
The Verdict: The housemade infused vodkas make the Side Bar unique, but outside the spicy, pepper-infused Absolut, the place lacked a certain personality. Still, it's worth a stop on anyone's Washington Avenue pub crawl.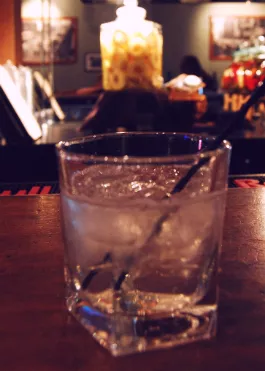 Caillin Murray
Housemade pineapple-infused vodka served on the rocks at the Side Bar.