Gut Check has been looking back on the Riverfront Times Best of St. Louis 2012, but we're also keeping an eye on the Best of St. Louis 2013 by nominating finalists for our awards this fall. To see hundreds more winners and finalists, suggest your own contenders and download the Riverfront Times Best of St. Louis mobile app, visit our Best of St. Louis homepage.
Jennifer Silverberg
The "Pat Say Jack" sandwich at the Kitchen Sink features grilled andouille, roasted pork loin, jalapeño bacon, Swiss and pepper jack cheese, with stone-ground mustard, fried pickles and fried banana peppers.
What's the first thing that comes to mind when you think about Mardi Gras in St. Louis?
Right.
What's the second thing that comes to mind when you think about Mardi Gras in St. Louis? Cajun and Creole food. If you've got a hankerin' for po' boys and gumbo, for red beans and rice and étouffée, you've come to the right place. Here are our picks for the five best Cajun/Creole restaurants in St. Louis.
The Finalists (in alphabetical order)
Broadway Oyster Bar (736 South Broadway Street; 314-621-8811)
A true taste of N'awlins awaits you at this party-time Cajun/Creole dive, housed in a 150-year-old historic building in the shadows of Busch Stadium and the Highway 40 overpass. Order up a mess of crawfish, fried alligator, jambalaya or gumbo (the house recipe, known as "Gumbo Ya Ya," is mixed with shrimp, chicken and andouille sausage), or go for one of the five grinders or five varieties of oysters on the half-shell. The Big Easy ain't just found in the flavors, though: Broadway Oyster Bar is also a great place to see national jazz, blues and zydeco acts seven days a week. Nowhere else in town can you eat gator meat and oysters and hear live music. The regulars know it, and they pack the bar so full it makes you wonder if N'awlins natives aren't coming up here for a slice o' blues, St. Louis-style. Laissez le bon temps rouler, indeed.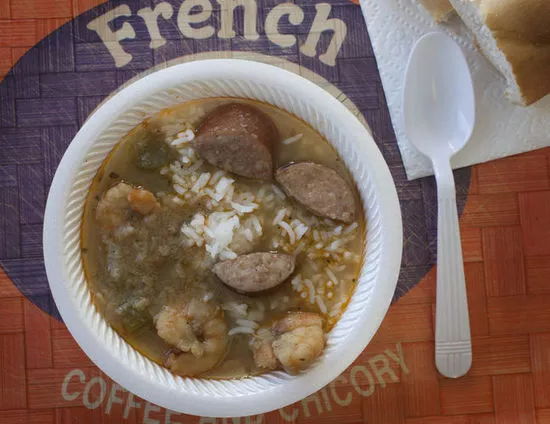 The Gumbo Shop (9501 Manchester Road, Rock Hill; 314-918-8747)
Husband-and-wife owners Jon and Holli Kercher still use the recipes handed down to them from previous owners Mary and Sid Roberts, who in turn imported their own family recipes straight up the Mississip from bayou country. Mary and Sid moved back to Louisiana, but their takes on jambalaya, fried oysters, blackened catfish, red beans and rice and bread pudding are a heavenly legacy. (The crawfish étouffée leaves one particularly speechless.) This humble strip-mall storefront is a secret well-guarded by loyal customers who don't want to see the place spoiled -- and to be sure, this is a joint best appreciated by true bayou-food aficionados.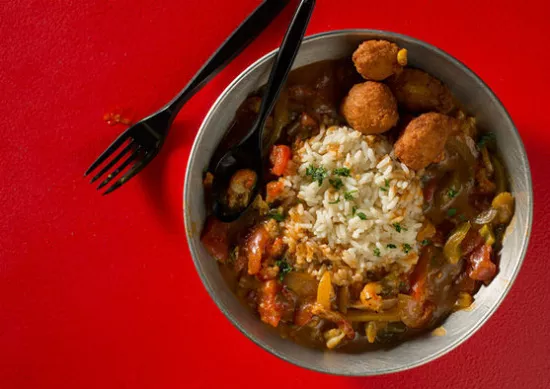 Jennifer Silverberg
Étouffée is a creole dish with peppers, onions, celery. Here, it's shown with crawfish, and served over a bed of rice at the Kitchen Sink.
The Kitchen Sink (280 DeBaliviere Avenue; 314-261-4455)
The Kitchen Sink occupies a small and easily missed storefront next-door to the Forest Park MetroLink station in the Skinker-DeBaliviere neighborhood. Miss it at your own peril. A neighborhood diner by description, the Kitchen Sink impresses with its fun, from-scratch take on burgers, sandwiches and other classic American fare. The menu features a definite Louisiana drawl: jambayala, po' boys, shrimp and grits (called the "Kitchen Sink," with a rich, flavorful crab-tasso ham gravy). Burgers are plump and grilled to order. Sides include good fries and onion rings, but consider the crisp, sweet corn fritters: Dipped in ketchup or Sriracha chile sauce, they're a compulsion waiting to happen.
Jennifer Silverberg
The Crawfish salad sandwich, prepared with oven dried pancetta, tomatoes, and basil with a side of cream corn at Sassy Jac's.
Sassy JAC's (1730 South 8th Street; 314-932-1280)
In appearance and ambiance, Sassy JAC's is the quintessential Soulard tavern. Yet chef Andrew Ladlie, who owns Sassy JAC's with his wife, Jennifer, brings a serious pedigree to the party: His résumé includes time as the sous chef at west-county institution Annie Gunn's. The fare is southern, unfussy and delicious. Standouts include a spicy blackened grouper sandwich, a "club" sandwich with chicken and andouille, excellent fried chicken in gravy (Wednesdays only) and topnotch garlic fries.
And our Best Cajun/Creole Restaurant is...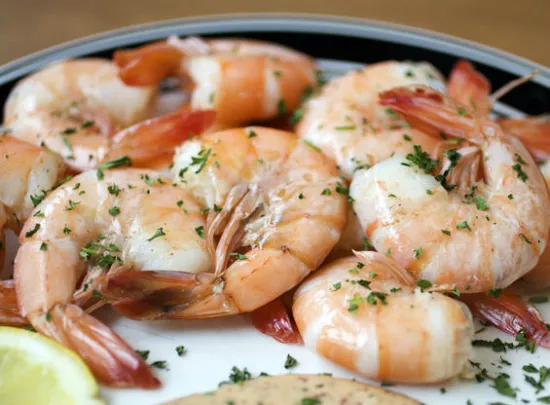 Jennifer Silverberg
The peel & eat shrimp with the house-made New Orleans remoulade sauce at Riverbend Restaurant & Bar.
Riverbend Restaurant & Bar (701 Utah Street; 314-664-8443)
Sam Kogos left New Orleans for the best -- maybe the only -- reason: a woman. His wife, a St. Louis native, wanted to be closer to her family. We should all be grateful. Last year Kogos, who'd owned a restaurant in New Orleans for fifteen years, opened Riverbend Restaurant & Bar in a corner spot just south of the Anheuser-Busch fortress. It's an unassuming spot, cozy and inexpensive, but the Creole and Cajun cuisine here is serious business. Consider the cochon de lait po'boy, stacked high with roasted pork so tender and flavorful that the bread and condiments are superfluous. Crawfish fans can enjoy the crustacean in elegant étouffée form or bathed in a beautifully rough-hewn, spicy Creole tomato sauce. In the New Orleans tradition, red beans and rice is available only on Monday; the spicy smoked sausage and plump beans therein provide the ideal foundation for another long workweek.