A traditional Louisiana king cake.
King cake is a Mardi Gras tradition. There are Louisiana versions, French versions, Spanish versions, and, thankfully for Gut Check, St. Louis versions, too. The classic Louisiana king cake is essentially a giant cinnamon roll bedazzled with purple, yellow and green sugar sprinkles and a baby figurine or trinket buried in the center of the cake.
Eager to find king cake in St. Louis, Gut Check called a handful of local bakeries to find the best Mardi Gras dessert deals in town.
Federhofer's Bakery (9005 Gravois Street, Concord; 314-832-5116) Federhofer's Bakery in south St. Louis county might be best known for its specialty German baked goods and custom-made cakes and dessert creations, but it's no slouch when it comes to special occasions. The king cake at Federhofer's Bakery runs for $10.99.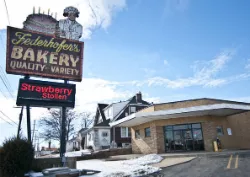 McArthur's Bakery (multiple locations) McArthur's Bakery has three locations in St. Louis: south county, Kirkwood and Chesterfield. Mardi Gras specials at McArthur's bakeries include king cake with a choice of fillings (strawberry and cheese, raspberry and cheese, caramel and cheese, brownie and plain), decorated cookies, Polish doughnuts, beignets, cupcakes, cake pops, petifours and more.
Lubeley's Bakery & Deli (7815 Watson Road; 314-961-7160) Lubeley's Bakery & Deli in south St. Louis county is offering a whole host of Mardi Gras specials including king cake, royal gooey butter cakes, all-butter "mask" cookies, paczkis (Polish doughnuts), Louisiana Cajun bread and muffaletta sandwiches in individual and large sizes. The bakery offers a coupon on its website to save 10 percent on king cake and other Mardi Gras orders.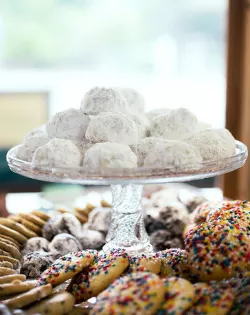 Jennifer Silverberg
Desserts at Pint Size Bakery.
Pint Size Bakery & Coffee (3825 Watson Road; 314-645-7142) Pint Size Bakery is offering a different take on king cake: galette des rois, a French version of the king cake made of flaky puff pastry layers with a dense center of frangipane, a filling made of (or flavored like) almonds. Pint Size's treats are individually sized and available this weekend and next week on Fat Tuesday (February 12).
The Sweet Divine (4521 South Kingshighway; 636)-942-2900) South city bakeshop the Sweet Divine has created a new king cake cupcake for Mardi Gras revelers, as well as a vanilla ecstasy cupcake it bills as "Mardi Gras-style," French macaroons, Fleur de Lis sugar cookies and more.
The Cakery (1420 Tamm Avenue; 314-647-6000) Though it's not baking king cakes, south city bakery the Cakery is offering custom-made, Mardi Gras-themed sweets including mask, bead and confetti decorated cookies, cakes and cupcakes for its guests.
Missouri Baking Company (2027 Edwards Street; 314-773-6566) In addition to its normal offerings of bread, cookies, pies, beignets, baklava, tiramisu, danishes, muffins, cuccidati and more, Missouri Baking Company located in the Hill neighborhood has a few Mardi Gras specials this month, too. The bakery is making king cakes, which go for $8.50 a pop, and iced Mardi Gras-themed sugar cookies ($2.25).
Did we miss any? Let us know in the comments section below.