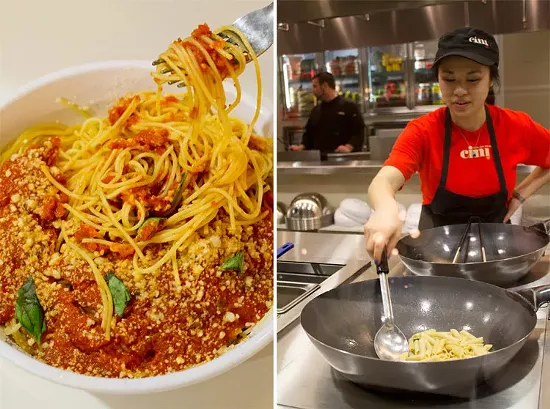 Mabel Suen
Angel hair pasta with pomodoro sauce and fresh basil.
Sure, a salad or a bowl of pasta topped with made-from-scratch diavolo sauce and tons of fresh veggies sounds wholesome and healthy and all -- but doesn't it sound even better when the meal comes accompanied by bite-size, deep-fried arancini? At brand-new Italian fast-casual concept Cini (374 South Grand; 314-531-4433), choose to eat light, or cheat a little by bookending that meal with savory and dessert cinis.
See also: -Fast-Casual Italian Restaurant Cini Opens Today -Flying Saucer Starbucks Lifts Off in Midtown
Based solely on appearances, it's hard to believe that this location is only the initial iteration of the concept (much like another recent local Italian fast-casual we know). Upon entering the restaurant, Gut Check did a little double take and thought we might've accidentally stumbled onto a real-life set of The Jetsons, although the thought was likely amplified by the flying saucer Starbucks outside the window. Cini does well to blend in with its surroundings, matching the contemporary aura of the area's swank Saint Louis University flats with mod furniture and spherical webbed light fixtures.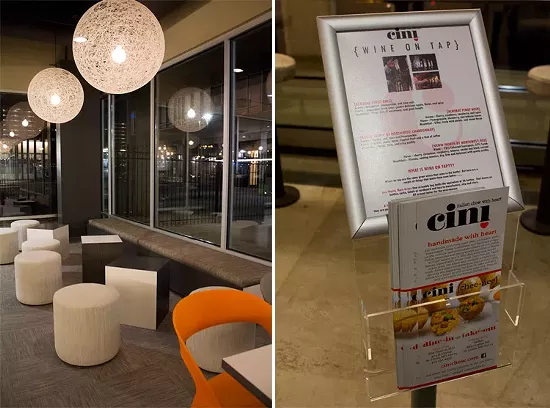 Mabel Suen
The interior of Cini.
Cini comes from IFC Concept LLC, a group that collectively owns sixteen Buffalo Wild Wings locations in St. Louis and mid-Missouri as well as Creve Coeur's Il Bel Lago. Chef Francesco "Frank" Gabriele, head chef of Il Bel Lago and son to Giovanni Gabriele of Giovanni's on the Hill, comprises one-fifth of IFC and developed the recipes for Cini's menu.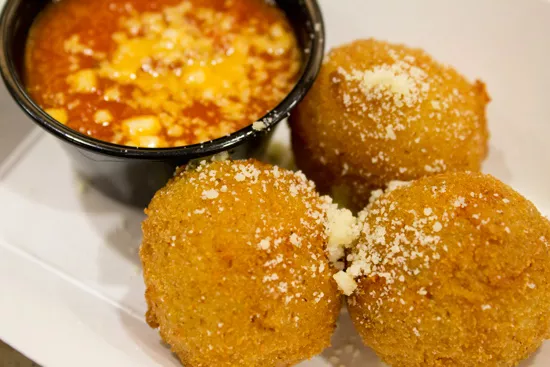 Mabel Suen
"Original" cini filled with sausage, peas, parmigiano and pecorino cheese.
For the uninitiated, cini (pronounced "chee-nee") are, according to the restaurants bright red signage, "traditional Italian street fare...handmade daily with saffron Arborio rice, chopped blend of celery, carrots and onions, and then rolled in breadcrumbs and fried." For $2.45, snag three of these nuclear hot, golf-ball-size delights in original (sausage, peas, parmigiano and pecorino cheese), primavera and four-cheese flavors. A sweet version comes rolled in crushed vanilla wafers or Oreo cookies and filled with hazelnut chocolate.
"This is one of the only Italian places in St. Louis that doesn't have toasted ravioli or pizza on the menu," says a smiling cook as a point of pride behind the hot line's impossibly spotless glass. The crystal clear barrier provides a brightly lit view into the open kitchen, backlined by a fridge full of plump green zucchinis, bell peppers and the like.
If you manage to get past the first part of your meal without second-degree burns (fresh-fried cheese waits for no one, folks), proceed to enjoy the bulk of the menu's offerings. Like other modern fast-casual concepts, the ordering process is slightly overwhelming at first, in a build-your-own-meal kind of way. Yes, that was a mouthful, but the many options can, indeed, pile pretty high in that bowl.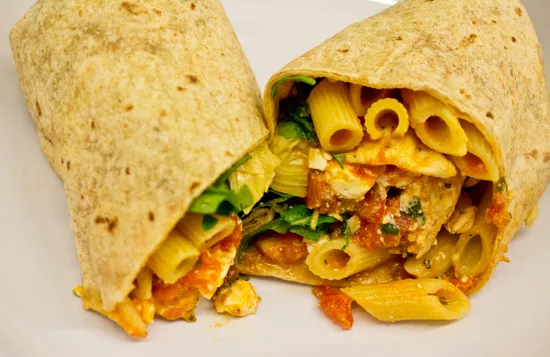 Mabel Suen
A grilled chicken piadina with diavolo sauce, arugula, artichoke and feta.
Cini's menu moves from right to left. You can begin on one end with some savory cini and -- with the assistance of the sharply uniformed chefs and associates -- come out on the other with an equally well-dressed piadina (a wrap, essentially), pasta or salad paired with a grilled protein and topped with options such as red pepper pesto, artichokes, arugula, feta and pancetta.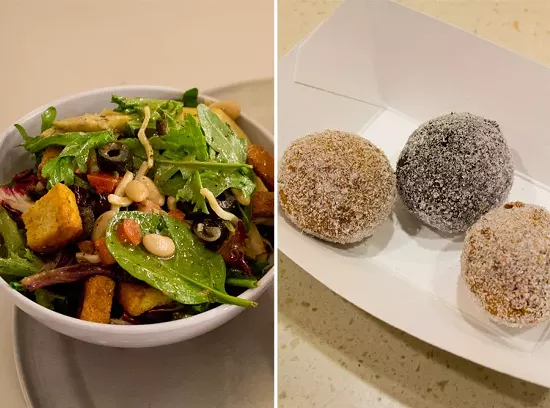 Mabel Suen
The best of both worlds -- a vibrant salad and some fried sugary treats.
Move past that initial ordering intimidation for sides such as calamari fritto miso with hot peppers ($4.95) or a bowl of Italian wedding soup ($4.45). Reward yourself at the finish line with a selection of draft beer or a glass or half carafe wine. Cini's hours are Monday through Sunday from 11 a.m. to 10 p.m. See the full menu on the Cini website, and look for a second location in Ladue this spring.