Drink all the beers this Sunday, St. Louis.
With the weekend creeping closer, we here at Gut Check realize we need to make plans for Super Bowl Sunday -- specifically, what will we be eating and drinking, and where? From all-you-can-eat nacho and wing bars and barbecue dinners to discounts on beers, booze and shots, Gut Check's roundup of St. Louis bars and restaurants offering Super Bowl deals takes the guesswork out of making plans on Sunday, February 3.
See also: - Doritos Super Bowl Commercial Competiton Enters Final Days of Voting, Watch 'Em All Here - VIDEOS: Catch a Glimpse of Anheuser-Busch's 2013 Super Bowl Ads - "The Guilty Pleasure of 'Cheese'"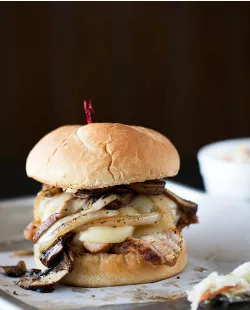 Jennifer Silverberg
Tasty BBQ options abound at Gobble Stop Smokehouse.
Gobble Stop Smokehouse (1227 Castillons Arcade Plaza; 314-878-5586): Gobble Stop Smokehouse has four Super Bowl Sunday specials, including smoked wings, turkey ribs and turkey tips. Meals range in price from $30.99 to $49.99.
Big Daddy's-The Landing (118 Morgan Street, 314-621-6700): Big Daddy's on the Landing bills its Super Bowl party as "The Big Bowl Package 2013," where $25 gets you beer, well and wine drinks from an hour before kickoff to an hour after. The game will be projected on two large screens and noshing options include nachos and an appetizer buffet. Stick around post-game for a DJ set and after party. Begins at 5:30 p.m.
Copia Restaurant and Wine Garden (1122 Washington Avenue; 314-241-9463): The party at Copia includes a game-time buffet, meet-and-greet with NFL Players Association members and a raffle to win a 50-inch LCD TV. Drink specials include $2.50 domestic beers and $5 Belvedere cocktails and bloody marys. This event is free to attend.
Bar 101 (1724 South Broadway Street; 314-621-5400): Big-screen TVs and projectors show the game, $20 gets you access to an all-you-can-eat-and-drink chili dog and nacho bar, as well as drink specials. Runs from 5:30 p.m. to 3 a.m. This event is free to attend.
Lehmann's Landing (12314 Natural Bridge Road, Bridgeton; 314-739-2344): Catch the game on one the seventeen TVs at Lehmann's Landing, or on its 3-D flatscreen. Buy one pizza get one free, $12 buckets and $1 tacos. All inclusive package includes "All you care to drink" from 4 p.m. to the end of the game and a gourmet buffet. The all-inclusive package costs $37.50.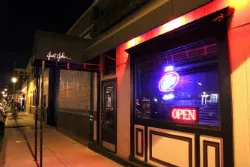 Plenty of Super Bowl action at Just John's
Just John's (4112 Manchester Avenue; 314-371-1333): Just John's will be showing the game on its eighteen-inch TVs, with $2.50 Bud Selects and Bud Lights, $3 Jager shots and free tailgating food with attendance prizes given away each quarter. The fun begins at 5:30 p.m.
Thurman Grill & Provisions (4069 Shenandoah Avenue; 314-772-8484): Test your soup-making chops at Thurman Grill & Provisions' Souper Bowl soup contest. Attendees judge the soups, and the two best soups will win gift certificates. Entry gets you access to judging the soups and discounted drinks. The less soup-inclined can watch the game on the grill's TVs. Begins at 4 p.m. Souper Bowl entry costs $10.
O'Kelley's at the Ballpark (756 South 4th Street; 314-621-1200): $12 domestic buckets, $7 domestic pitchers and $4 Three Olive drinks. Complimentary buffet at half-time. This event is free to attend.
BlackFinn American Grille (1147 Saint Louis Galleria; 314-726-5300): Watch the game on flat-screens and projectors, and enjoy the $35 all-you-can-eat-and-drink including domestic bottles, well drinks, build-your-own nacho bar, pretzels, flatbreads, buffalo wings and more. The all-you-can-eat special costs $35.
Jefferson Avenue Bistro (3701 South Jefferson Avenue; 314-771-9200): $12 domestic buckets, 50-cent wings, discounted shots and a free half-time hot dog, chili and nacho buffet. This event is free to attend.