¡Yo quiero Chipotle Bell!
For a while now, word has been circulating about a "hidden menu" at Chipotle Mexican Grill. According to a few (dubious) (online) sources, if there's a dish you want and Chipotle has the ingredients, they'll make it for ya.
Gut Check is here to tell you that this less a matter of what Chipotle can do, and more about what they will do.
See Also: - "Is Taco Bell Eating Chipotle's Lunch?"
Armed with our internet rumors and the full $27 weekly allotment of the Gut Check expense account, we sallied forth to the University City and Clayton Chipotles (OK, the former is 127 steps from Gut Check International Headquarters, so it wasn't much of a sally) and attempted to order a taco salad, nachos, quesadillas and a quesorito (a quesadilla-burrito hybrid) -- all items said to be on the hidden menu.
Both restaurants were happy to adapt any burrito order into a quesadilla (for the same price), but neither would attempt any of the other purported items. Employees claimed they had no implement that would deep-fry a tortilla into a bowl shape for a taco salad, no way to melt cheese over tortilla chips for nachos and no freaking idea what a quesorito is. (To be perfectly honest, we're not entirely sure, either.)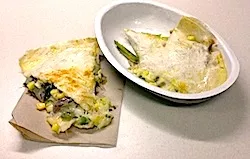 Kaitlin Steinberg
A "quesadilla" off Chipotle's hidden menu.
Setting aside the quesadilla -- which, let's face it, is a disappointment to a fast-food-loving blog correspondent with $27 burning a hole in our pocket -- Gut Check's mission was not entirely in vain. Chipotle employees tell us the company is working on a queso recipe. The stumbling block, evidently, is that it's hard to reconcile a Velveeta-like substance with Chipotle's "Food with Integrity" commitment. (Wait? Velveeta isn't organic? Color us shocked!)
We asked Chris Arnold, Chipotle's corporate communications director and a real straight shooter, about all this "hidden menu" business, and he says, "It's not at all a Chipotle secret menu. It's not ours, and it doesn't really exist. The way our restaurants should work is they make anything they can with what they have." Emphasis there on should.
While we're at it, Chris Arnold says he had no idea Chipotle was developing queso, so now we're not so sure about that, even though we heard it from an actual Chipotle source.
We were, however, heartened by the hospitality at the Clayton Chipotle. Our plea for a taco salad was a non-starter, but the line cooks did offer up a complimentary order of freshly fried flour tortilla chips covered with honey, cinnamon and sugar -- a dish they claim is their own invention. None of the employees knew why they had dessert fixins hanging out in the kitchen, but we don't really care. We'll take it.