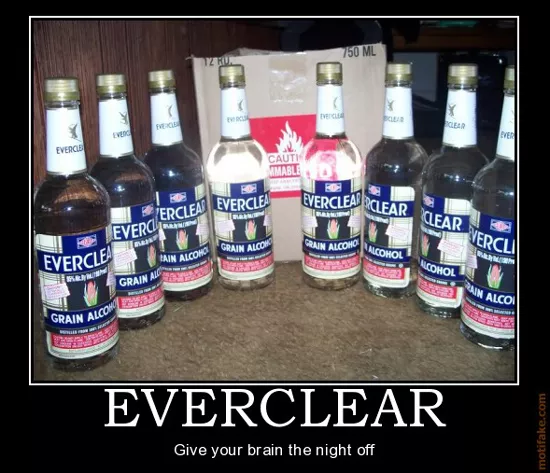 Gut Check's liver went pitter-pat late last week when we got wind that Luxco, our favoritest local liquor distiller, had added another half-bazillion booze brands to its bulging portfolio of alcoholic beverages we've either:
1) never heard of, or
2) consumed to excess at some point in your twenties (or, let's be honest, teens), to the point of vomiting
Beam Inc., maker of (among other things) Jim Beam and Maker's Mark bourbon, unloaded six of its brands, including Wolfschmidt, Lord Calvert and Bellows. According to Beam's press release announcing the transaction, the company "segments its brands into Power Brands, Rising Stars, Local Jewels and Value Creators. The brands being divested to Luxco are among Beam's Value Creators."
As you may have guessed, Luxco specializes in so-called Value Creators.
See also: - "Proof It" (a profile of Luxco from 2004, back when it went by the name of the David Sherman Corporation) - "Blind Drunk" (a tasting of various David Sherman products alongside the better-known boozes that inspired them)
Which is why Gut Check loves the company so dearly, and which is what inspired us to come up with this, a list of our Top 10 Luxco Booze Brands. And, as you'll see in the pages that follow, expert blog mixologist that we is, we've painstakingly paired our list with the best Instagram photos we could find shared on the internet, for your enhanced aesthetic enjoyment.
So pour yourself a shot, tumbler or other vessel-of-choice-ful of your own favorite Luxco beverage and click away...
10. Purple Passion
Honestly, it's hard to love a product that announces it's made with Everclear yet contains only 13 percent alcohol and is, well, purple. But love Purple Passion Gut Check does. Perhaps, down in the deepest purple of our soul, we're believers in tough love.

9. Juárez Gold Tequila
Juárez Gold Tequila-- it's the No. 4 best-selling tequila brand in the en-tire US of A, folks!
8. Hound Dog Sweet Tea Vodka
The photo says it all: sea, sand, surf, your tunes, your dunes, your PBR, your Hound Dog Sweet Tea Vodka. A day at the beach, indeed.

7. Ezra Brooks Bourbon
Yes, Ezra Brooks Bourbon is a baldfaced ripoff of Jack Daniel's. Thing is, if you're going to play off the name of an iconic brand, you'd better come up with a better name than the brand you're invoking, and "Ezra Brooks" is an awesome name. If there's an actual Ezra Brooks the person, you know he drinks Ezra Brooks the bourbon. Straight from the bottle.
6. Yago Sant'gria
Gut Check has a vague memory of Yago being one of the original bottled sangrias, back when companies first started selling sangria in bottles. The spelling -- Sant'gria? -- totally throws us, though, as do the hideous graphics. All the more reason to love the stuff. If we were to purchase some -- which, rest assured, we won't -- we'd buy it at Walmart.

5. Saint Brendan's Irish Cream
Saint Brendan's, crows Luxco, is (emphasis Gut Check's) "the authentic Irish cream liqueur." Sure, and Ezra Brooks is the authentic bourbon named after some dude. But unlike both Jack Daniel's and Baileys, here Luxco gets the apostrophe placement right -- as in they put it where any halfway-literate person would put it.
4. Tvarscki Vodka
What's a "tvarscki"? This is the quintessential beauty of a Luxco product. The label, the name -- it practically screams vodka! So loudly, in fact, does it scream, that while you subconsciously ponder the possible significance and/or definition of the name, it takes several minutes to hit you that someone went to the trouble of sticking a c in there. By the time you begin wondering why anyone would do that, you're already at the cash register, plunking down your pint bottle and your debit card.

3. Rebel Yell Bourbon
Now we're cookin' with Crisco! No knockoff name here. Rebel Yell is the shit. (Though your friendly neighborhood Luxco rep might argue that the true shit is Rebel Reserve Wheated Bourbon -- whatever that is.)
2. Arrow Peppermint Schnapps
Arrow offers a full line of bargain-basement liqueurs, but as Gut Check's dear departed Uncle Pete was heard to say, "If it ain't peppermint, it ain't schnapps." Uncle Pete's motto, "Go Big or Go Home," fits Arrow's 100-proof Super Peppermint Schnapps (there's also a 70-proof version) to a tee -- just like the tube socks old Pete used to favor, the ones with blue and green stripes he pulled right up to his kneecaps. Skoal, Uncle P, wherever you are!

1. Everclear
Old, reliable Everclear. Available in 151- and 190-proof strengths. Luxco also makes a substance called Everclear Lightnin, which, while crystal clear in hue, is far less potent than the iconic punchbowl spiker. (As is the case with genuine moonshine.) Per Luxco: "Unaged and handcrafted using select grains, yeast, and pure Kentucky water, it's stilled in small batches to a full 90 proof. It is currently available in 750mL bottle in select markets." Believe it or not, Luxco also makes a substance called Golden Grain Alcohol, which as far as Gut Check can figure is Everclear, only cheaper (or, as Luxco puts it, "A high-quality grain alcohol, Golden Grain provides a great value. 100% neutral spirits distilled from grain."
Honorably Discharged: Admiral Nelson's Premium Spiced Rum
We had the Admiral at No. 2 on our list until a fellow fan informed us that Luxco, which invented the brand, sold it about eighteen months ago. (The website the company built for the line of rums still hasn't been updated to reflect the new ownership, Heaven Hill Distilleries, Inc.) See Saint Brendan's above, and multiply by a factor of ten. Admiral Nelson outranks Captain Morgan! When the topic turns to spiced rum, this is how you get the party started!