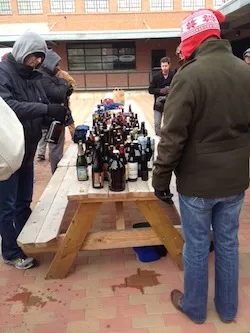 Ian Froeb
The crowd at Perennial Artisan Ales keeps themselves busy -- and warm.
The first hardy soul arrived around 6 a.m. Thursday morning. Dressed against the frigid weather in a black North Face jacket and a black watch cap emblazoned with the Los Angeles Lakers logo, the man who would introduce himself to Gut Check simply as Doug positioned himself outside the entrance of Perennial Artisan Ales (8125 Michigan Avenue; 314-631-7300) and waited.
He had ten more hours to go.
At 4 p.m. the south-city craft brewer would release its highly anticipated Barrel-Aged Abraxas, a version of its acclaimed imperial stout with vanilla bean, cinnamon stick, cacao nibs and ancho chiles that had been aged in Rittenhouse Rye barrels. Only 600 bottles of the beer were available on a first-come, first-serve basis, with a limit of six 750-milliliter bottles ($23 each) per person.
When Gut Check arrived around 1:30 p.m., the crowd had grown to 43. Many attendees had brought folding chairs for their wait, but these sat empty outside the building. A Perennial employee was handing out numbered tickets, allowing the attendees, their places in line secured, to mill about, talking beer and, of course, drinking it, too. Bottles and cans littered a series of picnic tables, everything from humble Busch to such coveted craft brews as Goose Island's Bourbon County Stout.
Most of the attendees had taken a full or a half-day off work for the occasion. A few had driven down from Chicago. They were overwhelmingly male. In fact, Gut Check counted precisely one woman.
"And she's a mule!" exclaimed a beer drinker of our acquaintance. "I heard she doesn't even like a beer."
(A mule, if you are wondering, has roughly the same connotation in the beer world as it does in the illicit-drug trade -- a person purchasing and conveying an exclusive beer for someone who can't be there -- though it's possible drug mules garner more respect.)
With each numbered ticket issued, Perennial noted how many of the six maximum bottles the person intended to buy. Shortly before 3 p.m., the number of tickets times the number of bottles equaled a sell-out.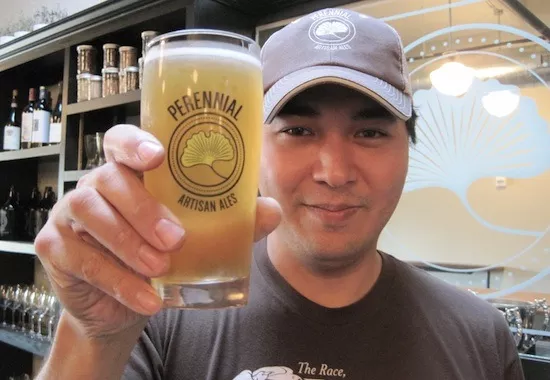 Sarah Baraba
Phil Wymore of Perennial Artisan Ales
"It was pretty cool," Perennial owner Phil Wymore tells Gut Check this morning. "It was a lot of fun to see a couple of diehard people show up at six, seven in the morning, and then see the crowd swell around lunchtime."
"We did the best we could on our end in trying to anticipate how it would go," he adds. "It was kind of an unprecedented thing for us and for St. Louis."
Wymore says that anticipation for the event had been building even before the influential website Beer Advocate awarded Abraxas a perfect 100. Perennial's sales office fielded calls from beer geeks as far afield as Virginia gauging interest in the event.
Wymore notes that though Perennial is not yet two years old, it has already released two editions of Abraxas: "It's one of those beers, it's had a little time to build some buzz. The fact that we got some volume into whiskey barrels is something we're glad we did."
Wymore hopes to double the available volume of Barrel-Aged Abraxas for next year -- and to make the release day even more of an event.