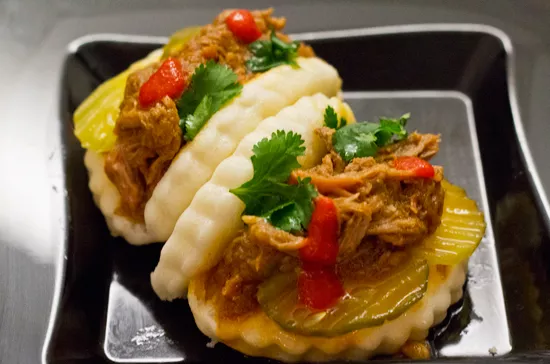 Mabel Suen
Pulled pork ($7) in St. Louis BBQ sauce mixed with hoisin and topped with sliced dill pickles, pickled cilantro and Sriracha in steamed buns from Wei Hong Bakery.
Earlier this month, Daily RFT reported on MX Movies (618 Washington Avenue), a new downtown movie theater equipped to destroy your new year's resolutions. On January 17, the dine-in movie experience welcomed Gut Check down for its not-so-soft opening, packing the stadium seating in all three of its theaters completely to the brim. And boy, are those seats cushy.
See also: -New Downtown Movie Theater Is Fully Equipped to Destroy Your New Year's Resolutions -Josh Galliano, Acclaimed Chicago Sommeliers to Open New Restaurant, the Libertine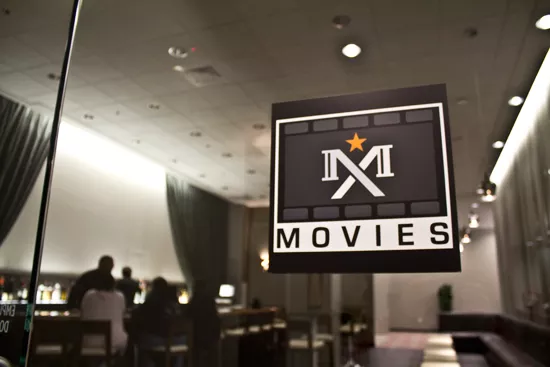 MX Movies, the latest location added to the STL Cinemas roster along with other non-traditional offerings such as the Moolah Theatre (did someone say couches?), occupies a second-floor space in the downtown Mercantile Exchange building. Most notably, it features dishes designed by aptly dubbed "chef de cinema" Josh Galliano, the former executive chef of An American Place and Monarch (and now, as reported by Gut Check, the Libertine).
"There hasn't been a movie theater in downtown St. Louis for about ten years or so," says beverage director and assistant general manager Evan Jones (also a Gut Check contributor). "Downtown has been changing a lot in recent years. This is great step forward for its revitalization."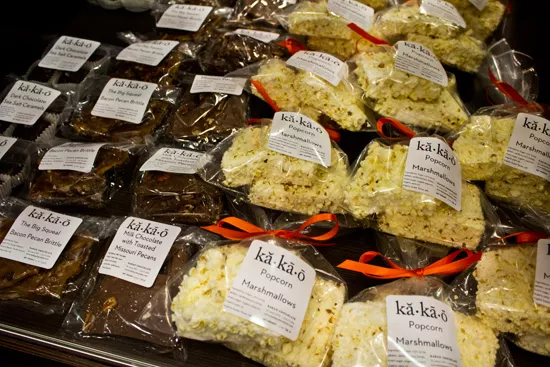 Mabel Suen
Available snacks include Kakao Chocolates and Crown Candies goodies along with all the usual movie candy suspects.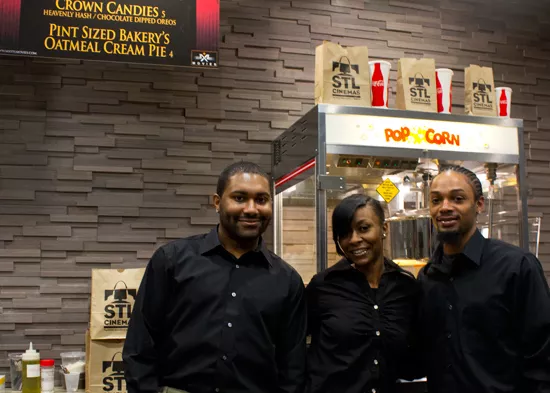 Mabel Suen
The friendly concession stand staff is ready to bag up some popcorn and top it with the likes of truffle salt and bacon dust for a couple extra bucks.
Patrons can grab snacks such as premium Parmesan and black pepper popcorn and Pint Size Bakery oatmeal cream pies from the concession stand, or can instantly tell a robot to fetch refreshments and food by barely lifting a finger -- literally, that's all you have to do.
Simply select the desired menu item such as a Salume Beddu salami sandwich ($8) or sweet potato poutine ($7) via a tablet (there's one hiding under every two seats) and have hot food delivered straight to the small swivel table installed on your plush easy chair. That's right, folks. Somebody find Marty McFly -- we have officially arrived to the future. Yikes.
Mabel Suen
(Left) You're never more than a seat away from the aisle in these posh seats. (Right) Part of the lounge-like area at the bar.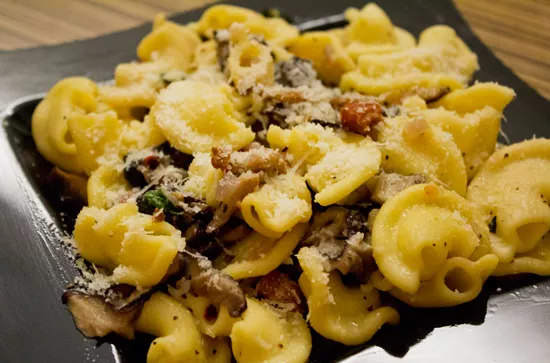 Mabel Suen
Ozark Forest Mushroom Carbonara cooked with Salume Beddu pancetta and Midwest Pasta ($13).
"We're offering a complete experience. There aren't many places you can go and have a nice scallop dish while watching a movie," Jones says.
Those "Seared Viking Village Scallops ($15)" and red wine braised Illinois beef ($16) entrees make up the priciest portion of the menu alongside appetizers and sandwiches. The drink menu includes local draft beer, cocktails, spirits and wine. In-house made bloody marys feature a Midwest horseradish twist.
MX Movies tickets cost $12 for adults, $10 for students and seniors and $8 for matinees and children under 12. If you're looking for the theatre right now, you'll have to put in some effort. A thirty-foot sign is in the works, but for now, it still feels like a well-kept secret. Pro tip: figure out parking and showtimes ahead of time.
The MX Movies bar opens an hour before the day's first showtime.