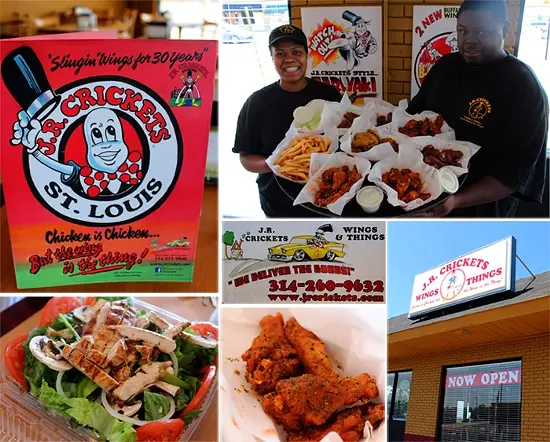 Driving through south city this afternoon, I noticed that the lights were off at J.R. Crickets (3737 South Grand Boulevard; 314-875-9848). The first St. Louis location of an Atlanta-based chain opened only last May. Gut Check took a "First Look" at the wings-focused restaurant in July.
Update after the jump.
A look through the windows revealed that while the restaurant hasn't been cleared of furniture and equipment, it doesn't appear ready to open any time soon. What's more, its listed phone number has been disconnected. The local J.R. Crickets Facebook page remains active, but as far back as November, customers were inquiring whether the restaurant had closed. In November, at least, the restaurant assured those customers it would reopen.
When we first learned about J.R. Crickets arrival in St. Louis last year, we reported that three locations were planned: South Grand, 2230 Olive Boulevard and 1810 Woodson Road in Overland. The Olive location is still listed on the J.R. Crickets website, but the attached phone number isn't connected.
I've got emails in to both the St. Louis and national J.R. Crickets for more info.
Update: (Wednesday, January 23, 8:45 a.m.) Owner Dajuan Woods emails that the restaurant is "temporarily closed" and "looking to reopen around [the] second week of February." A commenter notes below that a Reopening Soon sign has been posted in the restaurant's windows.