image courtesy of Dierbergs
Fresh frozen -- and not in a good way: A sugar-snap pea right off the vine.
St. Louis isn't the only city experiencing cold temperatures. The arid deserts of Arizona are also encountering similar weather. On a routine trip to the grocery store the other day, Gut Check found signage outside that said "unseasonably cold temperatures" in Arizona were affecting the local fresh-vegetable supply.
In search of specifics, we made a few calls and got a somewhat chilling forecast.
At Dierbergs, an exchange with assistant director of marketing Todd Vasel proved very informative.
Dierbergs has been talking to growers two or three times a day, Vasel told us on Tuesday. The stores hadn't seen any shortages yet but were anticipating they'd be in the pipeline.
image courtesy of Dierbergs
A field of frozen romaine lettuce, Yuma, Arizona, January 2013.
"All the vegetables coming out of the Yuma area are affected, so it'd be hard to say right now what might be limited," Vasel said. "Wholesale pricing is starting to creep up, which will probably translate into higher retail prices at some point that you should see across the market."
Vasel forwarded along photos shot by romaine lettuce growers around Yuma, showing damaged crops.
Earlier today Vasel followed up with more detail, and more photos:
"Here are some images we received from a vendor of sugar-snap peas coming out of Mexico. Reports indicate this frost situation could result in U.S. shortages of nearly 600,000 lbs. of sugar snaps over the next several weeks.
"I spoke with our buyer again this morning, and he expected where customers are most likely to see limited availabilities first in this market will be broccoli, romaine, sugar snaps, snow peas, and tender leaf salads (bag blends with baby or mature spinach or field greens)."
When we spoke with Schnucks spokesman Paul Simon the other day, he told us the chain hadn't yet seen any shortages and anticipated that the U.S. Southwest would feel the brunt of any disruptions, which would likely involve broccoli and lettuce. "I will tell you that because of supply and demand, customers will be seeing higher retail prices just for the limited future -- until the supply can go back to normal," Simon said.
We've got a follow-up call in to Simon. Neither Straub's nor Whole Foods Market have returned Gut Check's calls.
In the meantime, please chime in via the comments queue if you notice any unseasonable chill in your local produce aisle.
image courtesy of Dierbergs
A field of frozen peas, as far as the eye can see (Mexico, January 2013).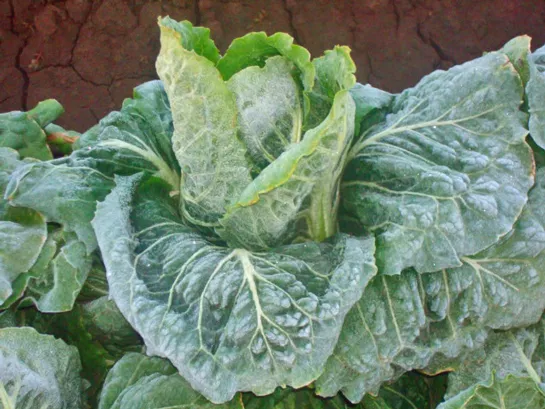 image courtesy of Dierbergs
A frozen head of romaine lettuce (Yuma, Arizona, January 2013).