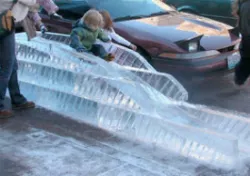 Ice slide? Don't mind if we do.
Always a fan of DC Comics, Gut Check often imagines with glee what the aftermath of a visit from Mr. Freeze would look like. Fortunately for us this week's eighth annual Delmar Loop Ice Carnival on Saturday, January 19, should paint a pretty reliable picture.
Yep, from 10 a.m. to 6:30 p.m. this family-friendly street fest on Delmar Boulevard (5900 to 6700 blocks) will offer ice slides, themed ice sculptures in front of businesses, games, ice carving demonstrations, photos with "penguins" and "polar bears," human dog sled races and food and drink options such as s'mores and hot chocolate.
But since s'mores don't a meal make, dip into any of these twelve restaurants in and around the Delmar Loop for warm respite from Mr. Freeze's lair the Ice Carnival.
Chinese Noodle Cafe (6138 Delmar Boulevard, University City; 314-725-9889) A clean, well-lit place that serves straightforward Chinese dishes, the Noodle Café has made itself a welcome addition to the Loop's never-ending ethnic options. Inexpensive entrées include the usual suspects -- sweet-and-sour chicken, cashew chicken, pepper steak, fried tofu with vegetables, General Tso's chicken -- but the five noodle dishes are the real reason to stop in, especially during the winter months. Generous amounts of fresh cilantro, celery and carrots add grace notes to the broth and noodles; takeout servings are large enough to last for two or even three meals. Owner Peggy Hou has been in the St. Louis restaurant business for more than 25 years, and in this little storefront spot she's got another winner.
Pi Pizzeria (6144 Delmar Boulevard, University City; 314-727-6633) This funky Delmar Loop joint proves that a great crust can elevate a simple pizza above the ordinary. Pi adds cornmeal, which imbues the texture of the crust with a faint granular quality. The exterior is crisp and a lovely, summery golden brown, while the interior keeps a spongy softness that absorbs the flavors of the various toppings while retaining its own individual qualities. The deep-dish pizzas are excellent. You can build your own from the list of toppings or try one of the specialty pizzas: red onion, sun-dried tomato and artichoke make the "Bucktown" stand out. The restaurant's efforts to be environmentally friendly are commendable.
Three Kings Public House (6307 Delmar Boulevard University City; 314-721-3355) Three Kings Public House occupies the address of the late, lamented Riddle's Penultimate Café & Wine Bar but wisely doesn't try to imitate it. Instead, Three Kings offers a menu that rises above standard bar fare but doesn't have any pretenses to highfalutin gastropub cuisine. There are burgers (the "Three Kings" variety, with bacon, blue cheese and a balsamic-onion jam, is quite good), sandwiches and beer-friendly snacks like pub chips and hot wings. There are also a handful of more-ambitious entrées, such as Moroccan-spiced pork shanks and paella.
Jennifer Silverberg
Fork & Stix.
Fork & Stix (549 Rosedale Avenue; 314-863-5572) Fork & Stix is a hidden gem: a terrific, unique Thai restaurant tucked behind an unassuming storefront on a dead-end side street at the eastern edge of the Delmar Loop. Unlike most Thai eateries here and elsewhere, the menu features dishes from the country's north. Khao soi is a curry-noodle soup with egg noodles and steak (or chicken) in a deeply, complexly flavorful broth. Add red onion, pickled cabbage and lime juice for one of the best soups you'll ever taste. Hung lay curry is another standout, a sweet-and-sour pork dish that's almost certainly unlike from any other curry you've tried. Classic Thai favorites such as red and green curries and pad Thai are also available (and excellent).
Snarf's (6301 Delmar Boulevard, University City; 314-725-4800) Snarf's is a Boulder, Colorado-based chain of fast-casual restaurants specializing in toasted sandwiches. The menu isn't especially eye-grabbing - mostly the expected array of cold cuts - but Snarf's distinguishes itself with above-average ingredients and preparations, especially in its "speciality" sandwiches. These include a provolone and steak sandwich made with chunks of actual steak for a truly meaty flavor, and an eggplant-Parmesan sub as good as the eggplant Parmesan served at most area Italian joints.
Blueberry Hill (6504 Delmar Boulevard, University City; 314-727-4444) The home base for local impresario extraordinaire Joe Edwards and his many, many collections of pop-culture artifacts, Blueberry Hill is a favorite of locals and tourists alike. The building spans an entire block, housing a dart room as well as two separate downstairs venues: the Elvis Room and the Duck Room, which many a local and national touring act has packed. Rock 'n' roll godfather and St. Louis native Chuck Berry even makes monthly appearances. (The venue is named for his famous duck walk.) As for the food, burgers are king here. These are relatively restrained by today's Thickburger standards, simply grilled and, with a cold beer and a side of fried onion rings or spicy Buffalo fries, close to the perfect meal. The menu also includes many sandwiches, fish and chips and several vegetarian and vegan dishes. The Gentry, a cup of soup served with a grilled-cheese sandwich, is one of the restaurant's best-kept secrets.
Ranoush (6501 Delmar Boulevard, University City; 314-726-6874) Ranoush offers a lively atmosphere (with occasional belly dancers!) and an overview of Syrian cuisine, with an emphasis on appetizers - known here as meze - and grilled meats. The meze range from dishes that will be familiar to those with only a passing knowledge of Middle Eastern cuisine - hummus, of course, and baba gannoujh - to more intriguing fare, like the simple, delicious fava bean dish foul moudames. Entrées include shish kebabs, shish taouk (seasoned, grilled chicken) and both beef and chicken shawarma. Dessert includes knafeh, which brings together baklava and cheesecake.
Al-Tarboush Deli (602 Westgate Avenue, University City; 314-725-1944) A promised land of milk and honey and falafel, Al-Tarboush is the perfect pilgrimage for hungry folk without much cash. Half grocery, half counter-service diner, it has only a few tables, and some of the menu items (e.g., the tabbouleh) come right out of the refrigerated case. Other Middle Eastern goodies include stuffed grape leaves; meat, spinach and cheese pies; and hummus.
Nico (6525 Delmar Boulevard, University City; 314-727-0200) The "younger brother" of popular and critical Soulard success Franco eschews its older sibling's French-bistro leanings for a broader Mediterranean flavor. Dishes range from tapas like fried almonds to housemade pappardelle in an Italian pork ragu to lamb spiked with a fiery North African harissa sauce. The lamb burger, seved with a fried egg on top, is superb. For a pleasant summer evening, grab a seat on the patio, order a "Jack Buck" (gin, Aperol, ginger beer and lemon) and enjoy all the people watching the Delmar Loop has to offer.
Seoul Taco (571 Melville Avenue, University City; 314-863-1148) Seoul Taco takes its inspiration from Kogi, the SoCal operation acclaimed as the granddaddy of latter-day food trucks. Like Kogi's, Seoul Taco's menu presents a mashup of Korean barbecue and Mexican street food. The "spicy pork" taco brings corn tortillas filled with meat that exudes the aggressive heat of Korean chile paste. Bulgogi beef in your taco or quesadilla offers a gentle sweetness much different from carne asada, its south-of-the-border analogue. Rice bowls with the meat of your choice plus a fried egg are also available. Seoul Taco's brick-and-mortar restaurant opened shop in the Delmar Loop in September 2012.
U-City Grill (6696 Enright Avenue, University City; 314-721-3073) Who's up for corned beef and bibimbap? When you just can't decide whether you want bacon and eggs or steamed veggies and rice, satisfy both cravings at what just might be the world's only combination Korean restaurant/greasy spoon. Mr. and Mrs. Sim, the elderly couple who own the joint, stick to a bare-bones menu: Breakfast is eggs, potatoes and meat (bacon, sausage, ham or corned beef); lunch is grilled cheese or a BLT; and the Korean fare includes the aforementioned bibimbap (veggies and rice) or bulgoki (marinated beef over veggies and rice). But it's all hot, satisfying, damn cheap and made right in front of you, so just shut up and eat.
Cicero's (6691 Delmar Boulevard, University City; 314-862-0009) Food? Entertainment? Drinks galore? This sprawling Loop landmark has you covered. Peruse the super-extensive beer list (and prepare to be wowed: Cicero's has hard-to-find gems like Young's Double Chocolate Stout and McEwan's IPA on tap), listen to live music (usually of the rock or indie variety) and stuff your face with way-better-than-average bar food. Pizzas here are thin-crust but not crackery, and the varieties - such as chicken Alfredo, "green" (broccoli, spinach, green pepper and pesto) and Buffalo shrimp -- are far from ho-hum. The salmon burger and the deep-fried artichoke hearts are unexpected treats, too. Cicero's has always been a haven for jam-band junkies, thanks to frequent performances by acts such as Madahoochi, but the club's show repertoire extends to everything from rock to alt-country to the occasional national touring act.