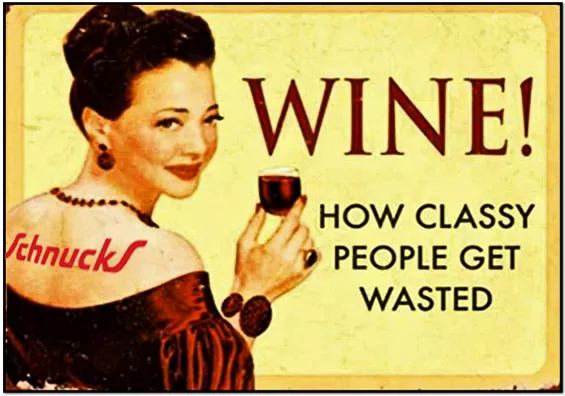 A lot of people feel intimidated about shopping for wine at a wine store. Gut Check understands this -- for the uninitiated, darkening the doorway of a retailer that specializes in wine can be as daunting as walking onto a used-car lot: What are they going to try to sell me? How will I know if they're ripping me off? If they ask me a question, what do I say?
So we also understand why a lot of people are more comfortable shopping for wine at a grocery store. The odds of being accosted in the wine aisle at Schnucks by someone trying to sell you a $40 bottle of cabernet are pretty dang low. So you can wander around like a lost puppy, secure in the knowledge that no one will try to rescue you.
If that last sentence sounds like Gut Check is chiding you just a bit, well, we is. Because here's the thing:
Grocery stores know your type. They're happy you've slunk in, and they'll be thrilled to con you into thinking you've found yourself a tremendous bargain while avoiding being ripped off by those wine-store shysters.
Nowhere is this scenario more blatantly on display than at your neighborhood Schnucks, where seemingly every single wine is on sale, all the freaking time!
But...you can beat them at their game, and Gut Check is here to help! Click through to find six gen-you-wine bargains "on sale" every damn day at Schnucks.
6. 2011 Beringer Sauvignon Blanc Founders' Estate ($6.99) Lesson number one when shopping for wine at Schnucks is that the ostensible list price is almost certainly bogus. If someone tries to sell you a bottle of 2011 Beringer Sauvignon Blanc Founders' Estate for $14.89, tell 'em to pound sand. Lesson number two is that sometimes a $7 bottle of wine -- i.e., a wine you can buy for about $7, as opposed to a wine that's marked down, say, 50 percent to $7 -- is a decent value. Such is the case here. There's nothing at all objectionable about the wine in this bottle. It's an uncomplicated and pleasantly crisp white, with a soft hit of fruit to round things out.

5. 2009 Rosenblum Cellars Syrah Vintner's Cuvée ($12.99) Schnucks wants you to think you're buying some classy-ass Rhône-style bottling here, what with the ostensible sticker price of $24.49. The last time Gut Check spent $24 on a bottle of wine, well...suffice to say it was a very special occasion, we spent a lot more than $24, and we most certainly did not spend it at Schnucks. A quick trip over to Rosenblum Cellars' own website informs us that we can buy the Vintner's Cuvée syrah from them for $12. Of course, Schnucks is handier, and they cover the shipping. So $12.99 it is, for a sturdy, workmanlike, 100 percent syrah that shows off the grape's meaty and tannic brawn but also its gentler, rich-berry underbelly.

4. 2011 Leese-Fitch Pinot Noir ($8.99) Repeat after Gut Check: "I will never find a really, really good pinot noir for less than twenty bucks." Yeah, so what? Pinot noir, the great grape of Burgundy, is notoriously fussy to grow and make wine from. A truly great Burgundy might run you the better part of a week's pay -- a consequence of the grape's fickleness and the teensy amounts produced by the French people who know how to coax the best from it. Leese-Fitch is a California pinot noir, a label brought to us by a company called The Other Guys, Inc., about whom more later in this list. It's not a bottle to write about in your diary, but this darkish blend of pinot noir, syrah, grenache and barbera makes for a plenty interesting trade for your hard-earned nine bucks. (Note: Any of Leese-Fitch's other wines, in particular the sauvignon blanc and the cabernet sauvignon, could easily have cracked this list.)

3. 2009 Robert Mondavi Napa Valley Fumé Blanc ($13.99) Guess what! Fumé blanc is just another name Robert Mondavi made up for sauvignon blanc, and this bottle costs twice as much as that Beringer we were touting a minute ago! It's also worth the extra dollarage. Unless you're spending a lot of dough, aging your wine is overrated. Sauvignon blancs, as a rule, should be drunk young anyway, and this one is nearly four years old. But it was a good wine back when it was released (priced around $20), and it's just as good now, priced at $14. More to think about while you're drinking, and while not exactly in the "hard to find" category, it's a borderline conversation piece. If you go in for number ratings, Mondavi's fumé blancs are well-regarded by the point counters.

2. 2011 Cloudline Pinot Noir Willamette Valley ($14.99) A not-bad price for a pretty good wine. True, you have to pay more if you want a kickass pinot noir, but for $15, Oregon's Cloudline can eat Carr's Table Water Crackers in bed with us anytime. A label founded by the hoity-toity wine importer Dreyfus, Ashby & Company, Cloudline is a straightforward Willamette Valley pinot noir, deceptively light and fruity at first sight but more earthy and complex when you get to know it, and a good match for lots of different foods. (Try it with roast chicken. Even better, try it with roast chicken you make yourself, as opposed to the kind you purchase from under the heat lamp. At Schnucks.)
Special bonus note before we get to No. 1 on our hit parade: If you go to Schnucks and buy all six of these bottles of wine -- or any six bottles of wine, for that matter -- they'll knock off 10 percent at the register.

1. 2011 Pennywise Petite Sirah ($9.99) Remember The Other Guys from back at No. 5? They also make the Pennywise line -- which includes a pinot noir, a chardonnay, a cabernet sauvignon, a merlot and the petite sirah listed here. The parent company's name is an ironic reference to the fact that its owners, brother-and-sister tandem August and Mia Sebastiani, are those Sebastianis -- as in the Sebastiani family that has been making wine in California since the late 19th century. Bear in mind: Petite sirah and syrah (see no. 5) are two different grape varieties. They're related -- petite sirah is a cross between syrah and a grape called peloursin. But if grapes were listed like actors on a theater marquee, syrah, the king of the northern Rhône Valley, would get star billing, and you'd have to wait around to catch petite sirah roll by in the closing credits. Think of this petite sirah as the flip side of the Cloudline: dark and fierce and chewy...yet accessible and tolerant of a wide range of food pairings. It'd go good with a game bird, or a bunny, or venison. Or, hell, maybe bear.
Requisite disclaimer: In Gut Check's experience, wine selection varies from Schnucks to Schnucks. We found each and every one of these at the store on Big Bend Boulevard & Elm Avenue in Webster Groves.