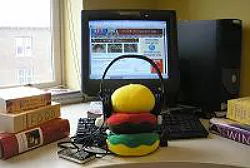 Gut Check dishes on our favorite St. Louis food blogs.
Every Little Thing: Stacy shared white bean and kale salad.
Iron Stef: Stef made pumpkin aracini with cranberry chipotle sauce.
A Veggie Venture: Alanna shared how to roast a pepper on a gas stove.
Family Style Food: Karen made red chili rapini aglio e olio.
Eat Write: Judith shared apple upside-down gingerbread cakes.
The Sweets Life: Natalie made Amish baked oatmeal.
Cupcake Project: Stef shared Waldorf salad cupcakes.
Sounding My Barbaric Gulp: Kelly made sour citrus and feta bruschetta.
Sauce magazine's blog: Dee made scallion pancakes with smoked trout.