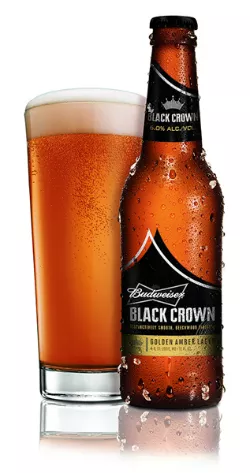 Earlier this week Gut Check reported that Anheuser-Busch InBev will release a new beer, Budweiser Black Crown, on Monday, January 21, just weeks before its debut commercial during the Super Bowl. A-B bills the new brew as a golden amber lager with "two-row caramel malt and four types of domestic hops finished on a bed of Beechwood chips."
Whereas your dad's Budweiser is 5 percent alcohol by volume, the new Black Crown (or Corona Negra, as Gut Check was suddenly struck with the inexplicable urge to nickname it) packs 6 percent -- that's a 20 percent premium in the punch department!
Intrigued (and always eager to daytime-drink), Gut Check requisitioned a batch from our good friends at A-B and cracked open a six-pack of Budweiser Black Crown in our editor's office very official test kitchen.
See also: -Anheuser-Busch InBev Announces New Budweiser Black Crown Beer -Budweiser vs. Stella Artois: A Taste Test -Anheuser-Busch Due to Roll Out Test Markets Margarita-Flavored Beer
Unanimously, Gut Check taste testers agreed on several features of Black Crown: It tastes like Budweiser (though it's more caramel-colored), which is to say it tastes good; and it gets the job done more efficiently than classic Budweiser!
Though the taste test took place hours past lunchtime, a single twelve-ounce bottle of Black Crown was enough to leave at least a few Gut Checkers feeling a touch tipsy.
And like the Budweiser we know, love and guzzle gladly, Black Crown is easy drinkin'. We didn't detect the caramel malt or beechwood finish lauded on the label, but it hardly stopped us from chugging our bottle posthaste. According to an A-B representative, Black Crown will be priced similarly to Bud Light Platinum, a malt liquor beverage that's also 6 percent alcohol by volume, and Michelob Ultra, which hovers closer to Bud Light's alcohol by volume at 4.2 percent. And it tastes way better than either of those brews.
In a nutshell, a bottle o' Corona Negra gives you more buzz than its little Bud brother yet is attractively priced. It's a boozing and budgeting win-win!
Six-pack wrung dry, Gut Check was ready for a quick siesta -- and we'd be happy to repeat the afternoon ritual -- you know, just for control purposes.
---
See Also: - Budweiser Black Crown: The Poor, Desperate Man's Yuengling
(Phoenix New Times)