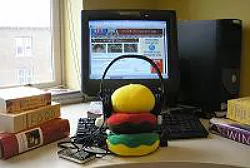 Gut Check dishes on our favorite St. Louis food blogs.
Sounding My Barbaric Gulp: Kelly recapped the top ten posts on her blog in 2012.
Cupcake Project: Stef made Nutella banana pull-apart bread.
The Sweets Life: Natalie made whole wheat spaghetti with greens, poached eggs and toasted breadcrumbs.
Eat Write: Judith shared cheesy chicken enchiladas.
Family Style Food: Karen made egg drop soup with kale and potato.
A Veggie Venture: Alanna shared a list of the best vegetarian recipes on her blog in the past year.
Iron Stef: Stef announced that 2013 will be "the year of more balls" on her blog.
Rhubarb and Honey: Kimberly shared the most popular post on her blog in 2012.
Every Little Thing: Stacy made slow cooker meatballs.
Sauce magazine's blog: Beth made vegan boeuf bourguignon.