At face value December 31 is a day like any other day. Nothing changes at Midnight except for the calendar year, but sentiment and tradition say otherwise. New Year's Eve, the official name of otherwise average December 31, demands recognition, review, revelry and resolutions, and really, that's asking a lot without getting something in return.
Gut Check celebrates great food and drink everyday, and New Year's Eve is no exception. We know where we'll be when the clock strikes 12:00 a.m., but if you're less sure, here's a list of fifteen St. Louis restaurants offering special New Year's Eve dinners, cocktails, entertainment and more.
Aya Sofia (6671 Chippewa Street; 314-645-9919): Three-course dinner served from 5 p.m. to midnight, belly dancers and cocktails continue through 1:30 a.m. Call 314-645-9919 for reservations. 5 p.m.-1:30 a.m. $49.99 per person.
Blueberry Hill (6504 Delmar Boulevard, University City; 314-727-4444): Schaffrin & Loud Mouth Soup perform, open bar (craft & rail), party favors and Champagne toast. 9 p.m. $35.
Copia Urban Winery (1122 Washington Avenue; 314-241-9463): Appetizer buffet specially prepared by Chef David Rook, party favors, midnight Champagne toast, live music by DJ Nune. Limited table and lounge area available with bottle service reservation. $45.
Guido's Pizzeria & Tapas (5046 Shaw Avenue; 314-771-4900): Special menu available on New Year's Eve, also open on New Year's Day. Mon., Dec. 31; Tue., Jan. 1. No cover.
Harvest (1059 South Big Bend Boulevard, Richmond Heights; 314-645-3522): Kick off your new year with a four-course, pre-fixe dinner. 5 p.m. $65 per person.
Kirkwood Station Brewing Company (105 East Jefferson, Kirkwood; 314-966-2739): Music & Munchies Magic! Deluxe munchies buffet from 8 p.m. to midnight, bottomless handcrafted draft brews and rail drinks from 9 to close, Champagne and noisemakers at midnight. All this plus live music by Jake's Leg. 8 p.m.-1 a.m.. $50-$60.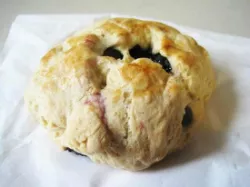 Ian Froeb
A blueberry scone from La Dolce Via, which closes shop on January 1.
La Dolce Via (4470 Arco Avenue; 314-534-1699): New Year's Eve marks La Dolce Via's last night of service before permanently closing on January 1. Its New Year's Eve celebration includes a buffet. $50 per person, reservations required.
La Tropicana Market & Cafe (5001 Lindenwood Avenue; 314-353-7328): Cuban-style dinner buffet from 8 to 10 p.m., Latin/Brazilian jam session hosted by Clave Sol from 9 p.m. to 1 a.m. The event runs from 8 p.m.-1 a.m. $30-$40. Reservations highly suggested.
Lemmons (5800 Gravois Avenue; 314-481-4812): Pizza, salad and wing buffet, open bar from 8 p.m. to 1 a.m., plus performances by Soma, Ruka Puff, Carriage House and Saluda. Reserved tickets are $40 each or $65 for two people. $40-$65.
Plush (3224 Locust Street; 314-535-2686): Creative attire expected at this event featuring music by Dawn Weber & the Electro Funk Assembly, as well as a munchy bar and real Champagne toast at midnight. 9 p.m. $50.
Mike Shannon's Steaks and Seafood (620 Market Street; 314-421-1540): Premium open bar (shots extra), music by DJ Graves, VIP tables available. 9 p.m.-2 a.m. $50-$60.
Rhine Haus Eatery & Pub (255 Union Boulevard; 314-367-1710): Two packages available. Drink Package costs $30 per person, open bar from 10 p.m. to close. Dinner Package costs $70 per person and includes dinner buffet, open bar from 7 p.m. to close. DJ Alex K. Low spins from 10 p.m. to close. $30-$70.
Tenderloin Room(232 North Kingshighway; 314-361-0900): The restaurant inside the Chase Park Plaza will be serving a prix-fixe menu on New Year's Eve while the Ralph Butler Trio performs from 8 p.m. to midnight. 5 p.m.-1 a.m. $55.
Three Sixty St. Louis (1 South Broadway): DJ and an extravagant laser light show, exciting cocktails and sweeping views of the city. $25 cover at 9 p.m., $30 cover after 10 p.m. Ask about VIP Party Packages. 9 p.m.-2 a.m.
Vino Nadoz (16 The Boulevard, Richmond Heights; 314-726-0400): Special six-course tasting menu by Chef Chris DiMercurio. 6:30 and 9 p.m. $70 plus tax and gratuity.