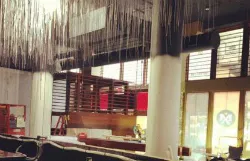 A peek at the interior of Robust's new downtown location.
- Sauce's Julie Cohen sneaks a peek at the new downtown location of Robust (227 West Lockwood Avenue, Webster Groves; 314-963-0033) at 635 Washington Avenue in the Mercantile Exchange, which opened this past weekend.
- Meanwhile, Sauce's Ligaya Figueras reports that Veritas Gateway to Food and Wine (1722 Clarkson Road, Chesterfield; 636-530-9505) is moving from its space at 1722 Clarkson Road in Chesterfield to the corner of Clarkson and Clayton roads in Ellisville. According to Figueras, Veritas' owners plan to close the restaurant and wine bar for the move in mid-January and reopen at its new location in early May.
- Central Table Food Hall, a 10,000-square-foot dine-in and take-out restaurant, will open in the ground floor of Barnes-Jewish Hospital's Center for Outpatient Health at 23 South Euclid Avenue, as reported by Evan S. Benn of the Post-Dispatch. The restaurant, which will sit at the corner of Euclid and Forest Park avenues, will serve tapas, flatbreads, sushi, soup and sandwiches, as well as wine craft beer, among other offerings. Benn reports Central Table Food Hall is slated to open in March.
- Benn also reports that Sapore Italian Café (Baxter Road & Andersohn Drive, Manchester; 636-256-3949) has moved to a new space at 541 South Kirkwood Road in Kirkwood.