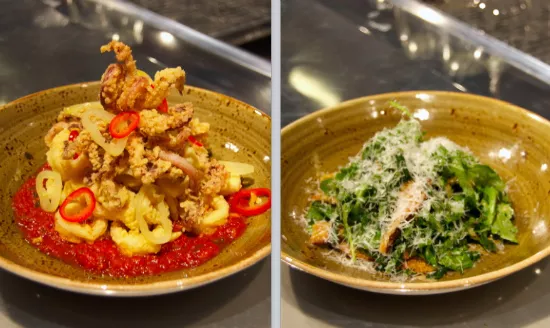 Liz Miller
Calamari fritto with stewed tomato and pickled pepper (left) and kale and arugula Caesar with tonnato, caraway and pecorino (right) at Basso.
Last month we featured a first look of the Restaurant at the Cheshire (7036 Clayton Avenue; 314-647-7300) on the heels of its November 5 opening. Its sister restaurant, the lower-level gastropub Basso (7036 Clayton Avenue; 314-932-7820), opens today.
Basso's robust Italian menu features sharable plates, pastas, pizzas and more, curated by executive chef -- and St. Louis native -- Patrick Connolly.
Born-and-raised in St. Louis (he's a St. Louis University High School alum), Connolly got his start cooking at Tucker's Place (14282 Manchester Road, Ballwin; 636-227-8062) in west county and Dressel's (419 North Euclid Avenue; 314-361-1060) while studying at Lindenwood University and Forest Park Community College. One day while browsing in the Central West End location of Left Bank Books (399 North Euclid Avenue; 314-367-6731) he picked up a copy of Thomas Keller's acclaimed The French Laundry Cookbook, which he describes as a turning point in his career.
"Honestly I opened that book up, saw what being a chef could be and decided that's what I had to do," Connolly says.
Liz Miller
The exterior of Basso (left) and the sweeping staircase leading to the lower-level restaurant (right).
He then moved to Providence, Rhode Island, to attend Johnson & Wales University. Within a year he began commuting to Boston to work at Radius, which Connolly says "...was arguably the best restaurant in Boston at the time." He worked his way up the ranks at Radius and was eventually named executive chef. In 2008 he won the James Beard Foundation's Best Chef Northeast award, and by July of that year he had moved to New York City to helm the kitchen at Bobo in the West Village.
"It was kind of a townhouse setting, we did American farm-to-table," Connolly says. "I was there for three years and then I left last September, took some time off, traveled, went to Europe and then I went to Kitchen NYC, which is kind of a media studio and test kitchen for a lot of private events. While I was there I was just kind of plotting my next step."
A trip home to St. Louis this October cemented that next step for Connolly when he dropped in the then unopened Restaurant at the Cheshire. "I flew down just for the day to check it out," he says. "The next weekend I came back with my wife, did a tasting, she checked it out. That was two 24-hour trips within a week. Took a couple of weeks to come to a decision and we decided to do it. Drove down just over two weeks ago on [November] 26 from New York, and that's it. We're opening a restaurant."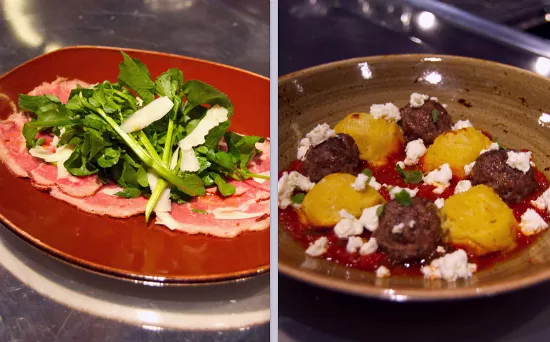 Liz Miller
Beef Rib Eye Carpaccio with mead, chile oil, cress and pecorino (left) and baked lamb meatballs with polenta, tomato and goat cheese (right) at Basso.
Upon arriving in St. Louis, Connolly recruited a friend -- and former sous chef at famed San Francisco Italian restaurant Flour + Water -- to help develop a pizza crust recipe for Basso. Connolly says over the course of several days they tested dough, temperatures and recipes before settling on a Neapolitan-style crust.
"[It's] a Neapolitan style but it's got a lot more structure to it. The center kind of establishes itself more than I think a traditional Neapolitan," he says. "It's better for an American palette. Its got great yeastiness because it's a three-day process, so the yeast has time to develop. Its got a great smell, gets a great blistering along the outside and its got elasticity, so it's crunchy but also pulls a little. I've very happy with it."
Pizzas at Basso include a classic margherita with American mozzarella, tomato and basil, to more inventive, like the "Emo Cover Band," with crumbled sausage, cippolini, pancetta, mushroom, poblano and Basso provel and "the Donald," with wild mushrooms, duck, egg, truffle butter and shaved lardo. All pizzas cost $13.
"We have a traditional margherita but most of the pizzas have a little more of a sense of humor," Connolly says. "'The "Emo Cover Band,' is sort of my tribute to the Imo's deluxe. One we're calling 'McDowellis Golden Arcs,' is a reference to Coming to America, esoteric but funny. That has roasted squash, sage, speck and drizzled honey. We've had a lot of fun with the names of the pizzas; I think people will enjoy that. I hope they will."
Pizza is only one offering on Basso's menu, though. Pasta dishes range from potato gnocchi with peekytoe crab, creme fraiche, zucchini and chervil to bucatini, beef and pork ragu, pecorino romano and breadcrumbs. Half-orders cost $10, full orders are $16.
"The pastas are interesting. We've got very hearty meat sauces, ones a very aromatic brisket, the other ones a very satisfying bolognese style with a little bit of roasted bone marrow butter," says Connolly.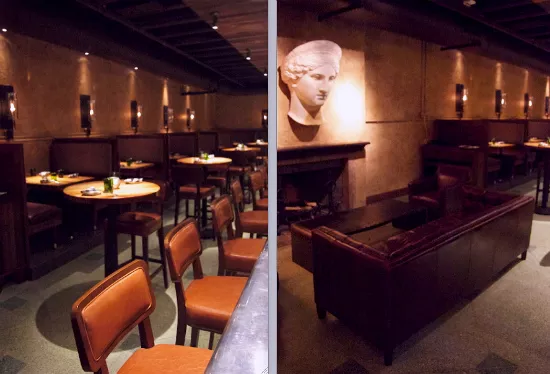 Liz Miller
A glimpse of the open, center bar and wall-lining booths (left) near a small seating area complete with wood-burning fireplace (right) at Basso.
The menu focus is sharable plates, though Connolly is quick to note it's not in traditional small plate style -- each dish plates quite substantial portions.
"Initially we were planning on small plates...They're not particularly small, but they are meant to be shared, so we're just going to call them plates," he says. "Everything from a tuna crudo to a kale Caesar in which we use a poached tuna dressing called tonnato, which comes from poached ahi tuna, so an interesting take on a Caesar. There's a great pork ribs dish with a sugar and spice."
Things are just as interesting and meticulously crafted behind Basso's large, center bar, too. The cocktail menu is divided into three sections, "Originale," "Classico" and "Dolce," with options such as the "New Fashioned," made with bourbon, maraschino, cynar and baked apple bitters, the "Negroni 595," with gin, Campari, cardamom, amaro and lavender spice bitters and the "Criminale," with Breaking and Entering bourbon, pistachio, lemon, pear and cinnamon. All cocktails cost $10.
Basso also boasts 32 beers on draft, twenty wines by the glass and more than twice that available by the bottle. "We have three old-school Belgian towers and three very contemporary beer towers," Connolly says. "The beer list is primarily domestic with a really strong showing from the Midwest specifically, a couple from California and two towers, one Belgian, one Italian, brewed and kegged in the U.S., as I understand it. Twenty wines by the glass, which is pretty significant given the fact that it's really sort of a beer focused-bar."
Basso opens today, offering dinner service from 5 p.m. to midnight and bar service till 1:30 a.m. The restaurant plans to introduce lunch service in mid-January, when Connolly says hours will expand to 11 a.m. to midnight Sunday through Thursday and 11 a.m. to 1 a.m. Thursday through Saturday.