Liz Miller
Small plates at Basso.
Basso (7036 Clayton Avenue; 314-932-7820), the gastropub located in the lower-level of the Restaurant at the Cheshire (7036 Clayton Avenue; 314-647-7300), opens its doors Monday, December 17.
Basso's opening comes a little more than a month after the Restaurant at the Cheshire's opening on November 5. It's the second of three new dining offerings at hotel the Cheshire, with a cafe and grocer the Market slated to open in early 2013.
Gut Check recently visited Basso to sneak a peek at the restaurant and its menu, which offers small plates of robust Italian and gastropub fare, including pastas and wood-fired pizzas, and more than 30 beers on tap.
The restaurant's name, Basso, translates to "low" or "under" in Italian, a nod to its location beneath the Restaurant at the Cheshire. Menu options at Basso include Italian staples like carpaccio salad, wood-fired pizzas, pastas, meatballs and bruschetta to more general American fare such as pork chops and burgers.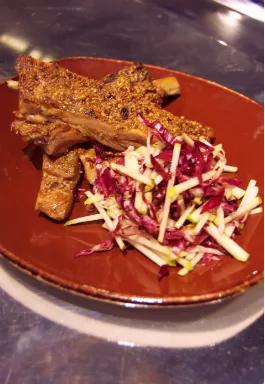 Liz Miller
Pork ribs with sugar and spice at Basso.
Currently the bar boasts at least 32 beers on draft (and more bottled) as well as 20 wines by the glass. An open bar rests at the center of the space, which seats 168, with an open kitchen and family-style seating just off the entrance.
The man at the helm of Basso's kitchen, executive chef Patrick Connolly, is a native of Richmond Heights who cut his teeth in kitchens in Boston and New York City. On a recent trip home to St. Louis, Connolly stopped by the Restaurant at the Cheshire and met its management, along with other recent New York City transplants Wilfrin Fernandez and Lisa Fernandez-Cruz, executive chef and sous chef at the Restaurant at the Cheshire, respectively. Within a few months Connolly moved back to St. Louis to lead the kitchen at Basso.
Don't miss Gut Check's First Look of Basso on its opening day, Monday, December 17.