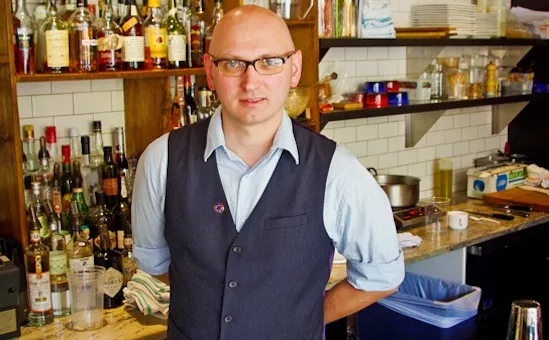 Alissa Nelson
Ted Kilgore of Taste and, next year, the Planter's House
Ted Kilgore, the acclaimed mixologist behind the bar of Taste (4584 Laclede Avenue; 314-361-1200), and Ted Charak, the bar manager at Brasserie by Niche (4580 Laclede Avenue; 314-454-0600), plan to open a new bar together next year. Called the Planter's House, after the famous St. Louis hotel, the bar will be located at the corner of Mississippi and Chouteau Avenues in the city's Lafayette Square neighborhood.
"The general idea is to capture the essence of a St. Louis iconic, historic monument -- the spirit of that hospitality," Kilgore tells Gut Check.
"Yes, it'll be a craft-cocktail bar," he adds, with a menu of brand-new cocktail creations. More than that, though, he hopes that the Planter's House will be seen as a "great bar," period.
"Obviously, we're excited for Ted," says Gerard Craft, owner of Taste and Brasserie by Niche as well as Niche and Pastaria.
"He makes phenomenal drinks and has done amazing things for our [restaurant] group as well as the St. Louis cocktail scene. Like any young cook, for them to get their own spot, that's the dream."
Taste bartender Kyle Mathis will take over as that restaurant's bar manager. Craft has also announced that Michael Murphy, a certified sommelier, will be the beverage director for his entire restaurant group. Murphy will oversee a training program to bring the Taste mixology standard to each of Craft's restaurants; he will also oversee the restaurants' wine programs.
Or, as Craft succinctly puts it, "Anything you drink, he'll have his hand in."
Despite the announcement of all these changes, you haven't seen the last of Kilgore at Taste. He projects that construction for the Planter's House will take four to six months, during which time he will remain behind the restaurant's bar.
Kilgore has no doubt that Taste will continue to thrive once he has opened the Planter's House.
"I never thought of [Taste] as a 'Ted Kilgore creation,'" he says. "It is its own entity."
"The more [cocktail] places there are, the better."